grill&deli LAVE
Are you looking for the place to be for unlimited wine in Hiroshima? This is it!
grill&deli LAVE
I tried out this café today, which was established in Fukuromachi in April 2019.
The venue is located on the first floor of the Hiroshima 'marimekko' マリメッコstore. From the hostel, it's slightly more than a ten minute walk.
As you look up and think the building is undergoing a remodeling, you'll notice lush greenery coming out of the terrace. Going in, everything is refined and furnished in materials that appear high in quality. In other words, it all looks very expensive. Just as I was thinking who on earth could be the owner of this place, I noticed a poster in the toilet. They're the ones behind the nine beauty salons of LARANJE ラランジェ in Hiroshima. So that's why!
Since they've already been successful in other industries, they've got some decent financial foundations to work with. Depending on the store, salons from this chain offer not only haircuts, but also other services such as manicures and eyelash extensions. This café also gave me a sense of being a part of this 'total beauty'.
Tasty delicatessen, and all-you-can-drink without time limit – this is paradise! Understandably, the price was just below ¥2000 (due to the alcohol, I only have a faint recollection of the events, lol). This time, I write about my thoughts focusing on the all-you-can-drink wine. Because it was really good. I definitely want to revisit!
① No time limit
Do you know that feeling when those two hours of unlimited drinking suddenly seem to have passed by in the blink of an eye?
You won't experience that here! I was able to have an endless girls' (ladies') night. It was splendid…
② Ordering for one person is OK
I was told that they accept for only one person in a group to order the all-you-can-drink wine. Normally, the rule is that the whole group orders it. I perfectly understand this system!
However! Isn't it true that some people have only a single glass during an evening and some can't even drink at all?
Allowing every individual to order an all-you-can-drink for him or herself simply makes everyone feel more equal on a night out.
③ Self-service
Now, this is good.
Here, you can pour in your drinks at your own pace.
For staff as well, not having to respond to everyone ordering one-by-one is much more pleasant, having to wait for them becomes a thing of the past, and apparently, they won't get angry if you fill your glass to the brim!
The wine can be found bathing in ice at the counter.
④ There's sweet, sparkling wine
Even a sweet-tasting, sparkling wine was among the wines on offer. That's a very dangerous situation. I lost count of how many glasses I had. In other all-you-can-drink offerings there is usually no sparkling wine, let alone very sweet ones.
It was good~
(We drank up all of the opened bottles, but they kindly opened some new ones for us)

The open atmosphere and the evening breeze on the terrace made it an excellent experience.
Kanpai!(=Cheers!)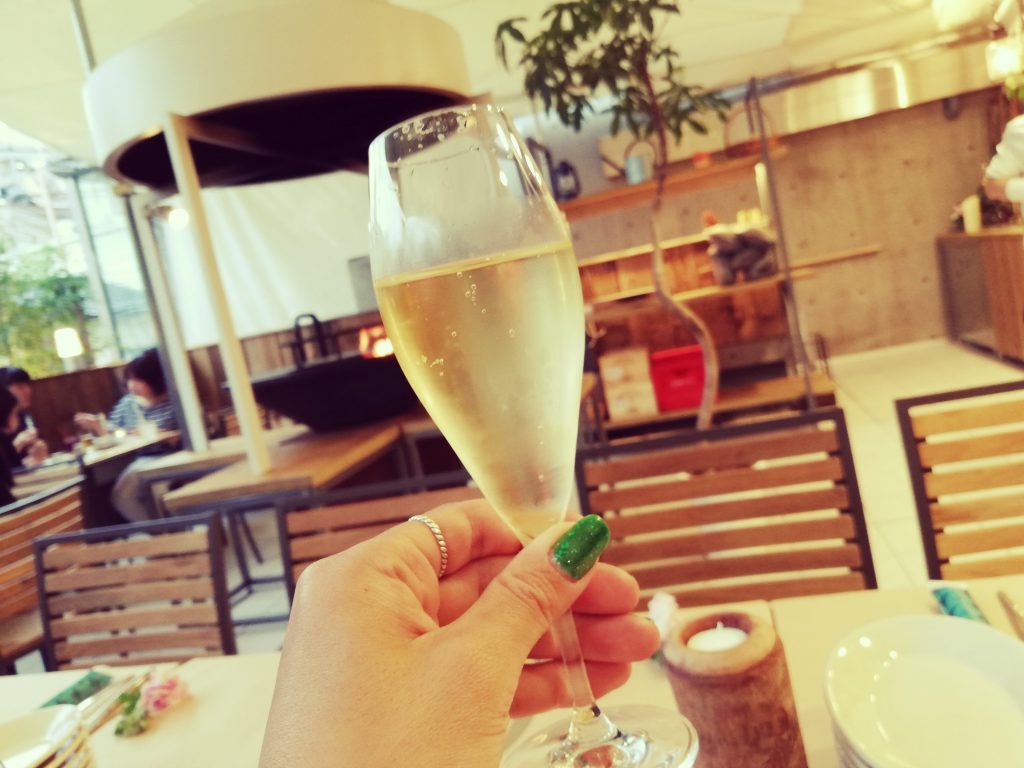 grill&deli LAVE (グリル&デリ リブ)
7-21 Fukuromachi, Naka-ku, Hiroshima | Pencil Building, 2F | TEL. 082-258-5353