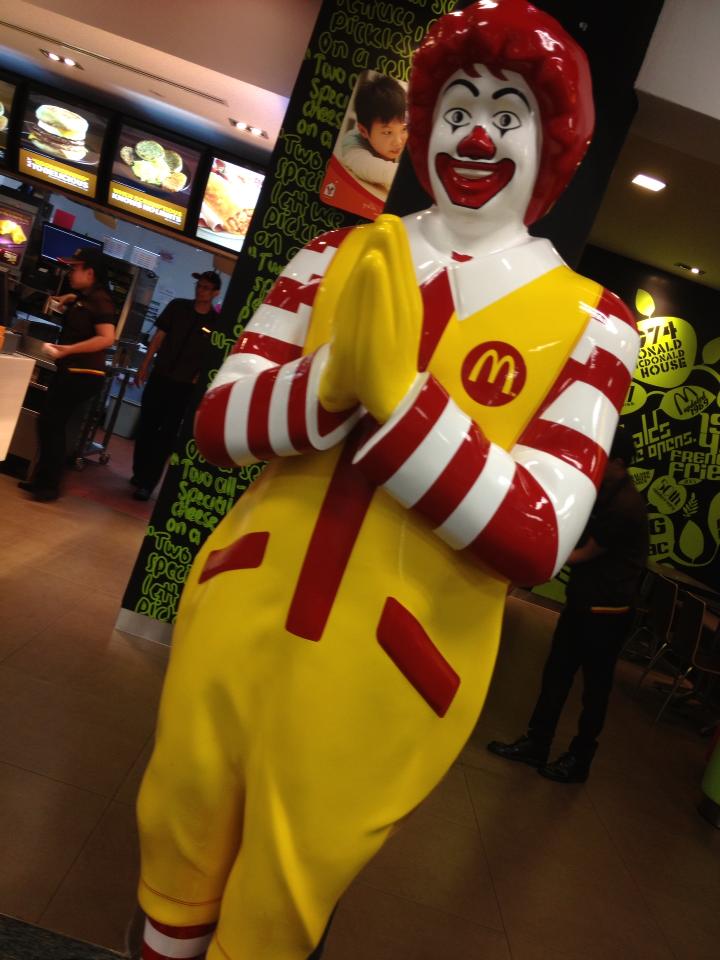 Hi, I'm Hazuki, owner of the hostel!
Today I write to you about a trip I made from Hiroshima to Bangkok. There are currently three low-cost airlines that fly this route from Hiroshima Airport.
I took Nok Air's Hiroshima – Bangkok flight, which was established just recently in December of last year!
This post is a very detailed account of that trip, and it ended up longer than expected, haha. I also brought up some memories of my 2013 solo trip to Bangkok.
● Outbound Flight Boarding: Sunday 26 January 2020
Nok Air Flight 3303
Hiroshima, Japan HIJ 11:00 Considerably delayed take-off at 11:30, likely due to congestion at Hiroshima Airport.
Bangkok DMK 15:15 Arrival in Bangkok at around 16:00.
This really is the most convenient, stress-free time slot. I woke up at 7 AM, left my central-Hiroshima home at 8:20, and arrived at Hiroshima Airport around 9;15. After lining up for about ten minutes at the check-in counter and dealing with the pre-boarding procedures, I proceeded to security just like that. In the small, regional airport of Hiroshima, pre-boarding procedures are over in a whim.
It's better not to plan any sightseeing on the first day if you take this flight, as you only arrive in the evening. You should have enough time to grab one final snack at a night market, however. As I was staying somewhere in the western outskirts of Bangkok, by the time I started heading back after dinner in the city centre, the neighbourhood was covered in utter darkness.
It can be a good idea to always leave some room in your schedule for flexibility, especially if your trip includes transfers, etc.
● Return Flight Boarding: Friday 31 January 2020
Nok Air Flight 3302
Bangkok DMK 2:30 Departed on schedule.
Hiroshima, Japan HIJ 10:00 Landed on schedule.
This overnight flight is a hit-or-miss. It's quite relaxing if you're traveling with kids, because even if they hate flying, they'll sleep. My own three-year-old with a buzzcut fell asleep right after having enjoyed take-off and he did not wake up once until just before landing. I, by contrast, felt wide awake for some reason and — not being able to sleep even shortly — I spent the flight watching some movies I had prepared in advance.
What's tricky about this flight is the dilemma whether to book one more night at your place of stay on this final day or not. A lone traveling adult could economise on this final night in the worst of cases, but not before doing some research on the surroundings of Don Mueang Airport as I explain below.
My son came along on this trip, so I booked a hotel room to avoid having to wait for too long at the airport. Although it located at just 2 kilometers from the airport, it is absolutely impossible to walk this distance with luggage and a child, so everything has to be thought out from beforehand. Downloading the Grab app (a Thai Uber-like ride-hailing app) should make things a little easier though. But this was our lucky day, because the hotel staff offered to drop us off at the airport with their own vehicle!
● Arrival at Don Mueang Airport
We have arrived at Don Mueang International Airport, about 20 km north of the Bangkok city centre. Since the opening of Suvarnabhumi International Airport, Don Mueang Airport mostly handles charters and low-cost flights. The number of passengers is high, so I wouldn't call it a place where you can relax. On the first floor (Arrivals), you'll find a Starbucks and a 7-Eleven, which is handy. The shuttle to the city centre also departs from this floor.
● Tickets at an interesting price for all!
 The total was USD 350. Wait, what?
This was the price for return tickets for one adult and a three-year-old.
USD 350, for a return ticket.
This is the most basic fare, which includes no checked baggage. However, it's cheap!
It's considered a normality nowadays, but the fare for my three-year-old son was free (except for a tax, of course). Maybe this was a mistake on Nok Air's part? Oh well…
Clearly, this low price got me all hyped, thinking "Why not go to Thailand again? It's been a while anyway!". The price is key. On the other hand, Hiroshima—Bangkok was just being promoted when I bought the tickets. To offer one-way tickets from USD 90 is quite a commercial feat. My fellow Hiroshimans, let's all go to Thailand en masse! (And make sure to spread the word about our hostel while you're there! haha)
Below is a breakdown of the expenses (in JPY)
ค่าโดยสารและค่าธรรมเนียมอื นๆ / Airfare and Other Fees 30,459.00
ค่าอาหารและเครื องดื ม / Food and Beverage 1,200.00 (I added one optional in-flight meal for myself)
ภาษีสนามบิน / Airport Tax(Non VAT) 5,924.00
ยอดเงินรับชําระรวม/Total Amount received 37,583.00
● The livery design is cute.

"Nok" means bird in Thai. Both on the outbound and inbound flights, I sat aboard one of these cute beak-design planes. It's a hit with children. The yellow is Nok Air's theme colour and it's also the colour of the flight attendants' uniforms, who are all Thai, by the way. Wherever we went, not only on this flight, my son (who is now three) caught the attention of Thai people who started talking to him with a big smile, and he was poked on his cheeks or tapped on the back, especially by men… Anyway, it mostly felt like they simply like children from the bottom of their hearts. A friend of mine who lived in Thailand for a few years once said to me that Thai people really like children — that's for sure!
These two pictures are from when I flew with Nok Air in 2013. On that solo trip to Thailand, I took the domestic flight from Bangkok to Udon Thani. I remember my heart beating faster when I first saw this cute beak design. You might think that's odd, but if I analyse this feeling, it's quite clear: first of all, I was enjoying the thrill of a solo trip to somewhere new, and then I saw this cute plane I was about to board, so it's no wonder I got all excited!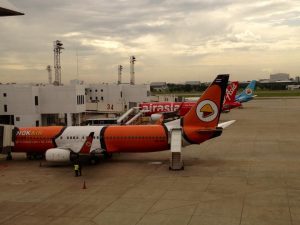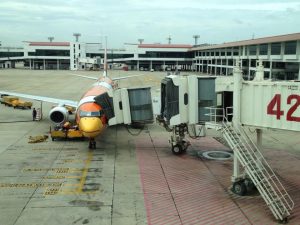 ● Nok Air? Nok Scoot??
There's Nok Air, and then there's NokScoot. I got confused when I saw this on the route map in the seat in front, so I decided to jot it all down neatly below.
Nok Air: a Thai low-cost carrier
Scoot:a Singaporean low-cost carrier
NokScoot: originated from the acquisition of Nok Air and Scoot by the Thai airline "Pete Air". It's the "main" low-cost carrier of the three, handling medium to long-haul flights.
I thought that Nok Air and Scoot had fully merged, but that doesn't seem to be the case. The new carrier acquired those two. Both have yellow as their theme colour, so their affinity is very apparent.
● This LCC offers free water!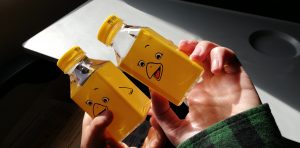 Once onboard, we could receive a maximum of one cute bottle of water each. This was a surprise. I never received such a thing at other low-cost carriers!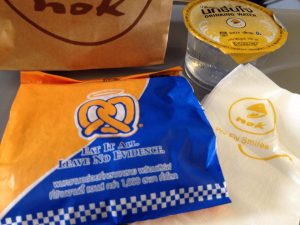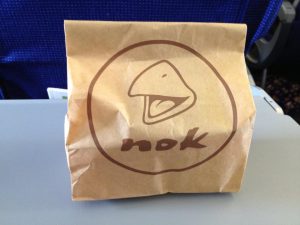 These pictures from 2013 show Nok Air's onboard meal. The set includes a small cup of water and tasty pretzels, packed in a very cute paper bag. I took pictures, so it must mean that I got emotional at the time.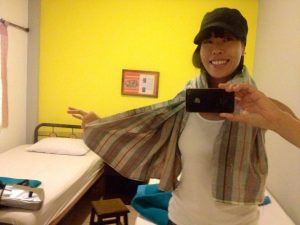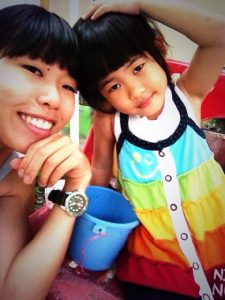 By the way, how many pictures do you usually take when you go on a trip?
There are times that when I take or see others taking tons of pictures, tedious thoughts come up in my mind, like "Will you really remember this view that is right in front of you? Is the main goal of the trip to take pictures? Do you really need to be Insta-famous?!" But if I think about it, I think I mostly take pictures to create tangible memories for future reference. If it hadn't been for these pictures, I would have forgotten about the pretzels, but as I look at them now, the memory of their heavenly sweetness filling my mouth is coming back to life!
Actually, this was my maiden solo trip overseas, from Thailand to Laos in 2013. I'd been on several trips abroad with friends, but on none of them was I alone. For the first time, I could decide where to go or what to eat. Absolute freedom. On a solo trip, there's no-one else to worry about. The other side of the medal is the occasional pang of loneliness, perhaps even insecurity. When you're confronted with these feelings of solitude, noticing others who are also traveling alone, helps to ease those worries, even without saying a word. (Maybe other lonely travellers felt the same relief when they saw me…) The trip on which I discovered this completely new feeling, was an extremely happy one. In this entirely unfamiliar situation away from home, I arrived alone at the airport with a level of English so bad I can't even imagine what it was like (surely a hodgepodge of loose words), and just as I could catch a first breath after having boarded the Nok Air plane, all of a sudden these pretzels came out. You just don't expect to receive these on a low-cost flight, and it was just a one-hour flight after all… I now remember how I suddenly felt warm and fuzzy inside as I gobbled down the pretzels, almost as if I were living in a dream. Just writing this makes me tear up from nostalgia.
+++
On that emotional note, this story's at an end.