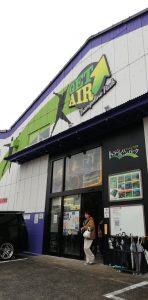 Jump it up at Get Air Trampoline Park!
Hi, this is Hazuki, owner of the Evergreen Hostel. Here's another one for the "been there, done that" section!
■ I went jumping at Get Air!
More specifically, this is the second Japanese location of the American "Get Air" chain, which has 90 branches in the US. Nope, I never heard about it either!
It appeared in the Google search results after entering queries such as "activities on a rainy day," "kids," and "play." Good job, Google!
It's situated at a two-minute walking distance from JR Aki-Nagatsuka, the nearest station. Get Air can be reached easily from our hostel by bus. From either the Tokaichimachi or Honkawacho bus stops, take the Hiroshima Bunka Gakuen University-bound bus for about 12 minutes — no transfers required.
■ Reception
Pricing is as shown below. To be fair, I thought it was a bit expensive at this point.
First-timers are also obliged to pay an additional JPY 300 for special, thick socks with lots of anti-slip material on the sole.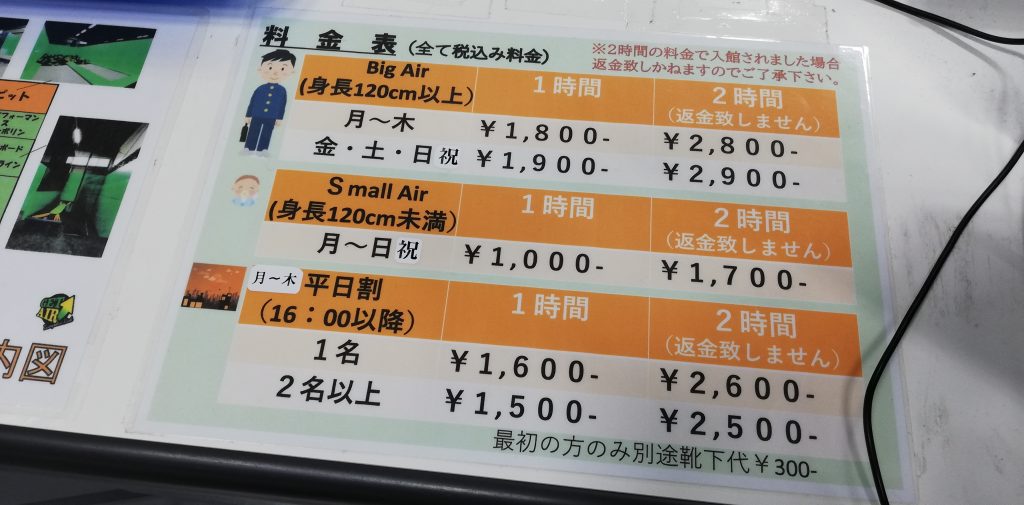 Parents need to sign an agreement if they bring their children for the first time.
The parental agreement can be filled in beforehand on their website to smoothen the process. In case you were not able to do so, you'll have to use an on-site computer before you arrive at the reception desk.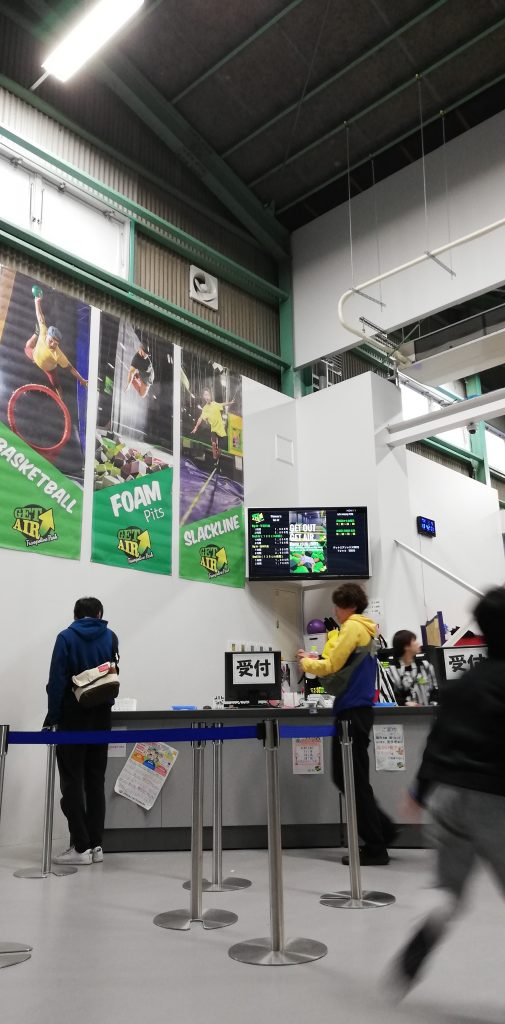 When it was very crowded, about ten families were waiting in line. Registration and payment took about three minutes per group, so the waiting time can add up quickly. Since it was an especially rainy day, I spotted lots of families with children bursting with energy who were yearning for some physical exercise. Obviously we came here for the same reason, haha.
At the end of the registration process, whomever wants to jump on the trampolines will receive a coloured bracelet to wear. Groups of customers are swapped based on the colour of these bracelets after a set period of time. The call indicating the hourly swap usually goes like this: "All right! Time for people with green wristbands is up!" (Hai! Ki-midori no risutobando no hito wa oshimai desu!)
It could be that the colour had already been changed by a few minutes, but we got to use the facility for a bit longer.
Time we got our bracelets: 13:40
Time we were called off: 15:00
In other words, we got to play for 1 hour and 20 minutes for the price of 1 hour 
 I advise people who need lots of time to change clothes to hurry up and have more time left to play.
■Indoor facilities
Some of the trampolines on one side of the building. Th-this is amazing! Even for me as an adult it looks like so much fun!
In the Ninja Course (like in Sasuke) there's a button at the start and another one at the end, allowing you to time your way through the obstacle course. It's just like on television!
(※SASUKE = a tv-series also known outside Japan as Ninja Warrior or Wipeout, where participants clear various obstacles in a gigantic obstacle course. This highly popular programme featured several self-confident and muscular athletes.)
You can even indulge in surfing or slam-dunking! (I've always dreamt of doing a perfect slam dunk, haha)
In the mixed area, both adults and kids can jump around freely. As the risk of accidents is a bit higher, only one person is allowed per cage.
Entering the kids area as a parent is a no-go: children up to 120 cm only. Although in practice, as long as you're a kid who wants to play somewhat separately from their parents, access is allowed regardless of age. Lots of children where flying through the air in places filled with sponges (sorry, I don't know what they're called), which seemed like a lot of fun.
In the main trampoline area, adults and kids alike were nimbly spinning through the air, doing all kinds of elaborate jumps. Just seeing it made me believe I could do it too, haha…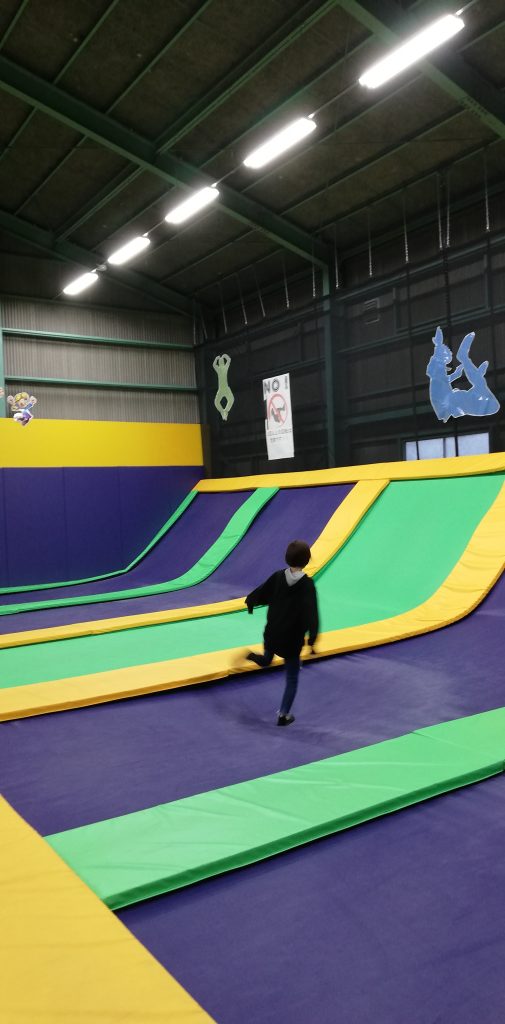 This kid surely does gymnastics or something. He was so good at doing handsprings and other kinds of complex jumps. Very impressive.
I also saw some young pairs who looked like student couples.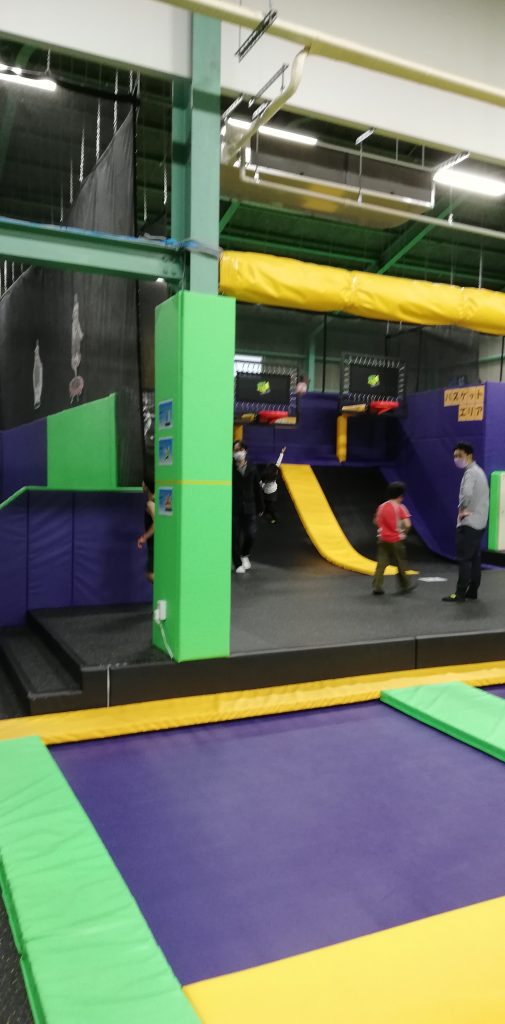 ■Things I liked
What's so good about trampolines is that anyone, regardless of age or experience, can fly through the air. Even if it's necessary to watch out for accidents, the lack of any rules or restrictions make it even more enjoyable.
Staff members are well on the lookout for any safety risks 
 Two supervisors continuously keep watch in each square, while the kids area is permanently staffed with one person who stands guard. As it should be! Taking the politeness of the staff members and all of the provided facilities into account, the price starts looking more justified.
A nice bonus is the stimulation you get from all the sporty people around you. Like a girl sporting a TAISO NIPPON t-shirt who had clearly been doing gymnastics, or another basket-playing girl with JAPAN BASKET written on her sweatshirt. They looked so cool.
If you want to do the activities as an adult, you should absolutely come in sportswear! I fear that if you hit the trampoline with jeans or a belt on, it'll hurt a lot. Plus, if you do sports in regular clothes, it starts to get really hot after a while. The heating is usually off in this warehouse-like hall, but I saw some kids wearing just a tank top and their clothes were soaking with sweat. In midwinter. Must be healthy though.
With provisions like a place to put your phone and other valuable belongings, this well-maintained space has been able to prevent any accidents. Still, this is in principle a self-responsible activity, so if you go, keep it fun and enjoy the muscle pain the next day!
Let's jump jump jump