Hello there! This is owner Hazuki.
There's a thing I want our guests from all over the world to experience: Gyoza no Ohsho.
• What is Gyoza no Ohsho?
It's an outstanding Japanese chain of Chinese food restaurants — even though I'd say its menu has been adapted to Japan rather thoroughly.
In the Kanto area, there's another Japanised-Chinese-food chain called Hidakaya, but even though both their menu and pricing are on par with the level of Gyoza no Ohsho, regrettably, they don't have any restaurants in Hiroshima 😿 but Hidakaya was once the place where I worked part-time as a student! The ramen we ate there as staff members was a true delight…
Confusingly, there is also a chain called Osaka Ohsho. After a dispute, Osaka Ohsho began its own chain and went as far as opening a restaurant in Kyoto, which is the original birthplace of Gyoza no Ohsho. This led to a law suit, and the story goes that in the end, the two chains reconciled by deciding that they would henceforth distinguish themselves by their respective names, Gyoza no Ohsho and Osaka Ohsho. With this history in mind, my personal image of Osaka Ohsho isn't very positive.
• Tasty, yet cheap
While not dirt cheap, their menu is more than affordable. All dishes are home-made and a true joy for your taste buds. For this level of quality, the price is low. One set of six gyoza just costs you ¥220, or about 2 USD! At this price, it's normal if you can't contain yourself.
Gyoza no Ohsho's dishes are great no matter where you go, and the reason for this is said to be the fact that each restaurant has its own specialty menu. Chains usually offer the same menu everywhere, but Gyoza no Ohsho is known for its considerably different menus between restaurants. The downside is that this abundance of variety makes it difficult to decide which of their restaurants to go to.
• Where can I find one in Hiroshima?
Right here on the two maps below. Both restaurants are located at a walkable distance from the hostel.
① Gyoza no Ohsho, Asahi Beer Building, Hatchobori 餃子の王将 八丁堀アサヒビール館店

② Gyoza no Ohsho, Fukuromachi, Hiroshima 餃子の王将 広島袋町店

The picture below was taken last year, when I went out with some of my staff members and guests.
Eating at Ohsho with a group of three adults or more can be a bit of a squeeze… but it sure gets the party started!
That day, staff member Alex and I fell in love with the chain's rebanira (fried liver with oriental garlic), while Jared, who came along as one of our hostel's guests, let out a few cries of delight while he was gobbling down gyoza and a spicy ramen. (He even ate my entire bowl of ramen! OMG)

• My recommendations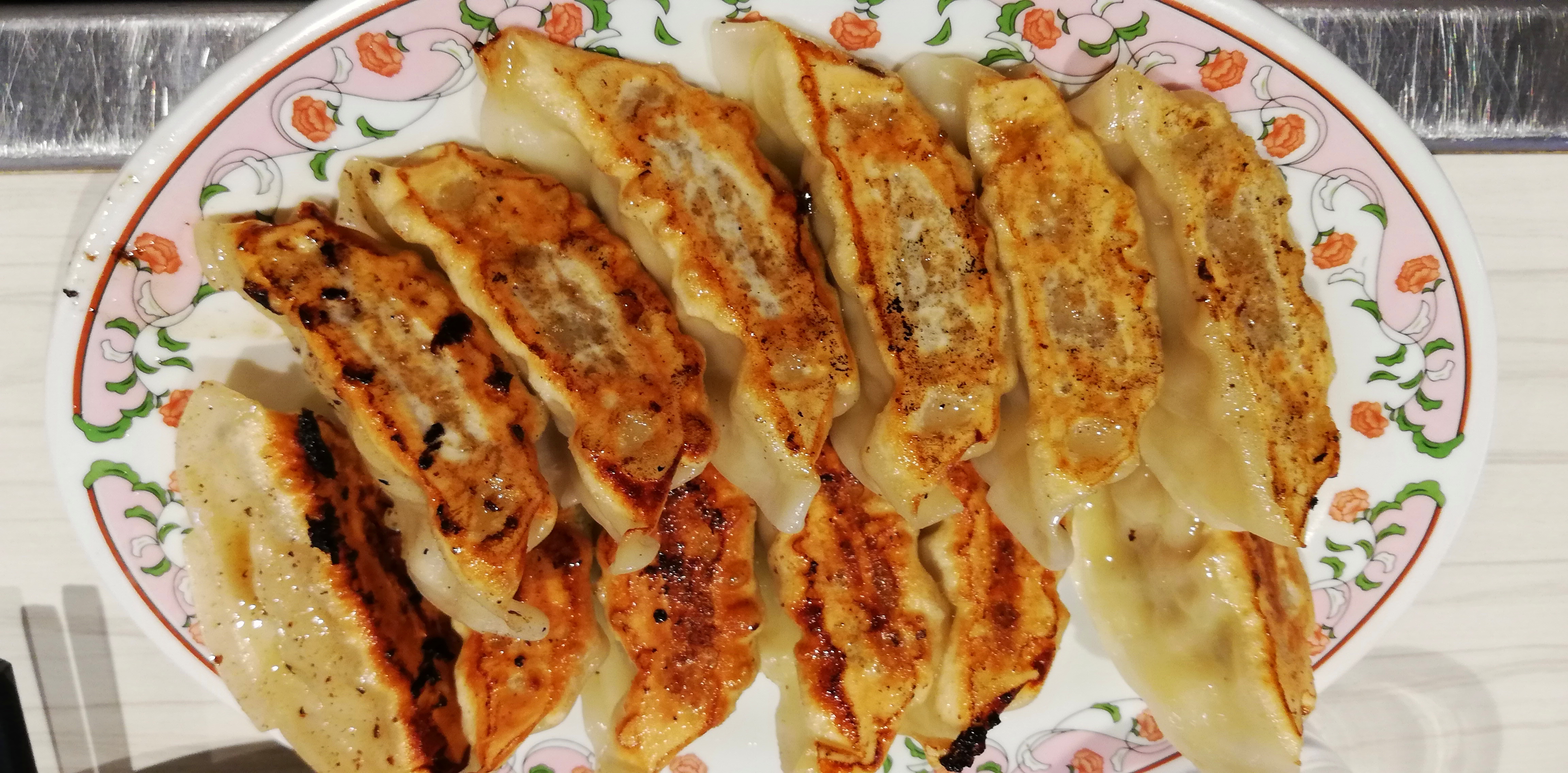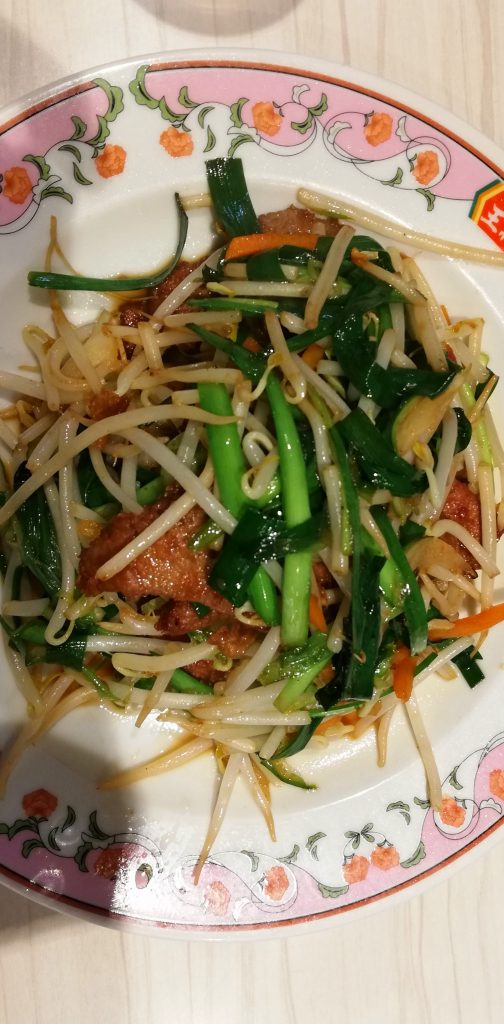 Needless to say, gyoza are an essential part of the menu. All of the gyoza's main ingredients are Japan-made, and they are served steaming hot so take care not to burn your tongue! Or just drink beer, haha.
Gyoza no Ohsho is famous for their exquisite gyoza, but the chain also offers a broad selection of dim sum, deep-fried food, and various other a la carte items. The one I like the most is fried rebanira!
Somehow, the size of the serving seems to differ every time I go… but it does look home-made, so we'll let this one pass.
Among the Japanese, people either love or hate liver, but then again, the same goes for people from outside of Japan. Lovers are addicted, haters don't even let it touch their mouths.
Here's some insider info: two plates of gyoza + one rebanira sets you back at precisely ¥1000 (or 9 USD). Yup, that's nice!
* * *
Personally, I find eating out in Japan to be a pretty affordable affair, especially if you go to chain restaurants (although some other Southeast-Asian countries are even cheaper in that respect, of course).
While each country is different, the image we have of Europe is that for ¥1000, you receive just a single plate. The other day, I was shocked when I found out that a friend of mine paid ¥1000 at a Swiss McDonald's just for a small meal. I do realise that Switzerland is an expensive country, but labour costs and service charges seem to have a tendency to be rather high in many western nations.
Some people keep saying that traveling to Japan is expensive, but that really isn't the case! That's why I wanted to introduce you into the fabulous world of Japanese chain restaurants.
Now which one shall I recommend next to my dear readers… (*゚¬゚*)