Coffee Tasting with Shuji at the Evergreen Hostel!
By Adam Carter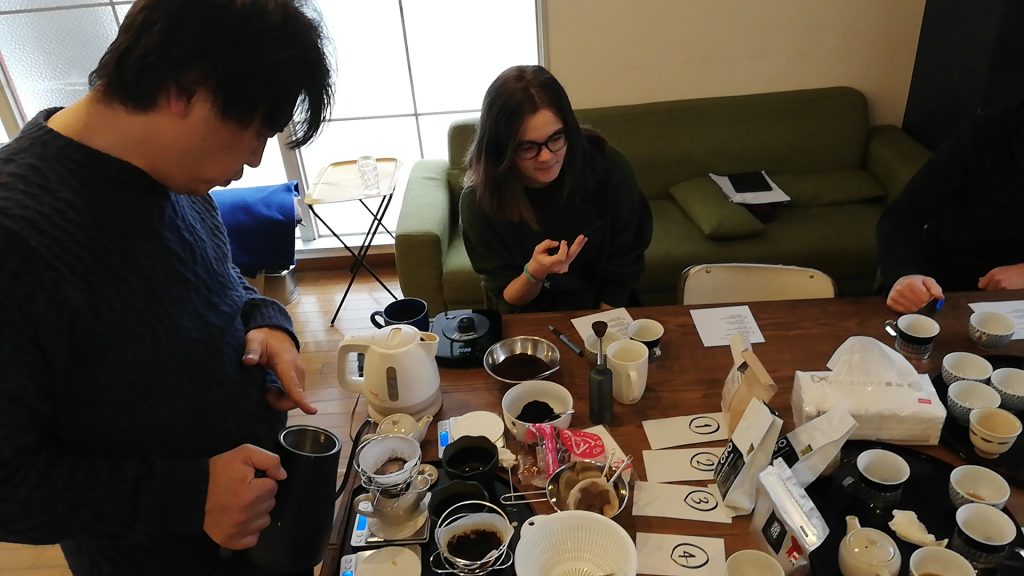 Good morning ☺ do you smell that? Oh yes, yes, yes, coffee is a brewing in the kitchen! If you're like me, your love of coffee knows no bounds – it is simply a must for every day (who you calling an addict?). I trained as a barista and tasting room host for five years back in my hometown Seattle (yeah, the home of Starbucks) and through ten thousand sips of coffee, I learned many of the nuances of what it takes to taste and describe unique coffees. Fortunately for you, and for my friends at the Evergreen Hostel, you really don't have to dedicate five years of your life to the industry to be a tester – all you need is the opportunity. And just a couple days ago, we were afforded that opportunity! Special thanks to Shuji for performing the coffee tasting and to Hazuki – owner of the Evergreen Hostel – for hosting the event, the first tasting at the hostel.
Shuji is a coffee enthusiast and connoisseur who practices his love for coffee as a hobby on the side of his everyday work life. He prefers coffee that is dark, lingering, and smoky. At home, Shuji even tried his hand at roasting coffee himself! He used a method of drum roasting over a fire place that takes about ten minutes over a very hot fire. Roasting takes patience, understanding, and a lot of trial and error – usually only the major coffee enthusiasts (or otaku) attempt it on their own. Throughout the taste test, Shuji showed us many methods of brewing to properly showcase the unique characteristics in each bean – all based on the roast profile, the process of washing (and/or fermentation), and the region from where each coffee comes from.  
When sampling the coffees, Shuji intentionally started our group with samples of two medium/light coffees so that we wouldn't overwhelm our palettes with the more intense flavors of bitter dark roasts. The first coffee we sampled was from Costa Rica and roasted by Maruyama café in Nagano. It was listed as a Geisha coffee – which is said to have been imported from the birthplace of coffee, Ethiopia. Geisha became very popular in 2004 after a Panama Geisha coffee from the farm Hacienda la Esmerelda was above and beyond the best in the "Best of Panama" competition that year. After its breakout, everyone wanted a piece of Geisha for its light and floral characteristics. To compliment the floral and fruity nature, Shuji did a pour over with a paper filter that he rinsed right before brewing with hot water at brewing temperatures between ninety one degrees and ninety six degrees Celsius. Never boiling water as it would burn the coffee. Shuji brewed patiently for about four minutes before serving us our samples. When tasting coffee, its best to bring it up to your nose to smell it before slurping your first sip. Slurping helps to activate your whole palette as it hits your mouth, allowing you to pinpoint where the flavors linger or if they disappear altogether. Each coffee is telling a story when you drink it – your job is to relate it to stories you know from the past and to enjoy it.
With that, here are some of my notes from each coffee:
Maruyama Coffee Nagano – Costa Rica Geisha, Medium Roast:
Light in body, the fruity flavors of this coffee roll to the top of my mouth and linger until drifting into hints of floral after notes. Prepared as a pour over with paper filter. As it cooled, sweet flavors lingered even longer.
Philocoffea Chiba – El Salvador Santa Rita Kenya Kinyari Estate, Medium Roast:
My personal favorite of the coffee tasting, this coffee featured many of my favorite qualities in coffee. It was crisp and fleeting, hitting my taste buds then disappearing leaving a bit of brightness behind. It had the taste of light berry flavors with the punch of an apple. It hit the tip of my tongue and top of my mouth and begged to be sipped again and again. It is the kind of coffee I think goes really well in the afternoon with a light snack.
Minagawa Tokyo, Brazil Peaberry, Medium/Dark Roast:
Peaberry coffee is a very unique mutation that happens in some coffee cherries. In most cherries, there are two seeds split apart inside (later roasted to become coffee beans), but in peaberry coffee, there is only one seed inside though denser and bullet shaped with enough flavor for two seeds. Flavors from this coffee were wild and chocolatey and hung around the lower part of my mouth with a slight savory taste. Typically slightly darker roasts will inherit some of the chocolate flavors like this one had. Delicious and ultimately, what most people want from their coffee.
Ooya Baisenjo Kyoto, East Timor, Dark Roast:
Shuji's favorite from the testing – he brewed this one in a slow dripping pour-over with a heavy cloth filter. This was an excellent way to demonstrate the intense flavors waiting behind a few sips of this dark, bitter, and utterly savory coffee. Lingering on the whole mass of my mouth, this is what it means to drink coffee and have true "coffee breath." Beyond just being dark, the flavors that hit me where almost like a vegetable stew and nearly spicy. This coffee would not let itself be forgotten and its passionate brewer would masterfully accommodate it.
Yes, all coffee "tastes like coffee" but when you take the time to dive into complexities within each coffee, it opens up possibilities and peels back layers to resemble more refined qualities. By the end of our wonderful tasting session (which happily lasted between two and three hours) I was satisfied and incredibly caffeinated, opting for a long bike ride all around Hiroshima. It's pleasant to see the cultivation developing from passion to practice to mastery performances. Thank you again Shuji for showcasing these delightful coffees, to Hazuki, and the Evergreen Hostel staff and guests for sharing in a fun and memorable experience! 'Till next time!