✪A Walk-and-Eat Tour in Onomichi #2 : Click here for #1✪
(I ate a lot!)
I found a pudding shop just after I passed through the shopping arcade!

Their puddings are in the nostalgic glass bottles as shown in the picture. I visited here because I saw their puddings in the guidebook of Hiroshima and they had been on my mind for a while.
They only had plain and coffee puddings on that day. There are also green tea and yogurt puddings.
I wanted to eat green tea pudding….! But it's alright. I'll come back here again soon.
There was a line at the shop since it was time for afternoon tea.
I lined up, and I finally bought their puddings!
Syrup for puddings are in the plastic soy sauce fish containers.
How cute!!!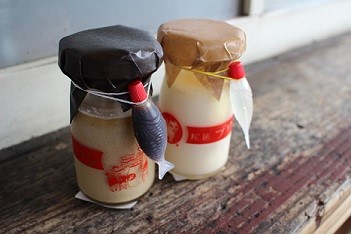 The syrup for coffee pudding looks like caramel. But the syrup for plain pudding is transparent, so it must be something else… What is it?
I got excited.
The syrup for plain pudding was lemon (Moreover, it uses 100% Japanese grown lemon☆).
And the syrup for coffee pudding was coffee…!
The puddings were both lightly sweetened and very delicious.
The plain pudding tasted like a cheese cake.
The coffee pudding had a bitter taste, which fits for adults. I think men who don't like sweets like it.
Furthermore, you can get one for free if you bring 5 empty bottles….!
I'll definitely do it! It might take a few years though. (lol)
Phew, I ate a lot so far ( ・ω・) =3
But I could have some more♡
Next, I visited Yuyake Cafe Doughnut.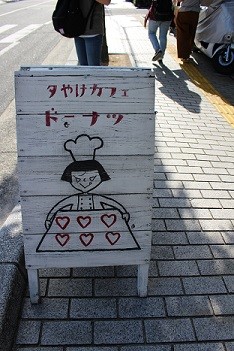 The doughnuts here are made from tofu and easy to digest!
Beet sugar is used as sweetener, and they deep-fry doughnuts in rice bran oil. Soybean flour and sesame are used as toppings on them. The doughnuts are very healthy♪
Their doughnuts are heart-shaped and cute.
They were chewy, and I liked them very much.
(I forgot to take pictures. I'm sorry.)
"Green Tea Milk" and "Angel Heart" were already sold out, but they looked good.
Above all, I can't help myself from remembering the soda pop in a nostalgic glass bottle sold at the shop.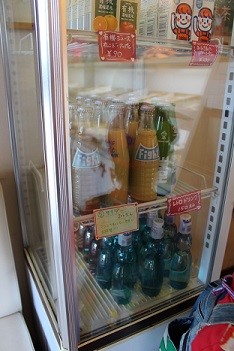 I ate too much so far, so I didn't buy it. But I should have bought it!
I want to try it if I have a chance…!
Phew, I couldn't eat anymore(*´∀`*)
It was time for me to go home, but I found a shop near here.
It had a long line.
A car stopped by in front of the shop and the passenger got off the car.
It must be a shop exclusively visited by the local people!
It must have been around for a very long time! It must be a nice shop!
It turned out to be a shop of monaka ice cream (ice cream wrapped in wafers).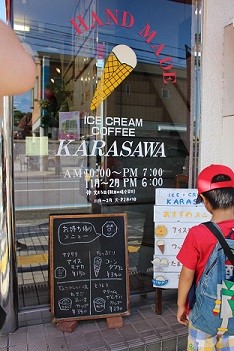 I don't like monaka that much.
I like it if it's crispy, but it isn't very tasty when monaka becomes moist.
The shop was in the guidebook, but I didn't notice it. Maybe it was because I didn't like monaka. (lol)
Since I was here, and the shop was loved by the local people,
I decided to eat it although I was full.
I ordered monaka ice cream.
They put ice cream between monaka when you make an order.
They only had one ice cream called tamago (egg) ice cream.
I like a shop that has a long history and "doesn't change its style."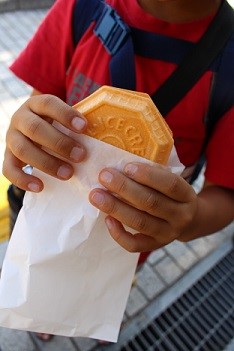 I imagined tamago ice cream has a rich taste from its name,
but it was light, and I think that I can eat all of it on a hot day.
I ate a lot around Onomichi Station!
And at last….
Onomichi is about Onomichi Ramen!
I headed for a restaurant that provides Onomichi Ramen. It's a little bit far from Tenneiji and Senkoji, where I had strolled the streets in the morning.
There were staff who were roasting a large piece of meat, maybe chashu (grilled pork), in front of the restaurant at that time.
It smelled good!!
It's no exaggeration to say that I entered the restaurant with the aim of the meat, not ramen. (lol)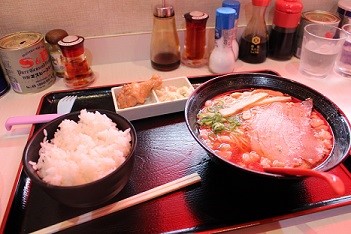 It was soy sauce ramen.
Although the soup was filled with seabura (pork back fat), it wasn't too heavy.
Just as I thought, their big chashu was very delicious♪
I didn't have to line up in a line because I went there early. But when I came out of the restaurant around 6:00 pm, there was a long line in front of the restaurant.
If you want to have dinner here, I recommend you to get here early.
And I finally left for home.
At any rate, I ate a lot. (lol)
There are temples and restaurants that I haven't visited yet in Onomichi. Onomichi was closer than I expected, so I want to go there again♪
+++
おやつとやまねこ= Pudding

夕やけカフェ Daughnuts

からさわ=Ice cream

東珍康=Ramen