Hi, I'm YU from Taiwan. It has been 6 months since I came to Hiroshima and 3 months since I started working at THE EVERGREEN HOSTEL.
I'd like to write about my favorite hot spring as my first post. Jenni, the staff of the hostel, introduced me Ondo Onsen the other day. I looked up on the Internet and found out that it's the only hot spring in the town.
According to the website,
"Ondo Onsen is a hot spring where the former manager struggled for 12 years since 1972 to strike the hot spring at 850 meters below ground in his yard while running a sento (public bath) in Hiroshima."
I was impressed by Japanese culture of hot spring because he had spent so much time to make his dream come true.  He dug 850 meters below ground to strike the hot spring.  His intensity of belief deserves respect!
"850 meters" is the distance from our hostel to Hiroshima Bus Center.

Finally, I made it to the onsen.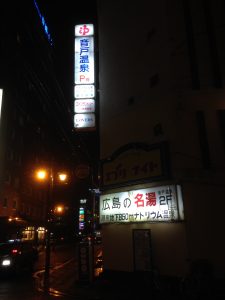 You have to walk far from the hostel.  However, it's close to Hatchobori, so I recommend you to go there when you visit Hatchobori.
It's different from the retro image of sento; this public bath is on the second floor of the old building.
The fee is 430 yen.  You can use hair dryers free of charge, but you have to buy the towel and shampoo.
There are hot saunas and three kinds of bathtubs: normal bath (chloride spring), herbal medicine bath and cold bath.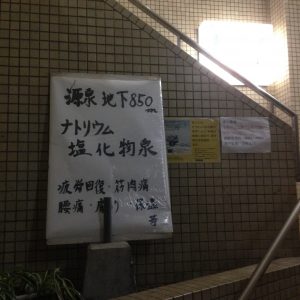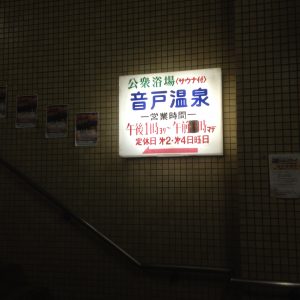 ◆Report & Impression:
Bath
It's a whirlpool bath and you can massage your body.  Personally speaking, I didn't like it.  I had a feeling of restlessness because there were so many bubbles.  (lol)
Opening hours
Many sentos in Hiroshima closes at 21:00 or 22:00, so it's glad that it opens until 1:00 in the morning.
Hot sauna
Hot springs, pools and saunas in Japan are much the same as in Taiwan, but there's a TV in the sauna!!!!  (What?  Is it pretty common in Japan?)  I was surprised at this!  I worried unnecessarily like "Can this TV withstand a high temperature of this hot sauna?"  I thought it would be nice if there were TVs in hot saunas in Taiwan!
Shower head
Shower heads are fixed on the wall, so you have to take a shower while being seated on the bath stool.  It might be difficult for people who are tall to wash your body.
Vending machines are located in each changing room.  You can buy Pocari Sweat, orange juice, energy drinks, etc.
There were no coffee and milk!  (I wanted to try "Café au lait after taking a bath" but there was no café au lait, too.)
◆In conclusion:
I recommend this sento to the guests who check in our hostel late at night.
You can enjoy your late dinner after taking a bath because many restaurants around the sento stay open until late at night!  What do you think?^^
【Ondo Onsen】
Address: 6-3 Tanaka-machi Naka-ku, Hiroshima
Open every day from 13:00 to 1:00
The second and fourth Sundays of every month are closed.
Fee: Middle-school students or above 430 yen