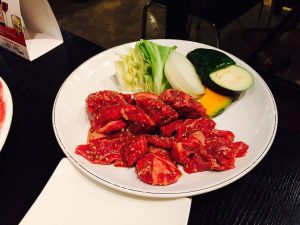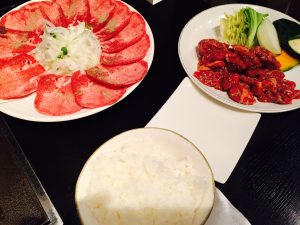 肉処 やきやき亭 横川店 YAKI-YAKI-TEI / Yokogawa branch
広島県広島市西区三篠町1-12-17

A really reasonable and good quality YAKINIKU in Yokogawa, Hiroshima.
I went there with my husband and we paid 7,000JPY without any alcohol drinks. It's quite cheap for its quality, we thought.
We ate a lot of beef… I love their Harami:Outside Skirt, or cow's diaphragm. So soft and I couldn't help but eat.
I'm going to try some side dishes next time! Reservation in advance is better, as it had been full despite of hard rain! Popular restaurant among local people.
非常に月並みな表現になるけど、安くて、美味しい。安い。うん。安い。野菜もちょっとついてくる。安い。
ここのハラミ、すごい。やーわらかい!ひたすらハラミを食べました。何より好きです、ハラミ。
店は満席。雨降りでも満席。夜行くなら要予約かなと思いました。アルコールなしで、大人2人ががっつりと食べて7000円でした!おなかに余裕があれば冷麺とか充実したサイドメニューも食べたかったな……(未練たらたら だってどれもすごくおいしそうだし、リーズナブルな価格に見えたし….
ポイントカードもあるからまた行かなきゃ!!次回が楽しみ!