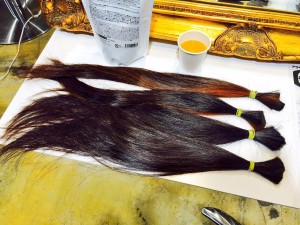 こんにちは。オーナーのはづきです。
Hi, I'm the owner, Hazz.
輪ゴムで束にしてバッサリ断髪してもらったのは、今回初めてヘアドネーション(医療用かつらのための人毛寄付)をするため。大阪まで届け、わたしの黒髪直毛ロン毛!
It's my first time to donate my HAIR. I'm so excited to know I can support somebody with hair-troubles by their disease with my own hair. It will be used to make medical wigs for kids.
しかし最低必要長さが31cmってなかなかハードル高い!
I think, however, it's really difficult for us to donate our hair as the minimum length is 31cm!!
世の中ロングの方はたくさんいるけど、そんなに思いっきり切る人を探すのは難しそう…でもどうせ捨てる髪の毛で誰かの役に立てるっていうのなら、もっと広まったらイイんじゃないかなあ〜 と思ってます✂︎
美容師さんは自分のヘアサロンにポスターとか貼ればイイのにな。どうせならゴミが出ない方が掃除もラクだしさ。
ヘア度ネーションについてはこちら:http://www.jhdac.org/
Japan Hair Donation & Charity(通称 JHDAC ; ジャーダック)は、頭髪の悩みを持つ18歳以下の子供たちに、100%寄付された髪の毛を使って『フルオーダーメイドの医療用ウィッグ』を作り、無償でプレゼントしている、日本で唯一の特定非営利活動法人です。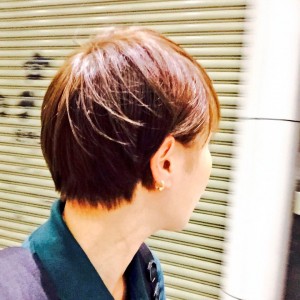 久しぶりのベリーショートでお手入れ楽ちん。もうね、限界だったんすよ この猛暑では….
‪#‎HairDonation‬ ‪#‎ヘアドネーション‬