Sho-san is a friend of mine and visited Hiroshima all the way from Tokyo.  Here's her travelogue.  I am sure it will give you some tips for your journey plans.
(Text enclosed by the marks ※ is additional information from me, Hazuki)
****
I visited my friend's new home! And also, I managed to meet up with my younger colleague, now working in Hiroshima.  This is my third time in Hiroshima.  My main purpose was to pay a visit at new home of Hazuki and her husband and I was taken to various places during my stay for two full days.
【Day1】
◎ From Narita to Hiroshima Airport
LCC from Narita Airport is such a money saver flying to Hiroshima and it even pays off your journey to Narita from central Tokyo.  Highly recommended!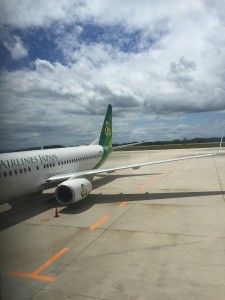 ※Spring Japan Airlines : http://jp.ch.com/
Flight from Tokyo (Narita) to Hiroshima is available from \5690.  Depending on the day of the week a single ticket can be as low as \4,600!  Narita takes longer to get from central Tokyo than Haneda, but it's well worth it! ※
◎ Takehara City Scenic Reserve Area
We stopped off in the "Townscape Preservation District", nationally designated in 1982.  Lovely area.  Spent an hour strolling around.  Also dropped in Michi-No-Eki, a roadside rest area, and bought some tai-meshi [local rice dish with sea bream cooked in soup stock] and tako-meshi [another local rice dish with octopus cooked in soup stock] ….they were yummy.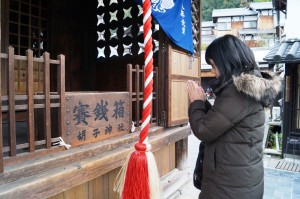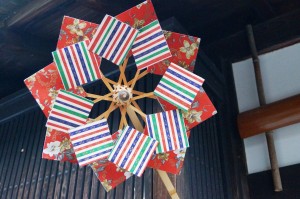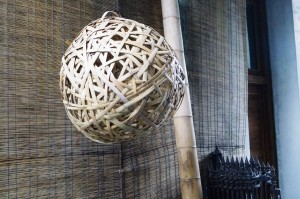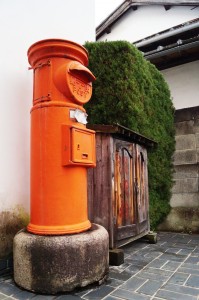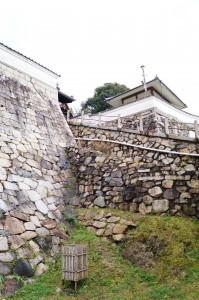 The jam and preserve manufacturer, Aohata's jam factory is near the Tadanoumi Ferry Terminal.  I want to try their factory tour next time!
※The city of Takehara once prospered as the manor of Kyoto's Shimogamo Shrine during Heian Period and it is often known as "Little Kyoto of Aki".  Its oldest architecture is said to date back as far as 1691 (in Genroku Era Year 4) and there are many more of various historical buildings.  It is so amazing that those buildings are not just well preserved but are currently used as houses or stores. ※
◎"Rabbit Island" (Okunoshima Island)
It takes about 13 min by boat from Tadanoumi Port and I landed on this Rabbit Island, full of bunnies!  A soft and fluffy "mofu mofu" welcome by numerous rabbits.  How many are there?  It seems almost countless and there are burrows everywhere too.  The entire island is literally a place for rabbits.
Carrots are a must.  You will be popular immediately and surrounded by hungry bunnies.  You may be surprised that they have strong jaws and easily snatch carrots away.  It's strongly recommended to take at least three carrots with you.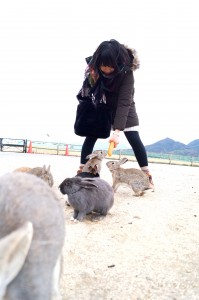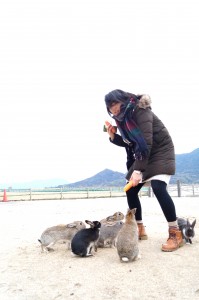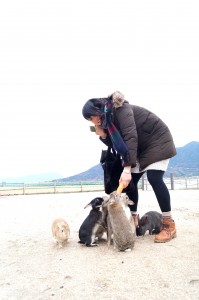 ※▲Rabbits dash off to Sho-san  (in her 20s from Tokyo) with fresh carrots and she has instantly made it to the top of the rabbit idol. ※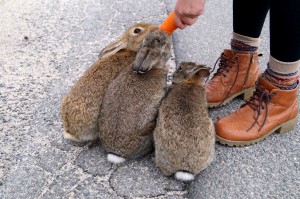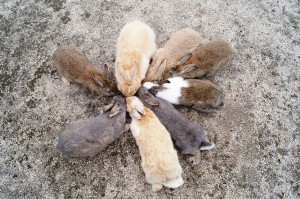 ※▲Then rabbits grab carrots and surround them making a bunny circle. ※
Aren't they just lovely!  The island is so close from the port and easily accessible.
◎ Okonomiyaki
I had an okonomiyaki [a savory pancake known to be Hiroshima's famous local food] at a local okonomiyaki restaurant that is less advertised for tourists but rather, most local people go regularly.  It WAS yummy! And I say YUMMY! Okonomiyaki in Hiroshima style, I love it!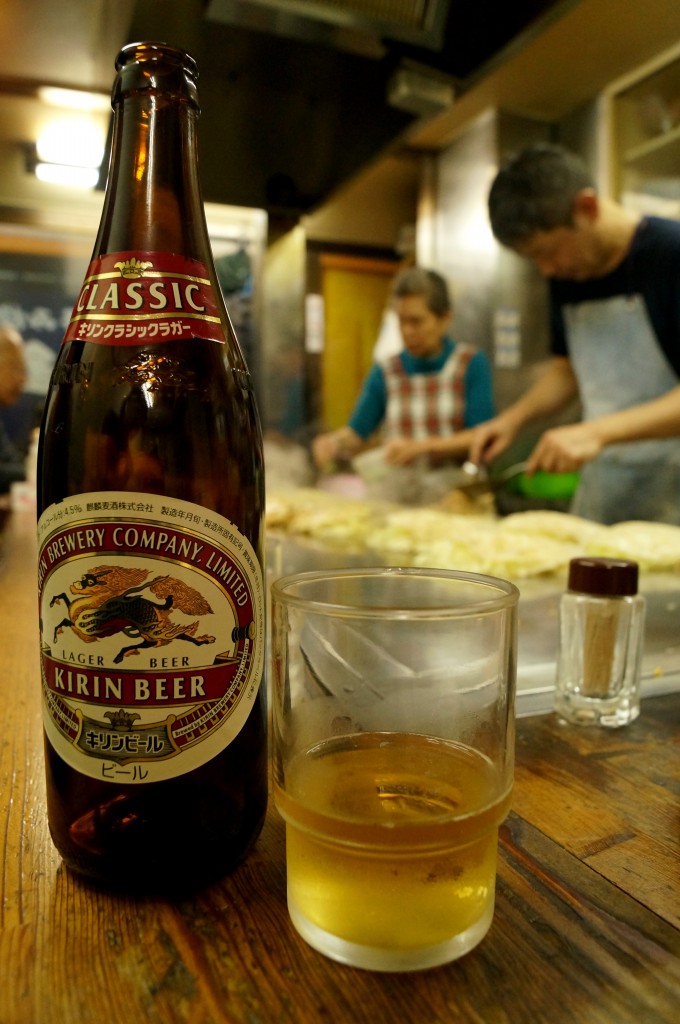 ※I thought it best for her to try so I introduced her to the okonomiyaki restaurant loved by our neighbourhood.  She could feel that okonomiyaki is part of Hiroshima people's everyday life. ※
◎Kintai-kyo Bridge
We decided to head for Yamaguchi after the okonomiyaki, and it was 20:00!  The reason for this spontaneous action was that Hazuki repeatedly recommended the restaurant called "Sanzoku" and it became almost irresistible!   There is a saying in Hiroshima "One must drive to Sanzoku when you got your first driving licence", meaning it is sort of a first challenge for driving beginners.
Before heading directly to Sanzoku, we stopped at Kintai-kyo Bridge, one of three major unusual bridges in Japan, along the way.  It was my first step on Yamaguchi Prefecture!!!  There was no one on the bridge and it was lit up.   Kintai-kyo Bridge at night was great.  Three arches make up the bridge and it was rather steep.  Step up and down the arch and you repeat it three times.  Initially I had no interest in bridges but indeed it was such a super experience!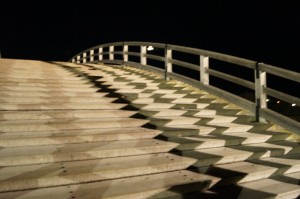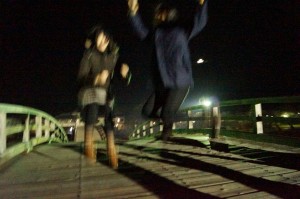 ※▲ No one else but two hyper girls on the mysterious Kintai-kyo Bridge at night. ※
Iwakuni Castle is on the top of the mountain behind the bridge.  It's so exciting for me to see castles on the mountain somehow and this Iwakuni Castle is definitely a must visit someday.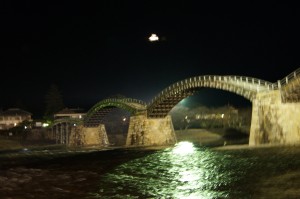 ※▲ The light in the sky in the photo above is Iwakuni Castle.  It sure is difficult to attack. ※
◎Sanzoku [meaning brigand]
Hazuki often told me that I would completely be surprised by Sanzoku, a kind of Japanese restaurant.  I didn't know what exactly, to be honest.  After driving through the pitch-dark mountains of Yamaguchi Prefecture for an hour and a half, there suddenly appeared red lanterns, numerous koinobori [windsocks in the shape and design of a carp], huge papier-mâché as stage setting, and for some reason, Totoro [a well-known anime character from My Neighbor Totoro created by Miyazaki's Studio Ghibli] as well…. While it's surrounded by full darkness this place is spotlighted and as bright as day.
Ah, so this is a hideout of sanzoku [brigand].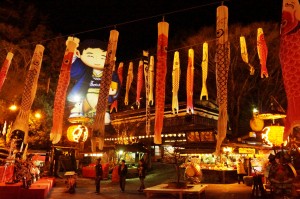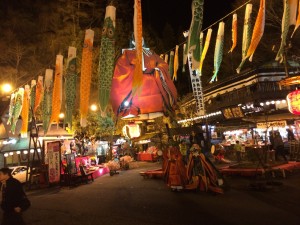 It certainly was a

bizarre place.
A Sazoku-nigiri is a humongous rice ball (4 kinds of fillings inside!), equivalent to two fists.  A Sanzoku-yaki is a chicken leg which is their specialty.  We started eating around 23:00 and finished them all.  Oink!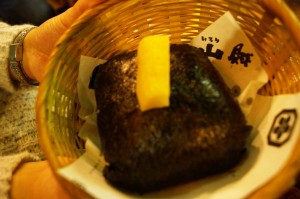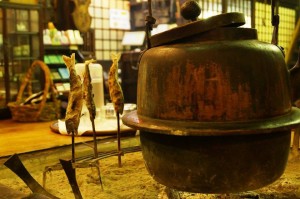 ※▲ First time to be seated around "irori" [hearth].  Sitting cross-legged and exchange cups of sake, you are already a true sanzoku.  You will need to book a designated driver. ※
You will not see how great it is unless you visit Sanzoku!!
※It is hard to get there by public transport.  Driving a car is the easiest but car hire can be costly.  Why not try the following combination?
Taxi from Shinkansen Shin-iwakuni Station : About 15min (3,000 JPY)
Taxi from JR Gantoku Line Kuga Station:About 5 min (<1,000 JPY), 10-min walk from Kinmeiji Station
Bocho Bus from Iwakuni or Tokuyama Stations getting off at "Noguchi Dao" Stop which is in front of the restaurant
Irori Sanzoku, Kuga Branch
Address:  Kuga cho 1380-1, Iwakuni City, Yamaguchi Prefecture
Tel:  0827-82-3115
Open: 9:30am – 3:00am (last orders by 2:00am); Mondays 9:30 – 24:00 (last orders by 23:00)
Closed on Tuesdays and 30 Dec – 3 Jan ※
【Day 2】
◎ Onomichi
We drove east for about an hour and came to Onomichi.  It's such a wonderful place.  Nostalgic is the word for it.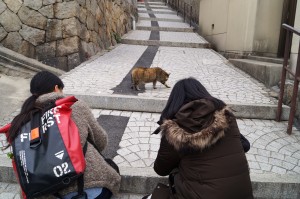 Narrow passageways, steep slopes and steps, and cats!  Shops are so neat too!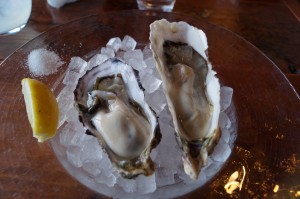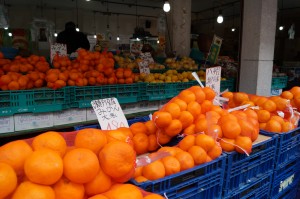 Onomichi is the starting point of Shimanami Kaido Expressway.  Cyclists just came back from the ferry port.  Well done guys!  I'm going to go cycling the whole Shimanami Kaido someday before long!
◎Innoshima
This time, we drove the Shimanami Kaido and landed on Innoshima for the first time!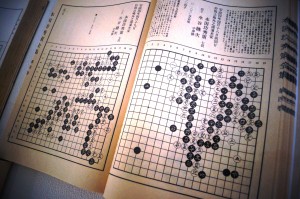 This is THE Innoshima!!!  This is where you will find Hon-inbo Shusaku's final resting place!!!
※Innoshima is an island located in Onomichi City, Hiroshima Prefecture (the home of Akihito Okano and Haruichi Shindo of Japanese music band "Porno Graffitti" !)
The manga Hikaru No Go has featured Hon-inbo Shusaku the Great Master of Go as the target possessed by the spirit of Sai Fujiwara, the genius go player from Heian Period.  Hikaru Shindo, the leading character of this manga, is then to be possessed by this spirit following Hon-inbo Shusaku. ※
Honinbo Shusaku Igokinenkan [the game of 'go' memorial gallery commemorating Hon-inbo Shusaku] displays the reproduction of Yugen-No-Ma where the go stones and board are provided so you can experience the go game in THE Yugen-No-Ma [the ultra-special go room at Nihon Ki-in].  The manga Hikaru No Go was also on display.  Let us recall the scenes from Innoshima…..  Later, I managed to reproduce those scenes myself from the manga by actually visiting Honinbo Shusaku Igokinekan and the grave of Honinbo!!  Absolutely great for Hikaru No Go lovers!  It is THE place for us.
 ※If you don't know about this manga, Sho-san's choice of sightseeing course this time may rather be difficult to understand. But for an otaku, this itinerary is a must.  She just loves Hikaru No Go so much (three times more than I do, most likely) and you can tell she was thrilled by her first visit to Innoshima.  Pilgrimage, indeed!  Below is the artistic collage she sent me a few days later showing her reproduction of the manga. ※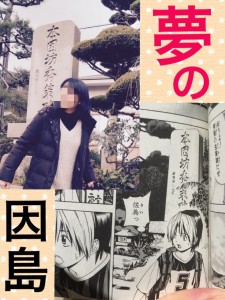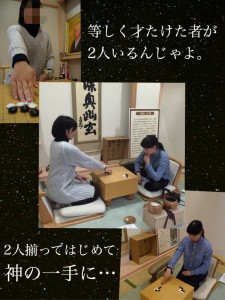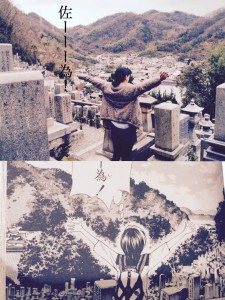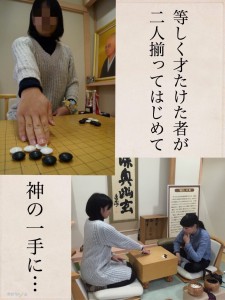 ◎Hiroshima Airport
A last minute splash-out on souvenirs at the airport.  Momiji Manju and Nama-Momiji from Nishiki-Do!
Maccha Financier from Cha-No-Wa! And the last okonomiyaki before flying back to Narita.
That'll be all, my Hiroshima report.
Genbaku Dome(A-bomb Dome) and Itsukusima Shrine were the only Hiroshima sightseeing spots I knew before this trip. I didn't know there are so many to go and see in Hiroshima.
There are so many other places like Hiroshima Castle, Shukkeien, and cycling Shimanami Kaido!  Yamaguchi is not too far away from Hiroshima, so Iwakuni Castle and Akiyoshido Cave must be covered and many more!
I must visit Hiroshima again pretty soon!!