Hi, I'm the owner, Hazuki.
Tomoko-chan and I happened to become friends at driving school (!) and together we went to an owl café in Hiroshima.  Tomoko-chan just loves owls.  It was a debut for me.
Tomoko-chan is a local girl, born and bred in Honkawacho.  Perhaps she knows good  okonomiyaki restaurants in the area.
"Any okonomiyaki in Honkawacho would meet your expectations, but if I must choose, I would pick those two places…"
※For Tomoko-chan's picks for the okonomiyaki restaurants, click here.
Owl de Base
http://www.owl-de-base.com/
Mishima–Building 4F 1-33 Fukuro-machi, Naka-ku, Hiroshima-city
Open:  11:00 – 22:00 (Last admission at 21:00)
Closed on Thursdays
Nearest station:  Hiroshima Electric Railway Hatchobori Station or Tatemachi Station, about 5 min walk?
■Basic fee with tea or oolong tea : 1500 yen / 1hour (optional feeding:  300 yen)
■Soft drinks from 130 yen
■Alcoholic drinks from 300 yen
Go up the stairs of the building with various shops.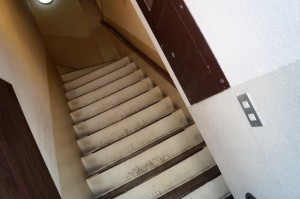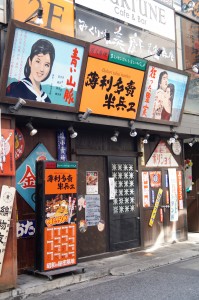 "Hanbey", the izakaya or pub with a Showa Period nostalgic atmosphere, is a landmark.  You can fully enjoy for an hour in an Owl Cafe.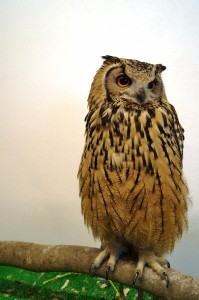 Personally, this whatyoumaycallit owl had the most beautiful feathers.
Each owl sits on the perch, kept on a lead.  There is no flying around but some owls lift their wings and flap…(I was actually taken aback as it was so close to me). Touching is not allowed (well, it's rather scary for their hocked bill).  You can take pictures but without a flash, naturally.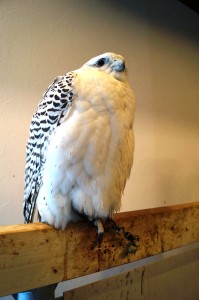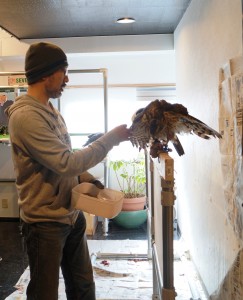 A bird of prey, it's huge and cool.  When feeding with a baby quail or the like, it made some crunching sound…. But its cry was like a seagull.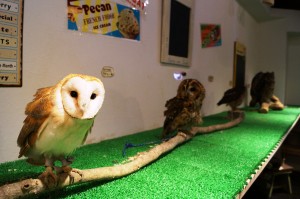 A party of various types of owls on the perch.  (The one in the front glaring was a barn owl, very active and full of curiosity.)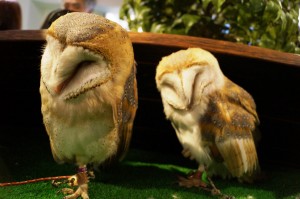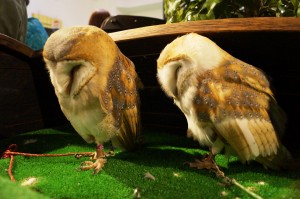 Sleeping barn owls.  Standing on one leg shows they are relaxed.  Tomoko-chan knows a lot of raptors and taught me so much but alas, I have forgotten most of it.
Birds of prey, they are interesting.  Some owls glare at you but others doze off and look so cute. Comforting.  Fancy dropping by?  It's best to book on weekends and holidays.