It's already the end of the school year, a time when checks from the ward office take too long, and when workers and craftsmen can't get started on simple work. And I was really hoping to open before Golden week( japanese huge holidays in May)…
Even though I've been at it all the time with preparation work, I use time like this to study about Hiroshima!! So with that purpose in mind, I'm going to lots of places every day. So this time, it's Sakura in Hiroshima.
First up is the Hiroshima Castle ruins public garden, or in other words, the Hiroshima shrine honoring those who died in war (Gokoku Shrine), located within the castle's cannels. When people think of Hiroshima, everyone thinks of Itsukushima Shrine, but Gokoku Shine is also really impressive. I heard every year in January, from the first to the seventh, over five thousand people visit for the first shrine visit of the year. This is because this location is the heart of Hiroshima city, and has really good public transportation. It's only ten minutes on foot from Hacchobori, a popular area close by. From the hostel, it's about 1.5 km, or about a seventeen minute walk.
So let's check out Hiroshima together. I'm kind of sad that the weather is still cloudy, but the cherry blossoms are really beautiful!
Originally, the castle was built for the Daimyo Mori from Aki Province, but during the First Sino-Japanese war (1894-1895) the interior was used as the Imperial headquarters for Hiroshima. As time went on the castle, and surrounding land, played many roles in history. In 1954, when the Atomic Bomb was dropped on Hiroshima, the castle, like other buildings in the area, was destroyed. The structure that is seen today was completed in 1958.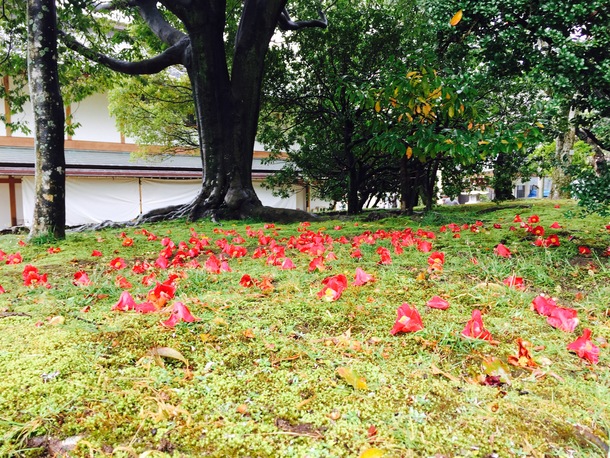 There were a lot of Rijyou Koi, who also go by other names, that were energetically swimming around (even if sometimes the water smells…). Close by to here they're also putting in a running course, so I see quite a few enthusiastic runners in the area. Of course I also see a lot of foreign tourists, and large tour buses….For taking a walk it is a really great castle and park.
From there, if you keep going for a bit, you'll see Shukkeien, which is a beautiful Japanese garden. From Hiroshima castle it's extremely close, only about five minutes on foot.
Originally, the garden was ordered to be created as a villa of sorts for the first generation Daimyo Asano when Hiroshima was still a feudal domain during the Edo period. Even though it costs 260 yen to enter the garden, that fee is well spent as the garden is perfectly maintained.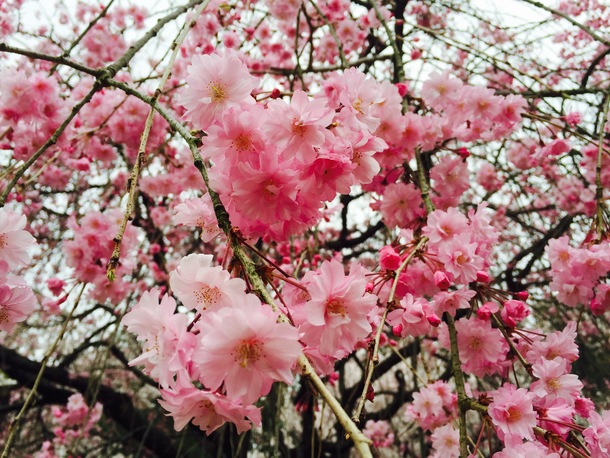 The day I went the cherry blossoms were at full bloom, so there were a lot of people from different backgrounds, and of different ages there.
 (The sight of a tree having so many blooms with different colors is quite rare, so a lot of people took photos of it. This one actually looks like a peach blossom).
For a while now Hiroshima has always been a popular travel destination for people from Europe and America, but recently there appears to be a lot of tourists from South East Asia as well. Next to the Japanese garden is Hiroshima Art Museum, which they sell tickets for as a set including the two. Until now, I also didn't know that they sold them as sets~~!
So, for this time I was able to introduce some famous places around the city for cherry blossoms. For the people that will someday stay at my hotel, hopefully they'll look forward to reading about recommendations for when they want to just take laid back walks around the city, and not just visiting major tourist attractions. I think renting a bike from a city rental area, and exploring the city freely on bike is also a good idea. Being able to have access to a bike broadens the areas that one has access to, and for individuals I really recommend it!