Hi there. This is Hazuki, the owner of the hostel.
I went ice skating at the Hiroshin Big Wave! While it's a 50 m indoor swimming pool in summer, it transforms into an ice skating rink during wintertime.

The building is located directly outside Astram Line Ushita Station. A nearby park and playground offer ample opportunities for enjoyment.
●How do I get there from the hostel?
Walk up to the Kamiyacho crossing for about 10 minutes. At the crossing, take the Astram Line at Kencho-mae Station in front of the Prefectural Government Office. Stay onboard for four stops, get off at Ushita Station, and voilà: Hiroshin Big Wave is right in front of you! Easy-peasy. 30 minutes, and you're there.On foot, the distance is exactly 3 km.
●System and pricing
Skate rink entry fee  Adults ¥1,580, children ¥940
Skate shoe rental fee ¥300 per shoe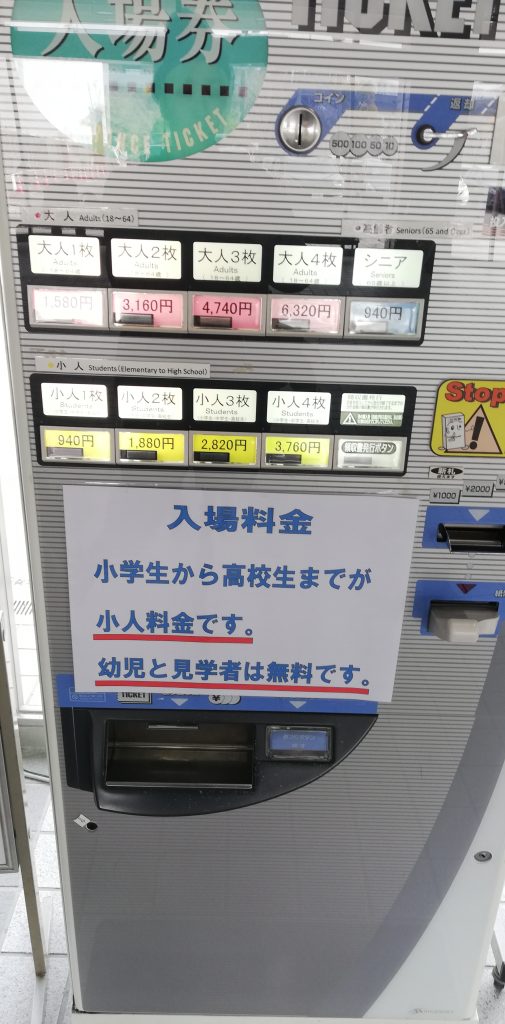 Pre-schoolers and spectators can enter for free.
For a while I was wondering whether this wasn't a little expensive, as I was still unaware of the go-to rates for ice skating. Let's take 'Wonder Rink The Outlets Hiroshima' for an example: adults pay ¥1,200 to get in. You would be forgiven to think that's cheaper, until you find out that they impose a time limit. On weekdays, one entry is limited to a maximum of 120 minutes, and on weekends and holidays this is reduced to 60 minutes. Once you realise that this allotted time includes putting on your skates and getting used to the ice, that seems a little short in my opinion.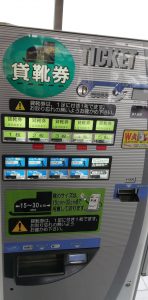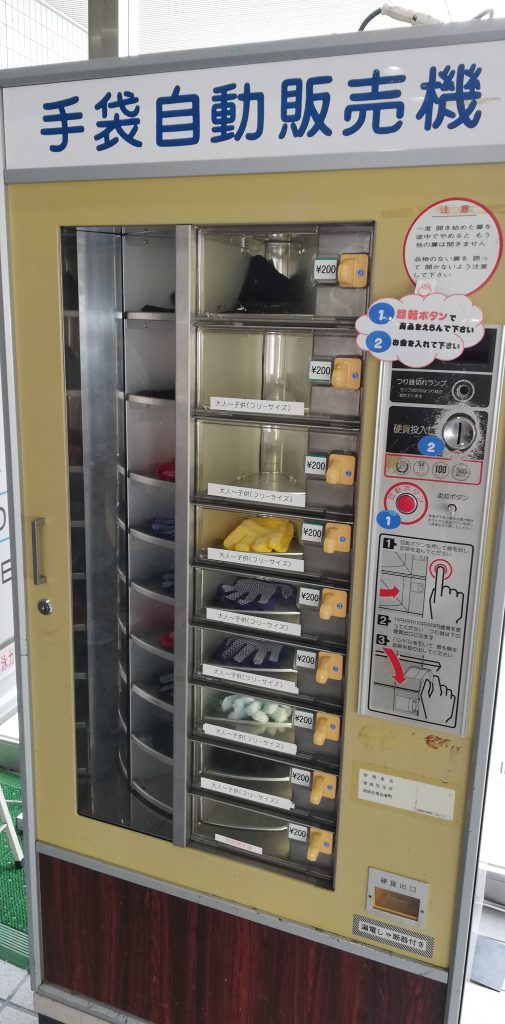 Right: the rental shoe ticket machine. Left: a vending machine for people who forgot to bring gloves. No gliding without gloves!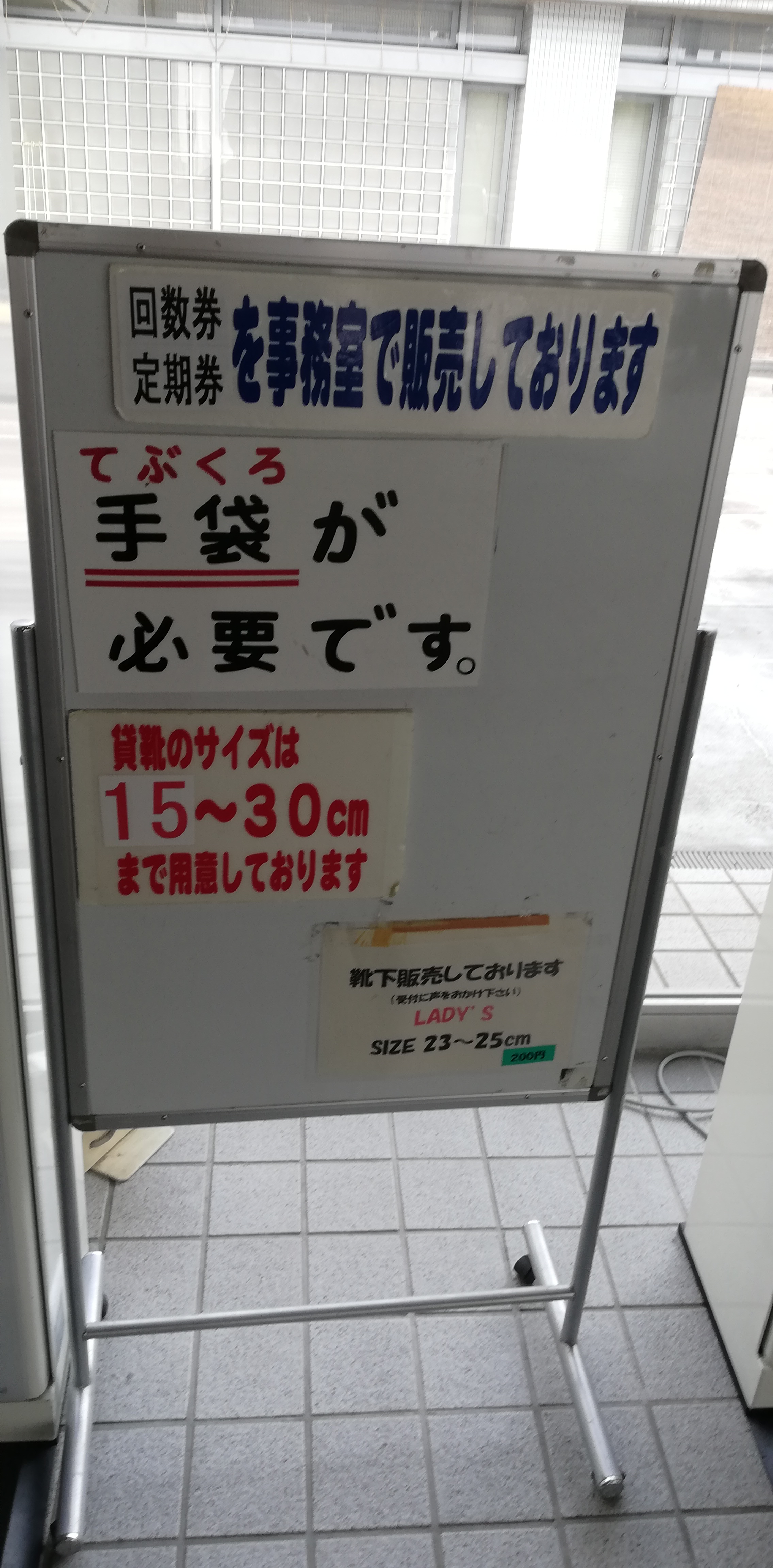 After having bought your ticket at the counter, you'll enter the shoe corner.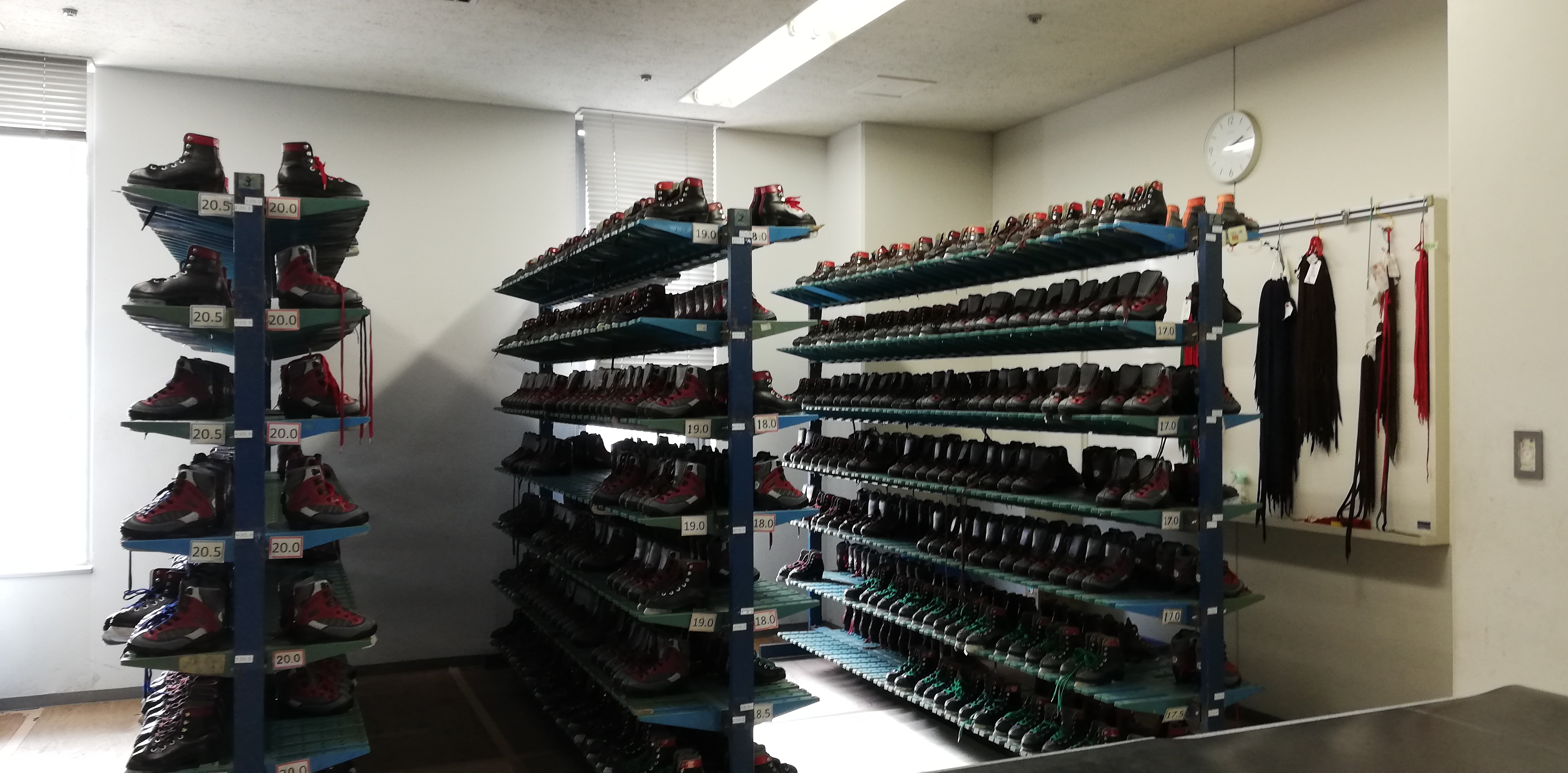 In here, hand over your rental shoe ticket, declare your size and obtain your rental skates. Those who have their own obviously don't need to rent a pair (like us Hokkaido natives. We all skated on campus in our PE classes! Ah, the skating lessons on those cold grounds… there's nothing like it.)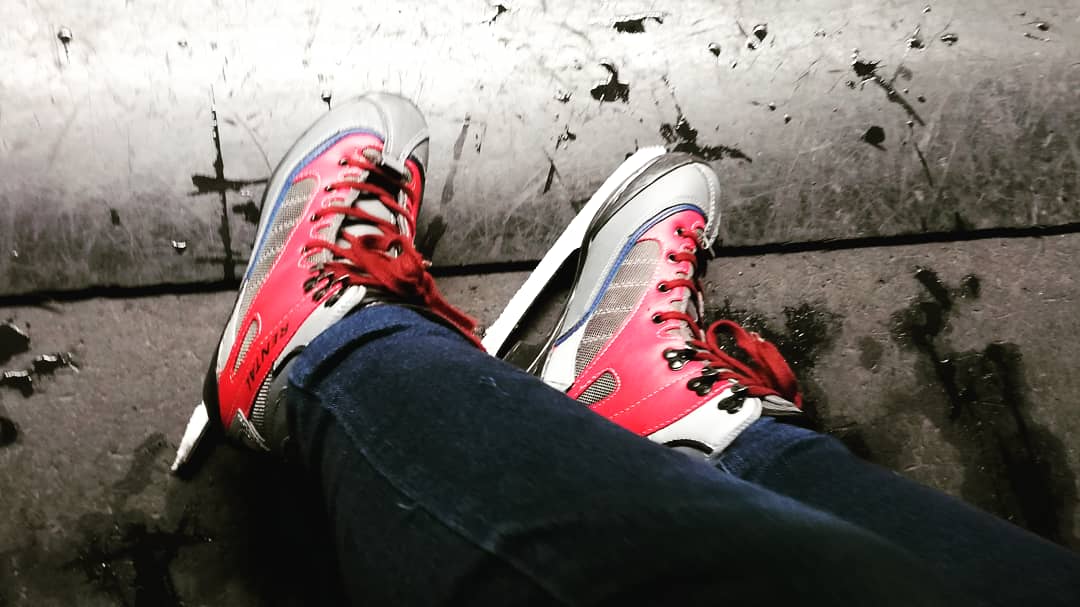 Ta-dah! I put these on in the changing room. They are of the figure skating type with short blades and toughened sides up to above the ankle, making them easy to glide. Perfect for beginners, too! Oh, how I've missed this!
(This is another story from my youth at Hokkaido, but we often went ice skating on the rink, with passion, during classes. I remember that when I entered my sixth year (in Japan, that's the last year of primary school), I was surprised to find out that almost three quarters of the students wore speed skates. What's more, as speed skates offer no stability or protection for your ankles, meaning you can only stand perfectly straight on the blade, I remember how I kept failing to use them.)
As it was a Sunday, there were lots of people. In such circumstances, it is strictly forbidden to pick up great speeds. It's a place where everyone from small children up to the elderly can skate as they please. Here and there, adults gracefully falling down, and there are many absolute beginners too. In other words, people who have never skated since they were born are just as welcome. And as you try to find your balance on the slippery ice, you won't even have the chance to worry about others watching you struggle. 😉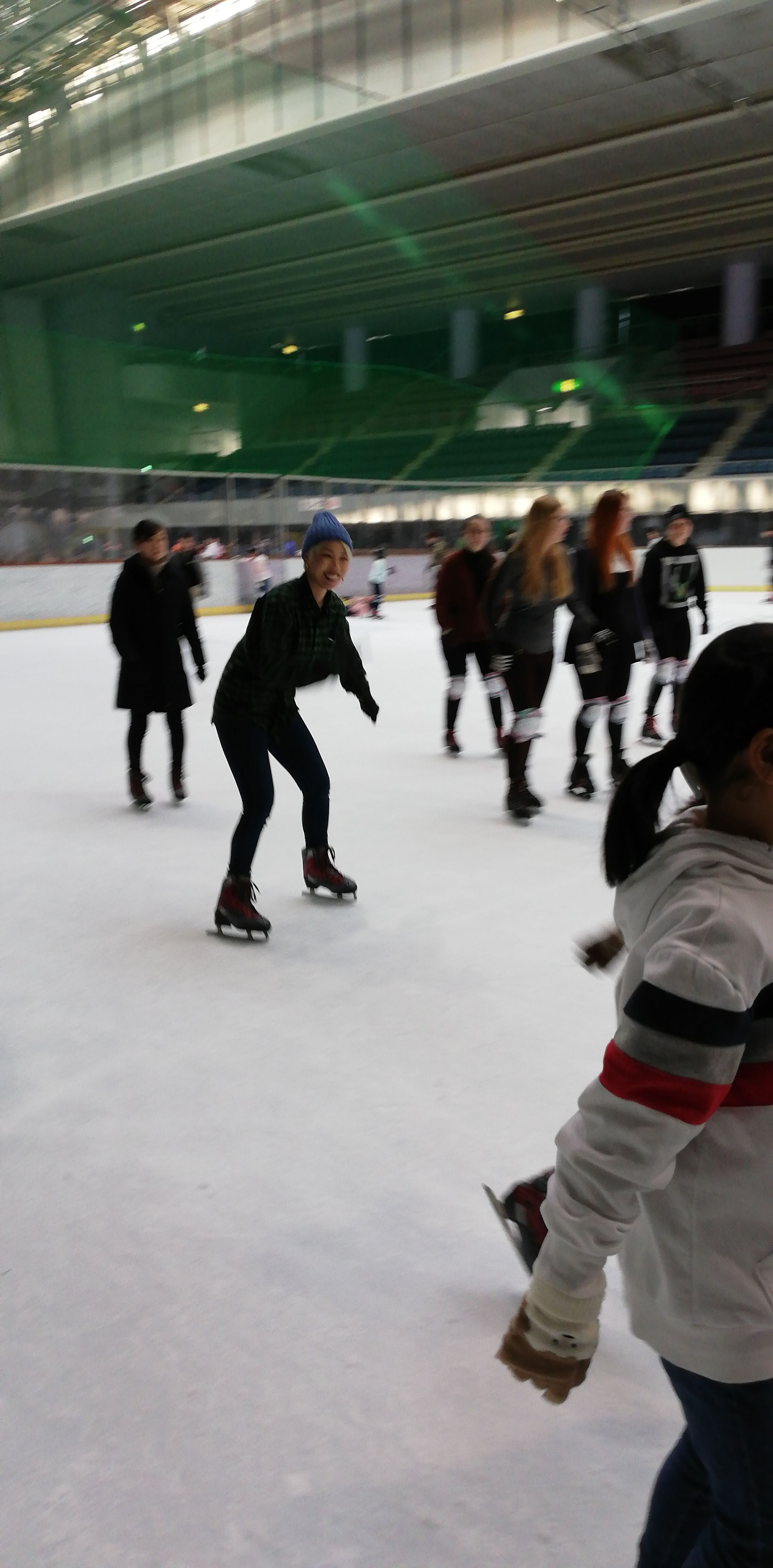 Interestingly, all of the 'pros' seem to be experienced elderly people. My attention was taken completely by watching a scene of granddads dressed like in a Western movie, spinning around with utter confidence, and I began to wonder how on earth these old men wearing cowboy hats could be so sure of themselves? At one point, I saw a young man swooshing by swiftly on his stern-looking skate shoes. His shoes seemed to be of the ice hockey type. I used to watch ice hockey matches often during my college years. They're cold but fun! Ice hockey matches are full of rapid action, so they're never boring.
When some time had passed after getting on the ice, I started to get all hot and sweaty! Trying not to think about the muscle pain that will come tomorrow, I continue adding up the laps. I love this speed!!!
My husband is not used to skating, and yet after one hour on the rink, he seemed to have found a way to keep on gliding. Allegedly, he fell about three times in two hours. "It's actually much less painful to fall down with your whole body without holding back," he said. At first I was like "Huh?" but then again, it does seem logical that falling on a larger surface like your buttocks or your whole body is less painful than trying to capture the fall with just one small body part. People were falling down all over the rink, so one might as well fall down with a bang without giving it any second thought. Helmets and knee pads and the like can be borrowed for free — there's a whole mountain of protective gear available. So don't worry!
This has been a very enjoyable winter day. Let's skate!