Hi, I'm Hazuki, the owner of The Evergreen Hostel! Today, I'm taking you to yet another hidden, culinary gem: a Nepali style curry restaurant at a two-minute walk from our hostel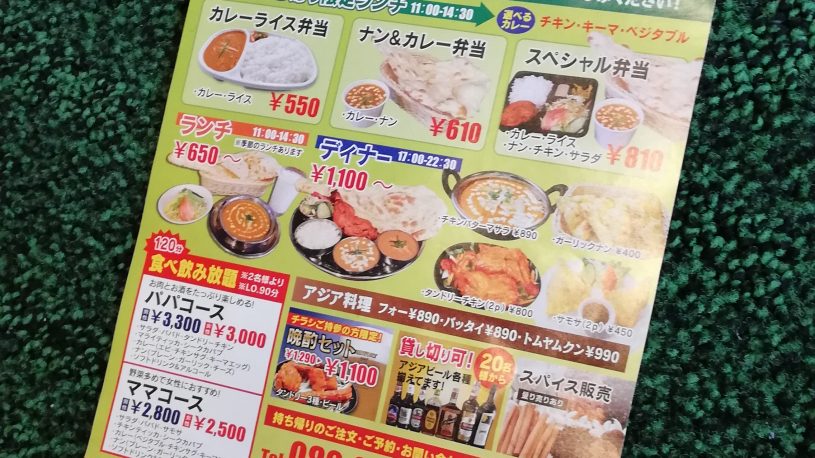 Near the bottom of our folders and flyers, available at our desk, there's a ¥100 coupon for this restaurant! Don't forget to take it with you ♥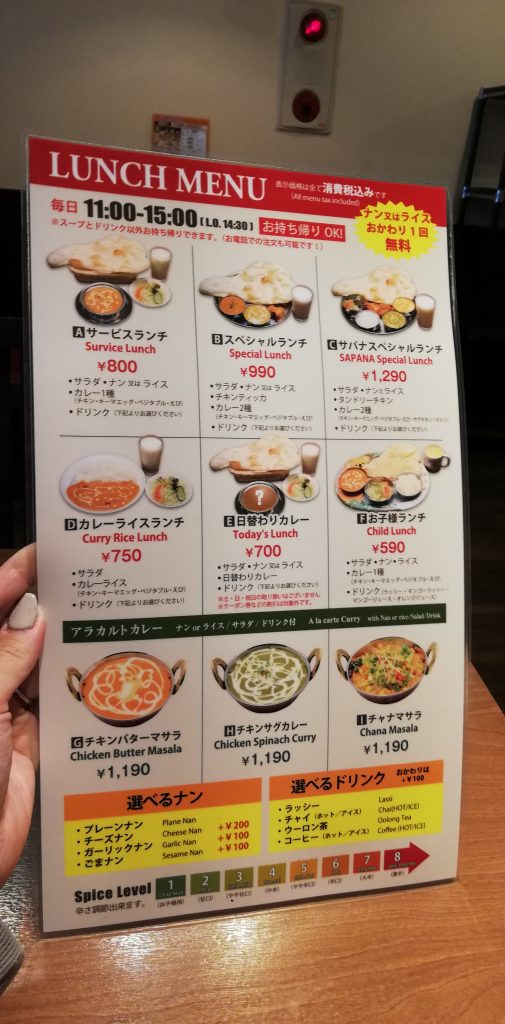 Our hostel is so lucky to be located at a go-whenever-you-like walking distance of just two minutes from authentic Nepali curry… and a regular dosis of spice can liven you up. Especially in colder times, it's good to have all kinds of spices within reach.
I often order a lunch of the day, but now that we have this generous coupon, let's go with the special!
Pinch yourself in the arm, because this is not a dream: the special includes two types of curry, a salad, one drink and nan. This is paradise! By the way, you're free to order one extra nan if you want more — which will definitely be the case because it's so good. As for drinks, I went with a lassie (like last time). The chicken curry I always order is so good, it's almost sensual. I can't help but order it every time (at spice level 7), but despite its sexiness, I just have to try another one. This time, I'm ordering a keema curry (also at spice level 7).
I'm pretty conservative in restaurants. If I discover something tasty, I end up ordering it every time I go to the same place. I just never get bored. Or maybe I'm just afraid to make the wrong choice…
They're bringing the salad now. I'm not sure whether it's an unwritten rule or not, but Indian and Nepali curry restaurants' salads always seem to come with a sesame dressing. Hmm.
Slightly off-topic, but a staff member named Hans, who was with us a month ago, totally fell in love with sesame dressing and consumed it like crazy, up to the point where he even messaged me after leaving for Tokyo: "Could you please send me over some sesame dressing to Tokyo?"
He seemed to have gotten into a dressing from a specific maker which is excessively rich in calories. Western people sure like sesame dressing. There's always at least one staff member who keeps some sesame dressing in our fridge.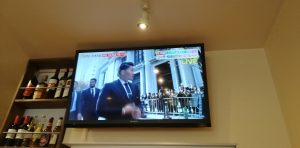 The restaurant's TV is always tuned to a daytime talkshow. This time around, 8 of Japan's best-performing rugby players in the Rugby World Cup were parading in Tokyo's Marunouchi District — walking, that is. Their toned, muscular bodies were donned with good-looking suits. Nothing goes above people who are stylishly dressed.
最高の時間でした🌸#oneteam pic.twitter.com/E6QKjuoLNK

— 稲垣 啓太 Keita Inagaki (@Gaki_keita01) 2019年12月11日
Curry was served as I was ogling at the men in suits.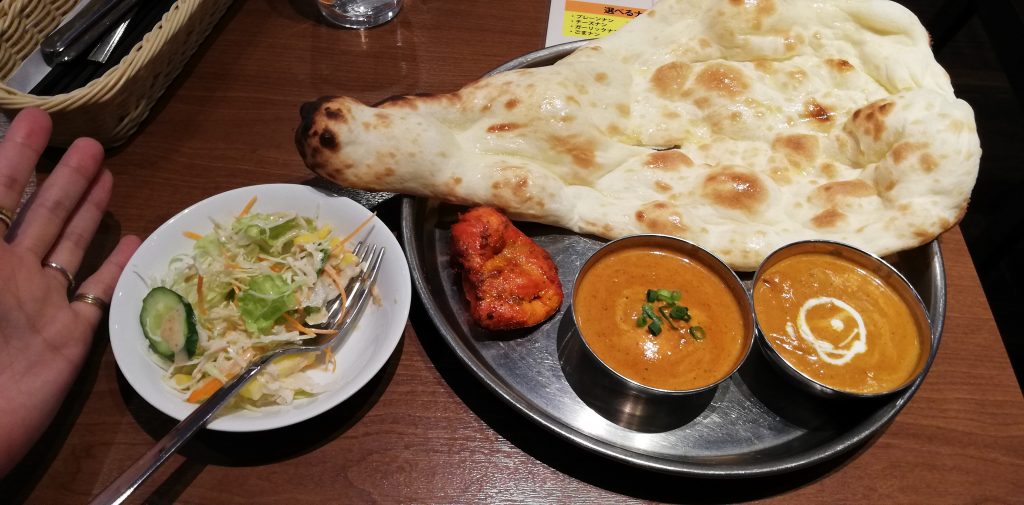 Ta-dah.
I forgot to mention something. This course comes with tandoori chicken included!
At first sight, you can't tell which is which, but the one on the left, dressed with spring onion, is the keema egg curry (with minced meat), and the one on the right with cream is the chicken curry. Both are at spice level 7.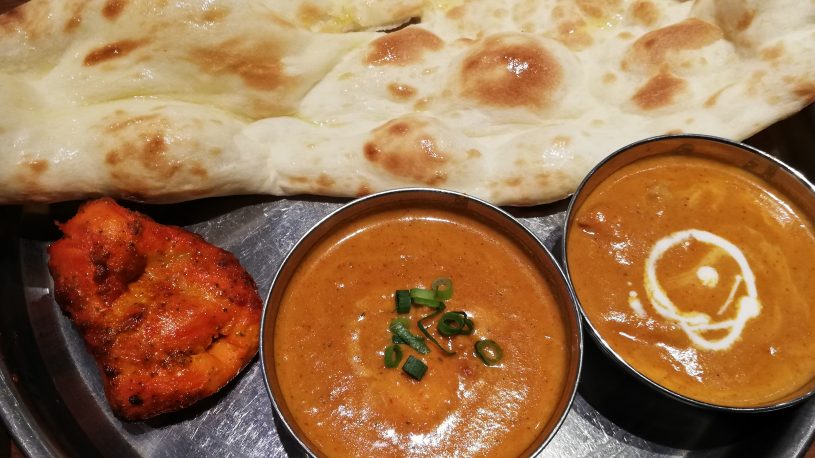 This is too good… and to make it even better, if you order the curry lunch of the day, you get a slightly bigger serving.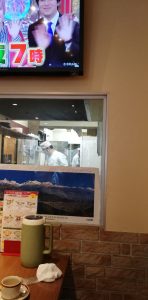 I had ordered another nan before even realising it. You don't finish eating one nan before ordering another. The way to do it is, you eat about half of your first nan and then order the next one. This makes sure you get your second nan the moment you finish your first!
Through the window below the television, you can see the kitchen, which is most likely equipped with a nan-baking furnace. It's as if hearing the sound of nan dough being stamped and stretched makes eating it an even more succulent experience… (You know the feeling?)
Hot, freshly baked nan bread is obviously delicious, but I love it even more when it has cooled down a little, during which process the nan gains crispiness and a sweeter taste. Eating nan in itself is already such a rich experience, and when butter is added, the nan dough is almost like an afternoon snack. Better not to worry about calories.
As I pat myself on the tummy after, I realise I ate two nans in a whim… and I feel guiltily satisfied.
SAPANA
2-Chome 10-18, Tokaichimachi, Naka Ward, Hiroshima, 730-0805