Hi, I'm Danny. I went to shrine in Fukuyama the other day. The purpose for visiting was to draw an omikuji to predict my fortune for the future!
The place I visited was Kusado Inari-jinja.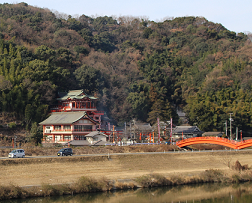 True to its name, not only torii (entrance gate) but also ornamental parapets are in bright red.  So, the shrine is conspicuous at a distance.  The bridge in front of the shrine is also in bright red.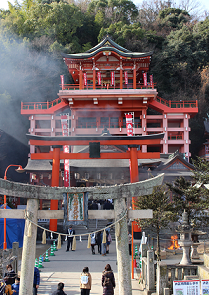 It is said that the shrine is one of the three major Inari-jinja in Japan. It's easily accessible by car or taxi compared to bus.
The shrine itself is not so big. It's not an observatory deck, but you can go up the main shrine and you can have a grandstand view of Fukuyama city there.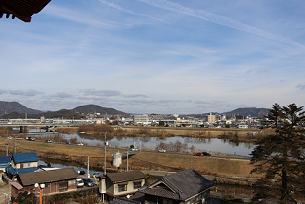 Well, there's more to come! The reason why I visited the shrine was that I heard that I can draw an omikuji that says "perfect luck (dai-dai-kichi)." (lol)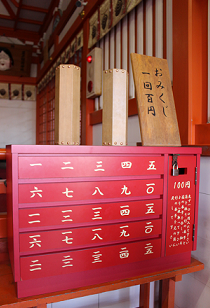 Perfect luck is better than excellent luck (dai-kichi)! It feels great when the omikuji in the beginning of the year is perfect luck! I had some tough times last year, so I think I can draw an omikuji that says perfect luck!? OK, let's do it!
For your information, Kusado Inari-jinja is famous for a high ratio of drawing an omikuji that says perfect luck in Japan. Really? It's worth a try!
Let's try! I drew 4 times on behalf of my family. One of them might be perfect luck. My heart was beating fast….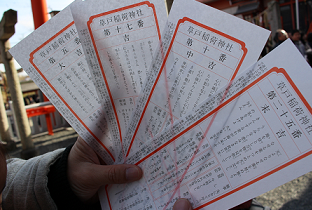 That was unfortunate. (lol) But I drew excellent luck.
I started to think that I was lucky because I could draw 4 different types of omikuji from excellent luck to uncertain luck.
Because I drew 4 omikuji, all of them had different advices. For example, one omikuji says "you shouldn't go on a trip," but the other one says "you should go on a trip."
By the way, the followings are the types of omikuji (from good to bad): excellent luck (dai-kichi), middle luck (chu-kichi), small luck (sho-kichi), general luck (kichi), uncertain luck (sue-kichi), bad luck (kyo) and worst luck (dai-kyo).
Well, I had fun though. I'm hoping for the health and happiness of my family this year.
Why don't you visit Kusado Inari-jinja if you are interested in drawing an omikuji that says perfect luck?