Sights in Hiroshima by Andy
This post will sort of be a two in one. I'll discuss some sightseeing areas, as well as some great spots in Hiroshima for taking photographs.
All over Japan there are hundreds of places great for photography. First, let me go over some photography etiquette.
When traveling to another country, it's easy to get caught up in the new and exotic, as it may be quite different from what we are accustomed to back in our home country. It is important to note, that while you are abroad, you are like an ambassador for your home country. Please do your best to consider laws in the country you're visiting, as well as the feelings of the people around you. This can be said for things other than photography as well. It's also important to note that Japan has a law that puts civilian privacy above art; this is a complete opposite to that of U.S law, where art is protected more than the privacy of individuals. So be aware, that in Japan, taking photos of people or religious sites is more or less frowned upon. And blatantly making someone the subject of your photo is not only rude, but can also get you in a lot of trouble. If you see a shot that you want to take and it's inevitable that someone will be in the photo, it's best to ask if you can take the photo, or just wait patiently until they are out of the shot.
Moving on.
From my viewpoint, if there is one place in the world that offers the most stunning visuals for photography, it's Japan. The temples, landscapes, and skylines are truly worlds of their own, offering to us sights and sounds unbeknown to the everyday eye outside of Japan. Within itself, Japan possesses such diversity in its landscapes, so much so, that even the same background can become unrecognizable depending on the season. Hiroshima blanketed in snow during winter might look completely different to Hiroshima during the summer.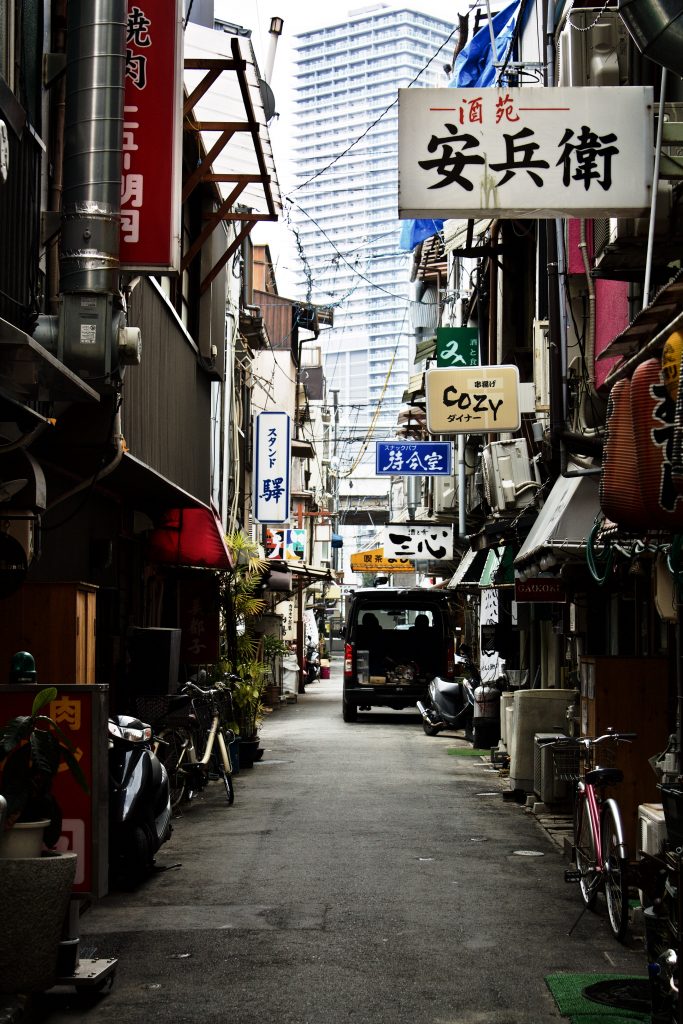 The abundant side streets and alleyways are my favorite to explore. These cramped, narrow thoroughfares are like crevasses, offering an intimate view to days gone past. Strolling through, sometimes I feel as if I have been transported back to the Showa period, a nostalgic time for many Japanese. This feeling is especially apparent in older districts where izakaya are easily found.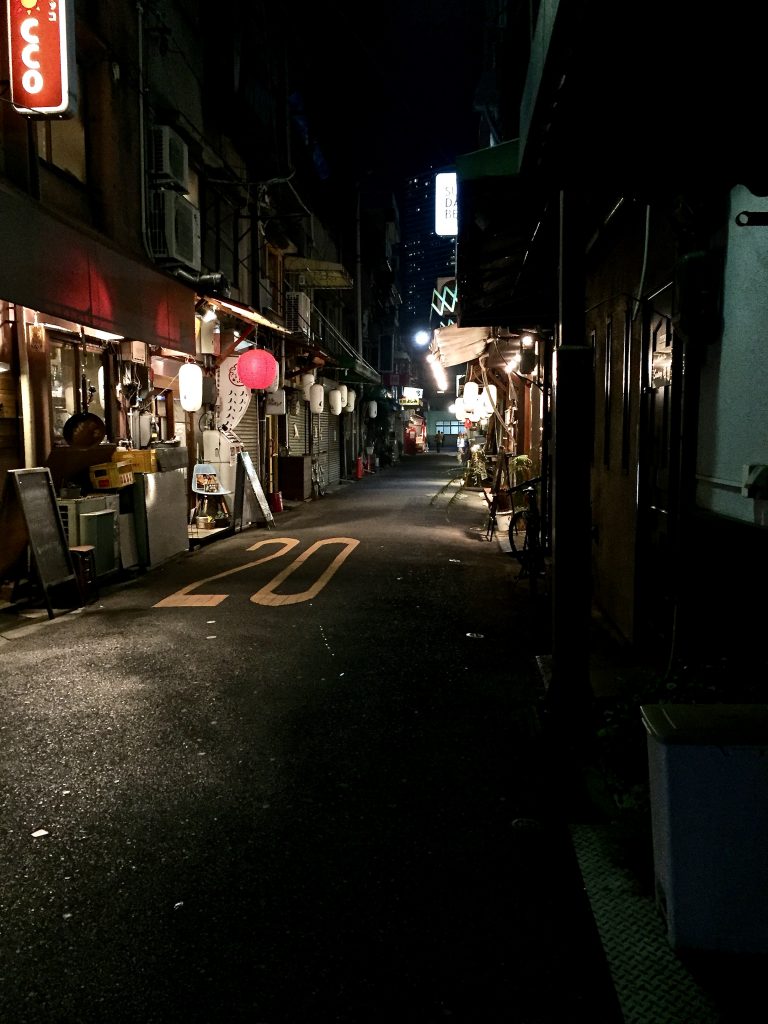 This area, called"Eki Nishi"(Station West) is a great spot to find izakaya and feel the vibe of the Showa period.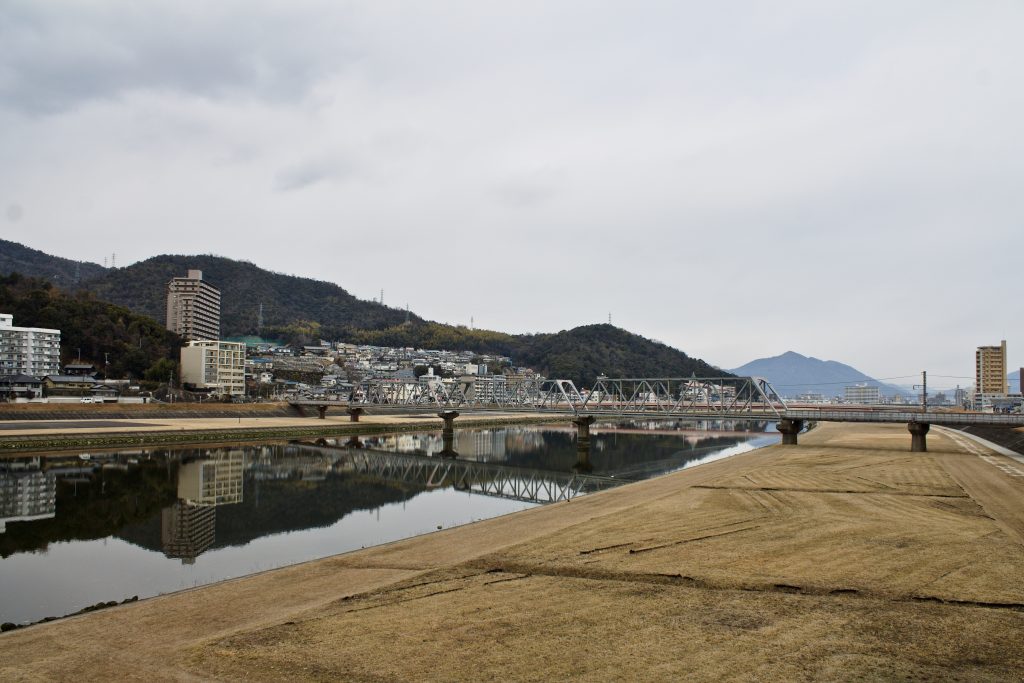 If you're interested in temples, don't pass up the chance to see this one. Mitaki temple is such a wonderful a charming place. It's about a thirty to forty minute walk north of the hostel, but it's worth seeing. I myself have been here a few times already. To get to the temple, you will walk along a bridge crossing the Ota river, which is a great vantage point for some photography. From the bridge, you can see the town that you will eventually pass through(in photo above). The town is on a hill, so be prepared for a short hike.
Upon entering the temple grounds, it is hard to believe that there is an entire city just down the hill. The atmosphere breathes a fantastical whimsicality, accompanied by a silence that lulls visitors into a peaceful state.
Sometimes chanting can be heard from inside the temple from people praying. It's okay to listen, but taking photos of people while in prayer is especially frowned upon. Instead, Mitaki temple's pagoda is even more photogenic.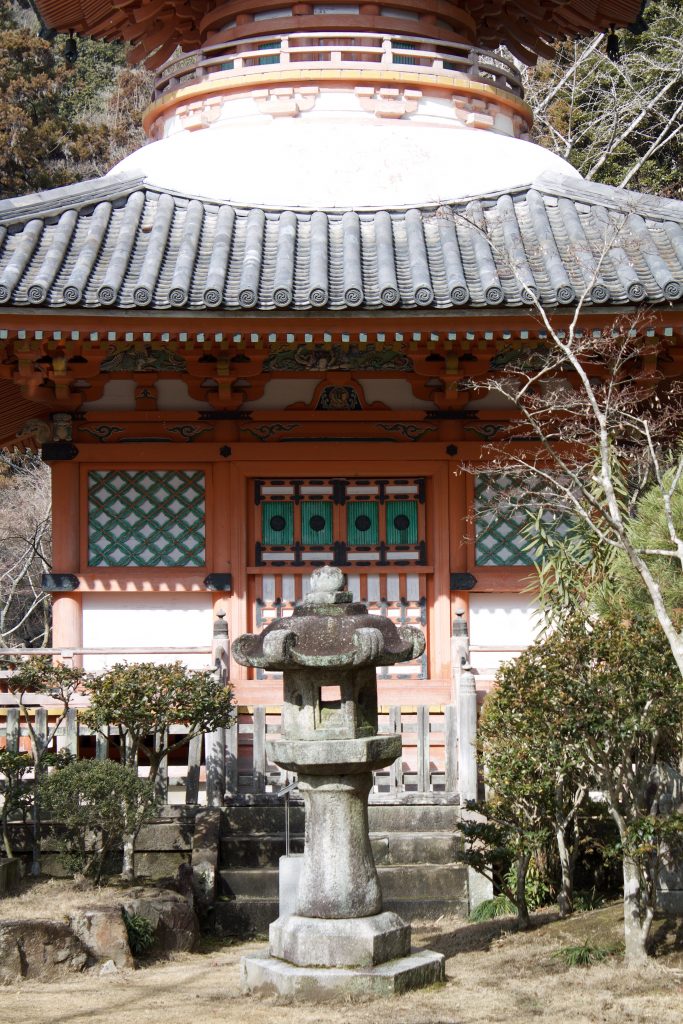 The Mitaki temple pagoda was dismantled from its original foundation in Hirogawa, Wakayama prefecture in 1951. It was then moved and rebuilt where it is now in memorial of the victims of the atomic bomb.
Located on the temple grounds is a narrow set of stairs leading up to a small shrine. Behind the shrine is a trail that ascends to the top of the mountain. It's about a half hour hike, but the view is worth it.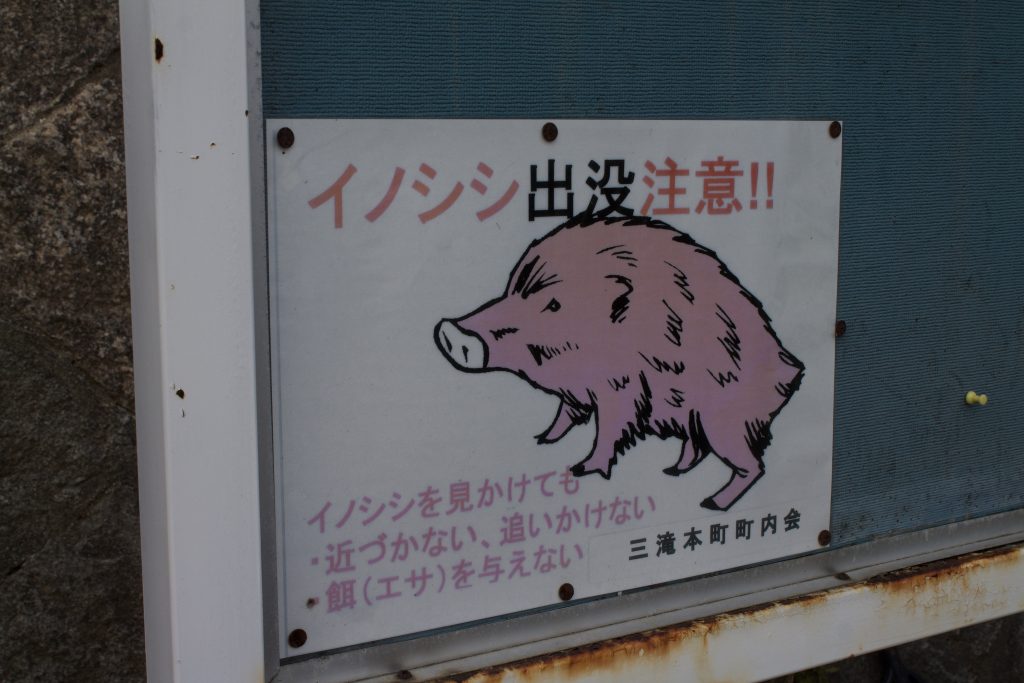 Do be aware that there are wild boars on the mountain. However, I've only seen them roaming at night.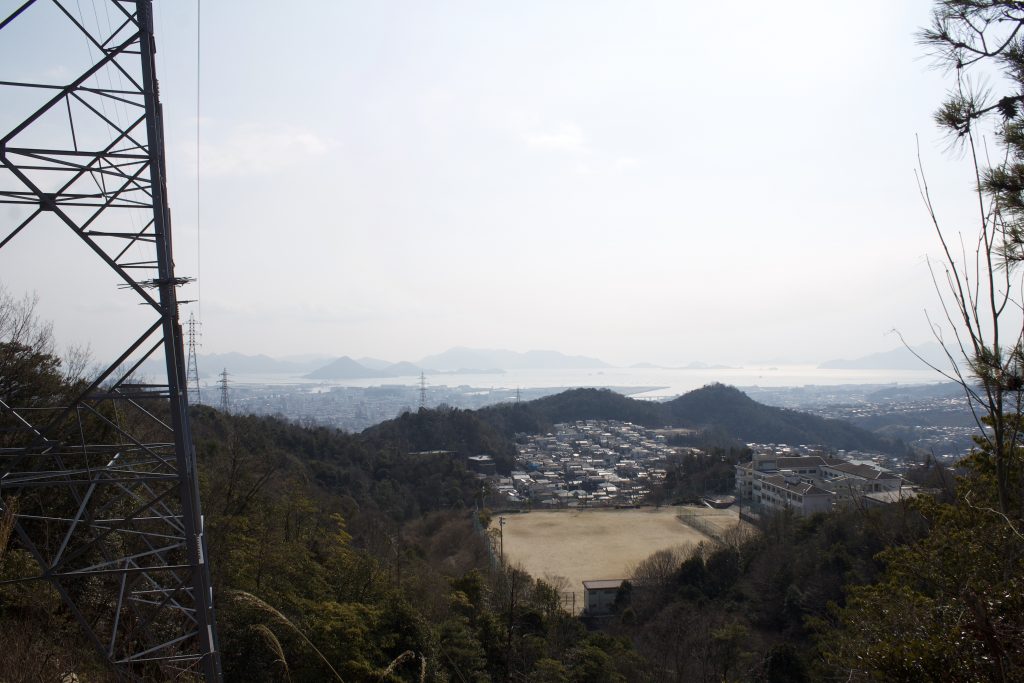 The sight from up top offers one of the best views of the city. For me, it was the first time seeing a city skyline. (Note: this photo was taken from just midway through the trail. The actual view of the city is much grander than this, I assure you!)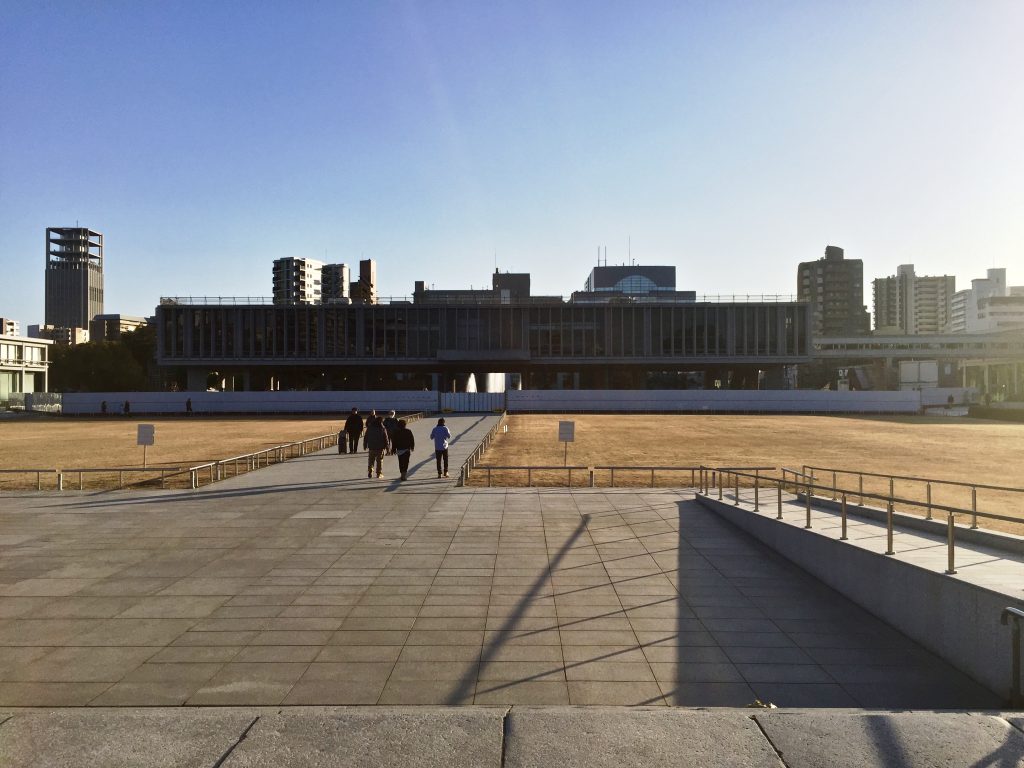 While you're in Hiroshima, this is a great opportunity to visit the Peace Memorial Museum. I highly recommend going here. It's only ¥200 to enter. Myself and another traveler spent almost three hours in the museum, reading about the history of the city, the subsequent bombing, and how the people rose up to rebuild their beloved home. It's truly a story of magnificence, sadness, but also hope and peace. The visit was sobering for both of us, and made us feel genuinely grateful for the peace we have right now, and why it's so important to keep that peace alive.

Seeing the historical site of the Genbaku dome made everything I'd learned about WWII very real for me. You can see photos and read of survivor reports, but you gain a more thorough understanding of the events when you see relics right in front of your eyes, almost within touch. As much as it might be a reminder of the horrifying events that occurred, the Genbaku dome is more now a symbol of peace and hope, and why tolerance and understanding are so important in our everyday lives.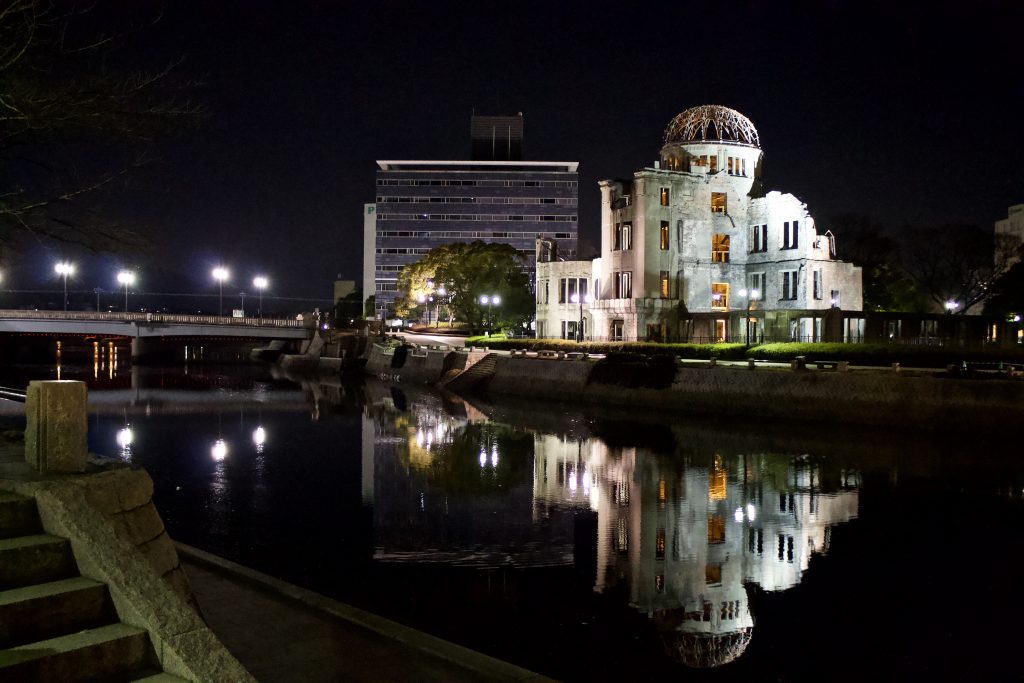 The Genbaku dome, which is just a few minutes walk from Evergreen Hostel, is perhaps the most photogenic sight in the city. There are several vantage points that provide great angles, day or night. My personal favorite is to walk along the riverside at night to capture the light of the Genbaku dome reflecting on the water.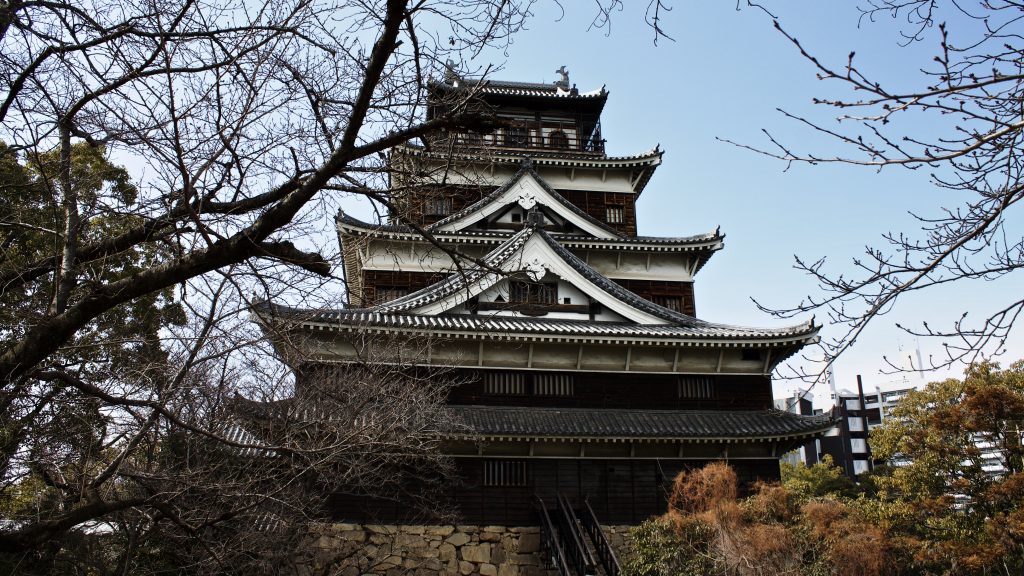 Hiroshima castle offers a lot of history and is another photogenic piece of scenery within the central part of the city. There are various spots on the castle grounds to get great shots. Note that the castle itself isn't of the original construction; having been destroyed during the war, a replica was built in 1958 to serve as a museum of the time before WWII. It's a good place to gain some knowledge of pre-war Hiroshima, especially for history buffs. I was actually surprised myself to learn that these grounds were a prominent military headquarters following the Meiji restoration.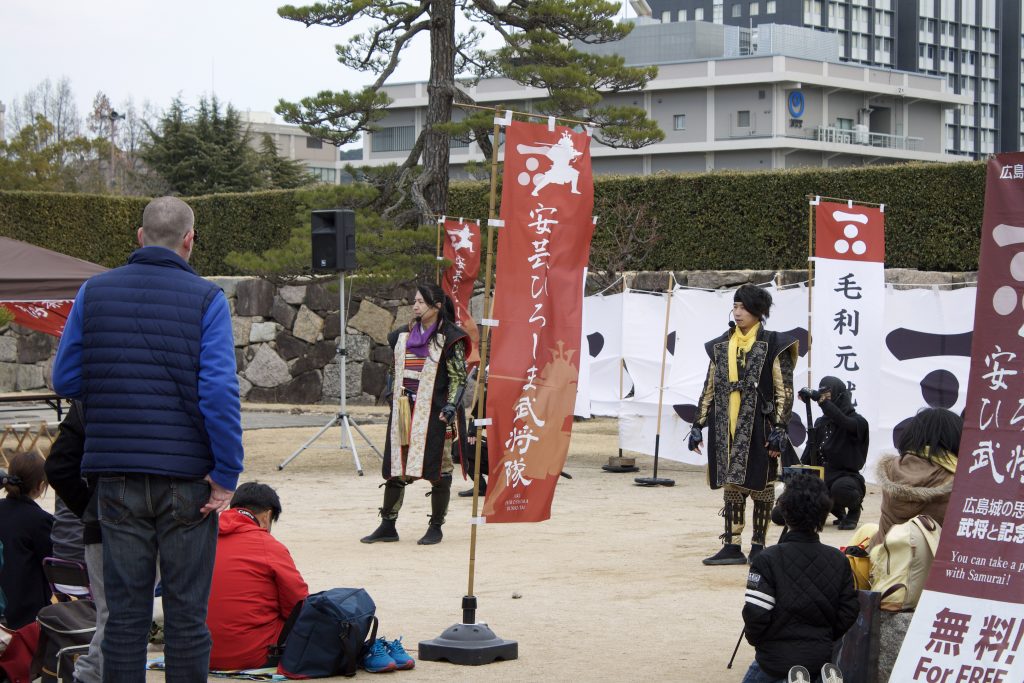 Sometimes there are performances on the castle grounds.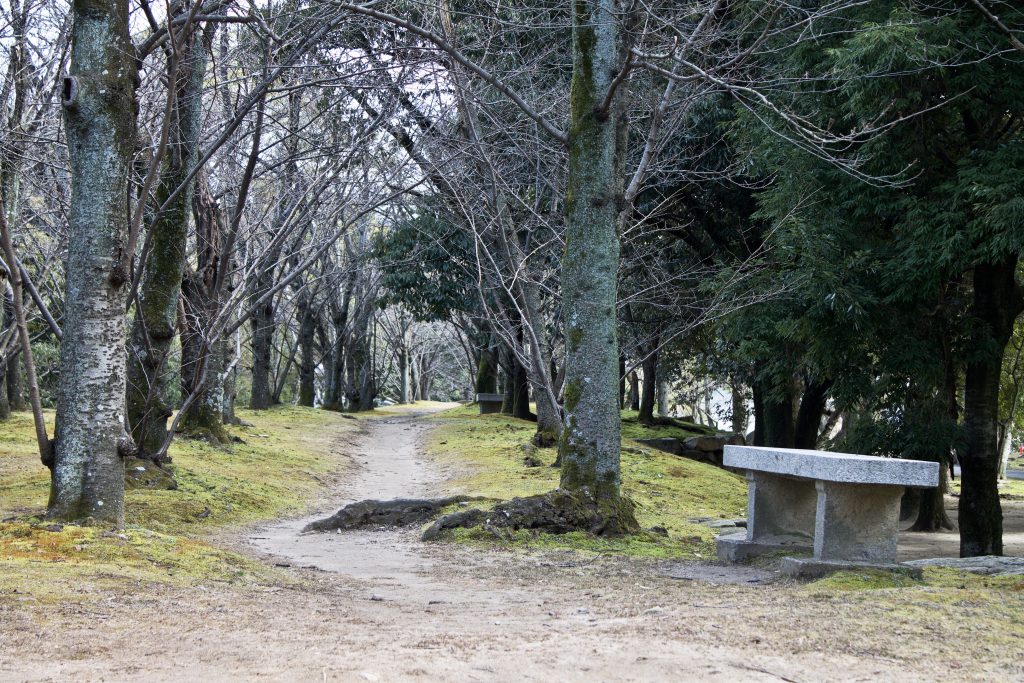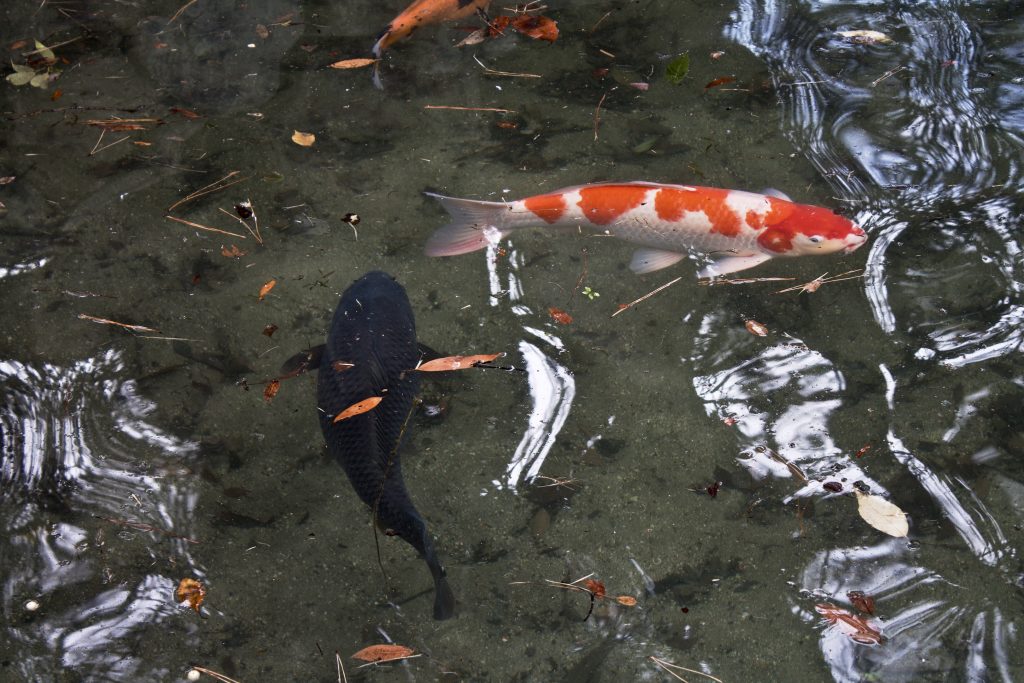 I really enjoyed just simply walking around the castle grounds. It's a wonder to think who walked here before us and all the events that occurred that are now history.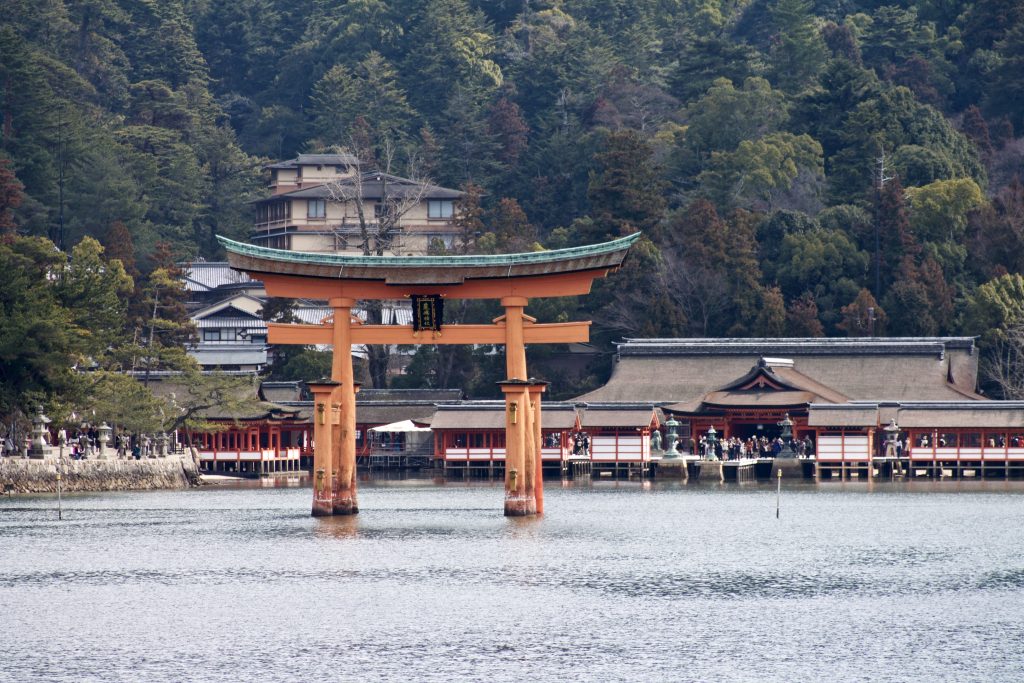 One cannot step foot in Hiroshima without taking a day trip to Miyajima. Also known as Itsukushima, this is the island most popularly known for the great O-Torii, the vermillion colored gate that stands just off the shore of the island.
For a small fee of ¥300, you can walk along the pier, which leads to another part of the island where a temple stands. At the end of the pier, many people might be seen forming a line to get a selfie next to the lantern with the O-torii in the background.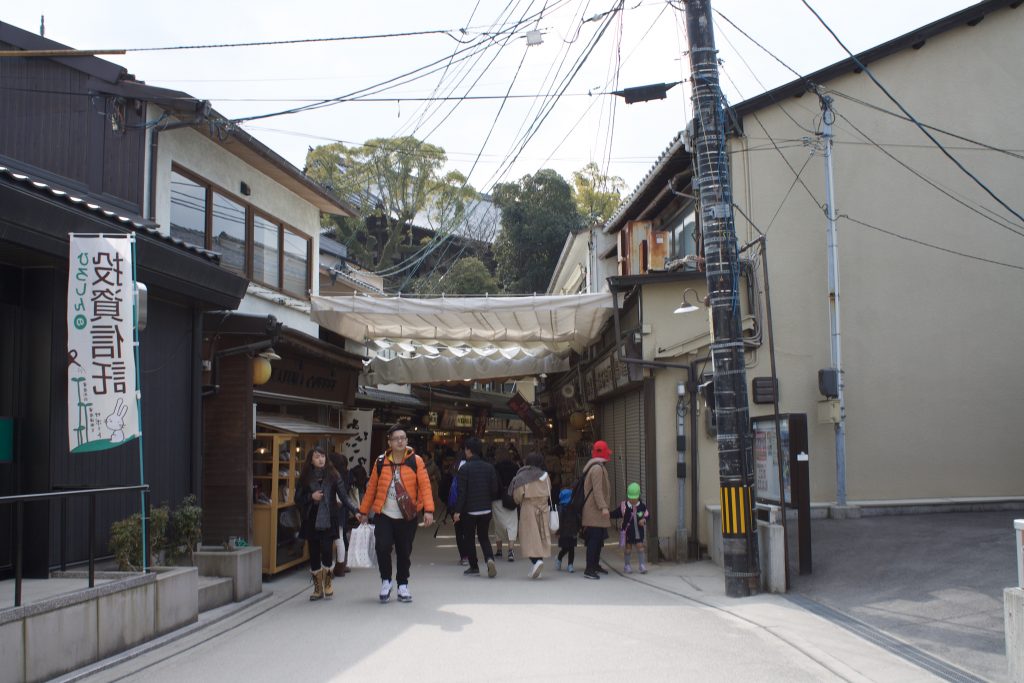 There is a small town on the island, as well as a thoroughfare with an array of shops selling food and souvenirs. I bought a Hiroshima beef steam bun for ¥450 at a stand. Expensive, but worth the delicious and fresh flavor. There's also a Starbucks on the island, which I was quite surprised to see.
Almost like something out of a fairytale, small deer roam all over the island. They are so tame and used to people, you can actually pet them! And it's actually quite comedic to see them nibble at people's pockets, scouring for some sweet treats.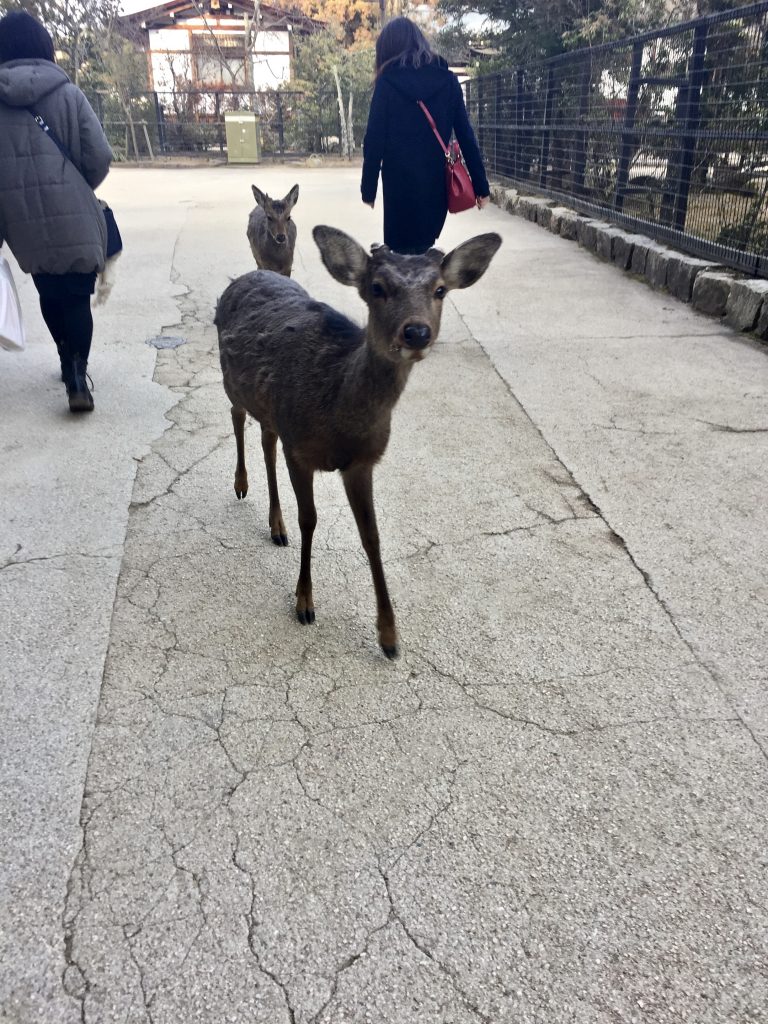 At one point, I'd taken a rest the beach, taking in the scenery. As I finished my seaweed and sesame onigiri, a man came over to me, introduced himself, and offered a short kayak tour around the inland. He rowed us over to and through the gate. Thanks to him, I was able to get a few close shots.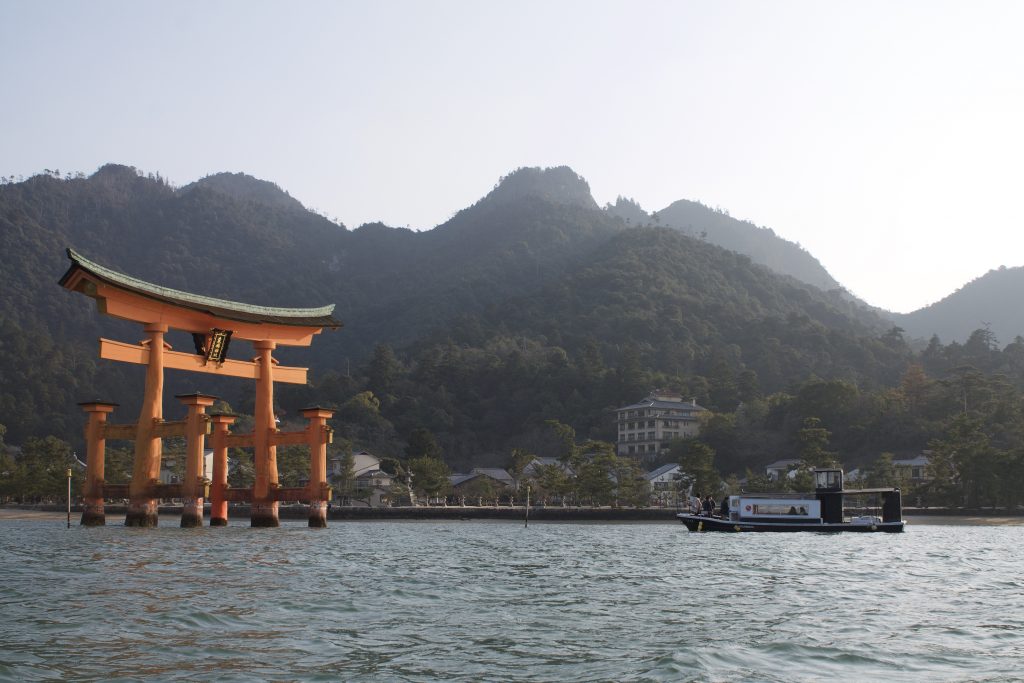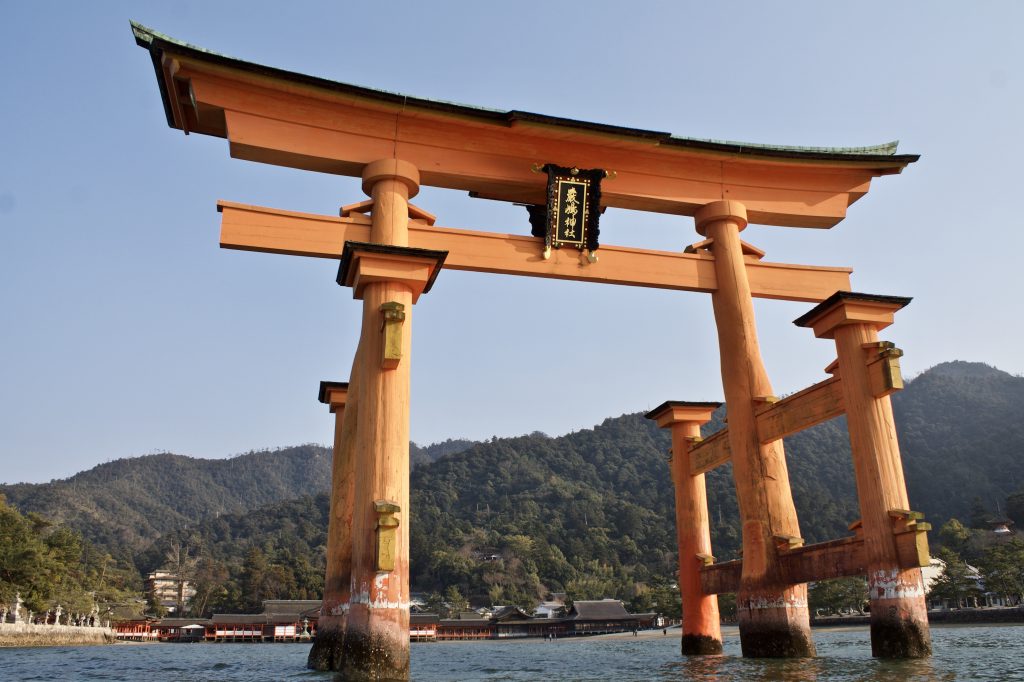 If you're interested in a kayak tour of Miyajima Island, check out HART Adventure!
Haru, the kind gentleman who gave me the kayak tour, is really knowledgeable about the surrounding area and has been doing tours in Hiroshima for ten years. His instagram account also has some great photography. I highly recommend him.
https://www.instagram.com/hart.a.c/?hl=en
http://hart-hart.net/
It's a magnificent experience to see these wondrous places in the real. Like with many instances in life, it's one thing to see pictures on the internet, and another to actually see these marvelous relics of the past, having them right before your eyes. I hope that you will enjoy the sights that Hiroshima has to offer just as much as I have. I think that, despite any outside influence, Hiroshima is a thriving city that still holds the lovely charm of traditional Japanese life.