Hi, I'm Danny.
When I tell people that I moved to Hiroshima due to a company transfer, they always ask me "Have you ever been to Sanzoku?"
Hmm, Sanzoku…?
I wondered what it was, and then I found out that it's a name of a restaurant in the mountains. Do I have to go there? I heard that people in Hiroshima and Yamaguchi go there when they get driver's licenses to practice driving.
My friend who lives in a town where I used to live went there by car at around the same time. (I think it takes 7 hours each way!) NHK, a Japanese TV station, featured Sanzoku at the time, and she decided to visit there when she went home for a vacation. We didn't watch it, but many people told my husband about the restaurant at the same time. He was very influenced and asked me to go to the restaurant on the weekend. "Let's eat out tonight. Actually, I went there in advance when I went on a business trip nearby." He put me in the car and started a car before I could even say something.
Sanzoku….It's a sleepless town that appears suddenly in the mountains….
I might be exaggerating a little. But the minute I saw carp streamers, I found the restaurant. I didn't have much time to wonder what they were.
How can I explain this place? For better or for worse, it's chaotic.
Since it was at the end of November, they lit up a Christmas tree. I could understand up to here.
But why carp streamers? (Usually, we put up carp streamers in May.)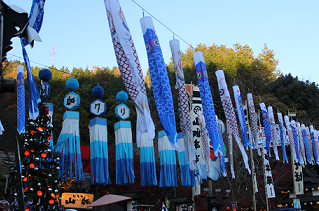 There were a lot of carp streamers.
And there was a Christmas tree!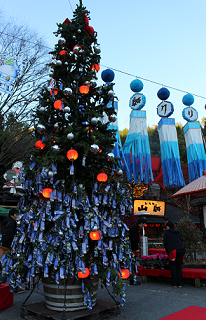 It's a place of a fusion of Japanese and Western festivals.
We visited the restaurant in Kuga Area. It didn't take an hour to get to the restaurant from my house in Asaminami because the expressway wasn't crowded. There are three different types of restaurants in Kuga Area: "Irori Sanzoku", "Kamado" and "Tourian." I didn't know why, but my husband chose "Irori Sanzoku," which is the coldest restaurant of all. (Most of the seats are located outside!)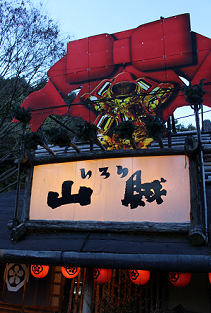 He wanted to go to the most popular restaurant of all because we came all the way here!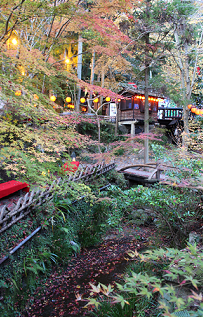 It was cold, but the autumn leaves were very beautiful.
We ordered 5 dishes:
○Sanzoku-yaki
○Sanzoku Musubi
○Sanzoku Udon
○Sanzoku Shizumi-mochi
○Maki-zushi
First, you place an order and pay in advance. And then, you enter the restaurant and take a seat. You give a numbered ticket to the waitperson near you. He or she brings your food when the food is ready. There was kotatsu (a low table with an electric heater installed underneath and covered by a blanket), but it wasn't warm.
Personally speaking, I liked Sanzoku-yaki the best. I enjoyed biting into it, and the sauce was smeared across my mouth!
Sanzoku Musubi has 3 fillings! When you bite from this side, you find a pickled plum. But when you bite from that side, you find salmon. And when you bite from another side, you find kelp.
It was like a treasure hunting, and it was fun! (lol)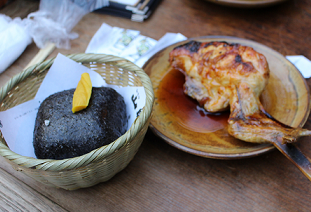 Sanzoku Shizumi-mochi was delicious, too. A toasted kusa-mochi (mugwort dumplings) is in the soup.
Unexpectedly, the sweet bean paste inside kusa-mochi goes well with the soup. I got worried whether I could eat up everything because kusa-mochi was big. However, there was nothing to worry about that. I finished off Sanzoku Shizumi-mochi very soon.
It was chilly that day, so Sanzoku Udon helped me to warm my body. I think you need to order it when you visit here from autumn to winter.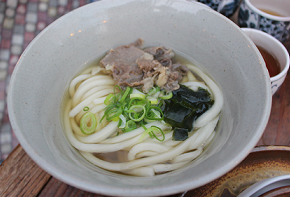 To me, many people were ordering meat.
You grill the meat by using shichirin, a small charcoal grill. It may be the dish that warm your body the most because of shichirin.
After the meal, we went for a walk within the restaurant. I got excited when they lit up the site. It became more like a banquet. "祭" meaning "festival" in Japanese, emerged out of darkness of night.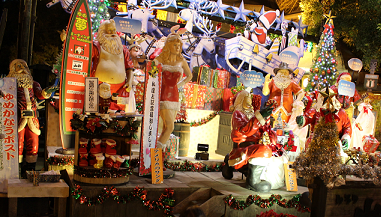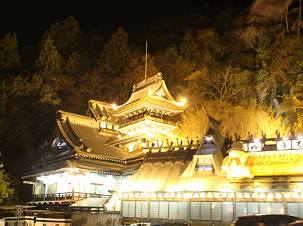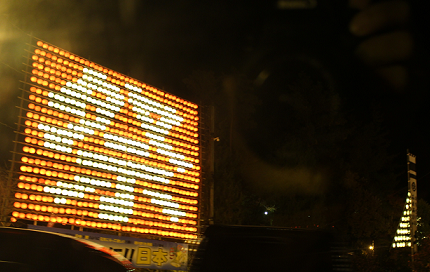 I decided to buy my dessert before leaving the restaurant. I wanted to buy Ohagi, but they were already sold out…! I had terrible regrets over not buying Ohagi beforehand. I thought that I might eat until my belly is full, so it's better to buy them after the meal… It depends on the time you go, but I recommend that you buy the food in advance.
According to the website, a lot of events are held throughout the year. I want to see shishimai dance (lion dance) in the New Year.
It may be difficult to get there by public transportation, but it's not far from the closest station. Let's visit the restaurant if are free and if you are interested in it☆