Hi, I am Hazuki, the owner of THE EVERGREEN HOSTEL.  I'm writing how this hostel was made based on the writings that I had accumulated in the past.
■2015/9/26 –Property previewing
I went to preview the property that I was looking at since July. I should say I finally went.
Location★★★★★:
Very convenient such as where other franchise hotels are.
Condition★★★★☆:
The walls and floors seemed to be solid, not like a skeleton. It seemed to be easy further renovation.
Rent★★★☆☆:
Cannot say inexpensive. Is there any space to negotiate
Image to run★★★★★:
I can imagine after reflecting about the layout a lot.
Fitting of lay-out★★★☆☆:
I want to put one more bank bed…
This property used to be an office. The most impressive feature is it has the open ceiling.
Also, I think it is good that the first and the second floor can have separate atmosphere.
It seems that I can get even and I can imagine how it will be after previewing. I put a hold tentatively and decided to proceed to the next step.
■2015/9/29 –I hade an appointment with JFC.
To figure out the amount of the loan I will need in future, I went to the free consultation to Japan Finance Corporation (JFC). This is appointment basis only. It is so kind to have a consultation on Sunday…
■2015/10/4 –First JFC Consultation
10:00 A.M. I went to the free consultation to Japan Finance Corporation(JFC). I went to there with the formal or more than better attire like I go work usally. It might have been the first time to think, "I want others to think that I am a very neat person, "It happens for the first time since I had a job interview or visit my husband's parents…The only thing that was not the same was I was not nervous. I could not wait and was excited when they listen to my proposals because I had a confidence with my project content and references.
….If I think in that way,
How I was not confident while job researching, ….
how I was not confident to visit husband's parents…
By the way, the place where I went was Shinjyuku Business Support Plaza located at the west exit of Shinjyuku Station. Although in addition to the first thing in the Sunday morning and 15-minute earlier arrival, soft attitude of Mr. O who is the assistant manager, greeted me.
We exchanged our business cards, sat down, and started our conversation: outline of my business, objective property, promotions, and the outline of the operation income and expenditure.
"First of all, we have unsecured and conventional initiation loan system. We can apply to women/young/senior initiation loan system in you case. You will receive favorable interest rate a little bit!" Oh, really? I was so lucky they cast me into a special net♪♪
"The amount of the references, writing style, contents are very specific and are satisfactory level. The items of the account of the balance sheet are well calculated and projected earning is conservative, so they seem to be fine. The only things to reconsider are initial investment and cost. Unless they are saved, it seems to be tough."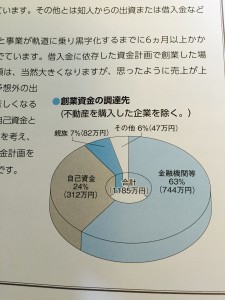 The quality of the reference seemed to be OK. I would say the six-year-experience as a office worker brought this reference feasible.
"The average loan we would offer our clients is six to seven million yen. The average share of personal funds input on total star-up cost is about 25%. It depends on the business, but if the business is out of this measure, it makes the hurdle higher."
Yes. He pointed out my initial investment is too much.
As a matter of fact, I set up the initial investment items higher because I wanted to have a hint how much higher I will be able to loan. I expected what he was saying.
I must make initial investment about half.
My plan was forced to cost down more than I expected: no, forced to reduce, but if the initial investment is smaller, the loan will be small. To short, that reduces the risk, so I should do willingly. Originally, I was going to do, so there is no problem. Good.
In other words to be honest, if I put much money as much as I want, there is nothing more to be easier. However, if I borrow, definitely I must return. Furthermore, if I challenge this project in the shortest period, that makes me and my family secured. From the very beginning, it is not the same scenario whether putting much money brings "the highest quality" or not. Low cost start-up could be feasible up to my ingenuity. And I believe there exists some fun to achieve the goal in the defined restrains. If I say school uniform and suite are examples in the fashion. They have certain restrictions, but we tried to find some taste of own fashion and differentiate myself to the others.
And I realized this is the microcosm of society and nature-: "The system exists. But if something is out of the range, that makes the hurdle higher". It happens in the company in the same way: we are entitled to have paid vacation, but people do not take the days off much. So, it makes hard to take days off….something like this.
Probably, if I own corporation and have some decent establishments in the field or reasons, I could have decent amount of loan. But, this is my private business operation from the very beginning; furthermore, I cannot put much investment. I really could read their implication that it is tough to startup.
"We will consult with you as many times as you wish until you submit your final paper work. We will cooperate with this case to Chugoku-branch that deals with the cases because your business will be developed in Hiroshima. The business setting up is not easy for the distance between Hiroshima and Tokyo, but we will support you as much as we can."
I have not beet to Chigoku-branch of JFC, but their coordination is wonderful. I was saved.
At the end of the meeting, they provided me the brochure of Hiroshima and information of a woman who utilized the loan and established the business successfully. It was so thankful they prepared the information beforehand, not hustling to find the time I visited. I just input my information briefly to the online inquiry form. Honestly, I was unexpectedly surprised with their warmly welcome and providing information, which is like all I have to do is set back and wait for their services. Pleasant surprise.