Hi, I am Hazuki, the owner of THE EVERGREEN HOSTEL.  I'm writing how this hostel was made based on the writings that I had accumulated in the past.
■ From August 29th to September 6th, 2015  Summer vacation!  Went to Hokkaido to enjoy a motorcycle touring by myself
Regarding the property A that Mr. N introduced me the other day.  I calculated the beds that I can put in, and I found out that I could get enough sales to break even.  There were no other people who were thinking about renting this property, so I left the contract for a while.  I wasn't in a hurry, and it's a little bit far from Tokyo to get to Hiroshima…
All told, I found myself in summer vacation.  I had 9 days off in total (Saturday, Sunday, 5 working days off, Saturday and Sunday).  I went to Hokkaido on a ferry and visited many places by bike for 9 days.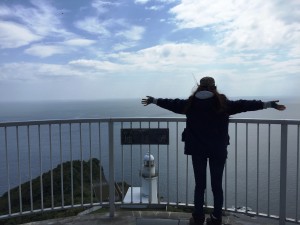 The travel distance was 2,800 kilometers.  The weather in Hokkaido was both nice and rainy.  (I'll never forget riding my bike in the plain field of Obihiro, looking for the guest house in the blinding rain.  I got thoroughly soaked, too.)
I stayed at a guest house or a hotel for riders every night.  I could stay overnight for 500 yen.  It was very difficult for me to understand the price setting.  The hotel was very peculiar to "Hokkaido" and "Rider," though…  (I was overwhelmed by a sense of unity and a warm reception of riders in Hokkaido.)
Spend money that I had earned on journey, look at nature after I was exhausted from riding my bike, enjoy talking with local people and travelers and get a good sleep in the guest house which I like the best.  I seriously think that I couldn't be happier.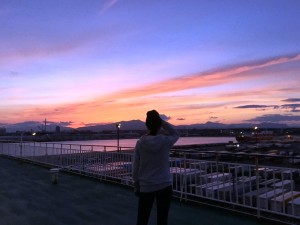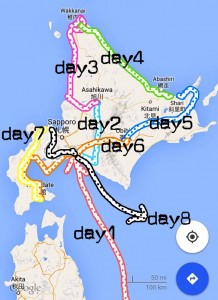 I'll never forget the glow of the sunset that I saw in Port of Tomakomai on my way back home and my wish for more of these days.
■ September 6th, 2015  What I thought at Marukoma Onsen, where I visited during my touring in Hokkaido
It was a fine day on September 4th, 2015.  Today was the last day of touring in Hokkaido.  I headed over to Kucchan via Otaru and Mount Kenashi.  After I visited Mount Yotei and Lake Shikotsu, I decided to go to Tomakomai West Port Ferry Terminal.  This course was recommended by the host of a hostel in Otaru.
I was bad at riding along a winding mountain road, but I got used to it because I rode many mountain roads in Shiretoko, Rausu, Oakandake, Tokachitoge, etc. this week.  What's more, nobody got upset when I rode a motorbike slow.  There were no people, though……
I filled up at a gas station by Lake Shikotsu.
"Please fill it up with regular.  I'll pay in cash."
"Alright."
It seemed that a 60-year-old tanned man was running a gas station by himself.
He talked to me while he was filling up my bike's gas tank.  I would have spoken to him if he hadn't talk to me.  This was because I always get to the destination with no plan.  I always ask local people about places they recommend, unless I have a place where I really want to go.
Man: "What?  Nerima (he looked at my tag)?  Did you come from Tokyo?"
Me: "Yes, today is my last day in Hokkaido."
Man: "Did you visit many places?"
Me: "I've visited all from Wakkanai to Shiretoko!"
Man: "Wow, I can't believe it…  It must have been cold, right?"
Me: "I was amazed because I thought putting on winter clothes might be hot, but it wasn't!  By the way, is there a cheap hot spring in Shikotsuko Onsen?"
Man: "How about National Park Resort?  … Ahhh but I recommend 'Marukoma' Onsen."
Me: "Marukuma?"
Man: "No, it's Marukoma.  Hot Spring Hotel Marukoma.  There's an open-air bath that is connected to the water of the lake.  It's awesome."
Me: "Really?  Then I'll go there."
Man: "Alright.  It's about 15 kilometers from here.  You'll recognize it at once because there's a sign of the hotel."
Me: "Thank you so much!  Bye!"
Man: "Have a safe trip!"
As he said, it was about a bit longer than 10 kilometers, from the gas station to Hot Spring Hotel Marukoma.  The hotel was founded in 1915.  The adult rate for a day-tripper was 1,000 yen.  Hokkaido's hot spring takes a strong action toward visitors.  Because of his advance review and the high price of the hot spring, it was inevitable that I made expectations on the hot spring…  I hurried to get my clothes off and went to the hot spring.  You have to walk the connecting corridor about 30 meters to get to the hot spring the man at the gas station was talking about, from the ordinary inside bath and the ordinary open-air bath.  I was fully naked, but I put on slippers.  I felt a little doubt about my funny appearance and thought "isn't it better to wear nothing?"  Well, I couldn't wait to get to the hot spring by the lake.
It was very comfortable.  I felt the water of the hot spring coming out from the gravels under foot.  There were many fallen leaves and bugs in the hot spring.  It was a love-it-or-hate-it secluded hot spring.  The water level of the hot spring always becomes the same as the lake and the maximum water level of the lake becomes 140 centimeters.  Because the road to the hotel was in the shade of white birch trees, I froze to my bones although it was a sunny day.  Taking a bath in the hot spring was good for my cold body.
Since the water was not too hot, I repeated taking a bath and cooling my body at the deck.  I found myself staying at the hot spring for more than an hour.  It was not crowded with people although I visited on Saturday.  I had a relaxing time for the last day of my journey.  I stared at the water of Lake Shikotsu shining in the sun and I remembered what I had experienced for the week.
Various kinds of delicious food, splendid views that couldn't fit into any digital cameras, a lot of fun riding a bike, a sense of independence, etc.  …There'll be no end to list things that were fun, but I really enjoyed the encounter with strangers and enjoyed talking with them.
…It may seem suspicious and inexperienced, but it really was.  I talked with a lot of people.  I talked with people who were working at local restaurants, motorbike and bicycle riders who passed on the roads and stayed at the same hotel for riders, people who were traveling alone like me, a person who talked to me in the parking, people who I talked to after I asked them to take photos at tourist sights, people at hotels, people staying at the same dormitory, people taking the same ferry, etc.  …Again, I talked with a lot of people.  Maybe this was because I was traveling alone or the characteristics of the prefecture "Hokkaido" or it was a result from a chance.   People in Hokkaido had generous-hearted spirits.
Due to the hot spring, I remembered my happy memories and felt refreshed in mind and body.  On my way back home, I saw the man at the gas station sitting outside.  I waved at him with sincere gratitude.  He noticed me at once and he waved at me with a big smile (I want to give him an applause to his quick response).  As soon as I met his gaze, I started to cry because I had experienced a number of happy feelings.  I was amazed at myself.  I didn't expect that I would cry while traveling.
I cried because I got sentimental to get back to the port.  Also, I was happy that I could come to Hokkaido and tour around the island by myself, that I could have a good time until the last day of my journey, that I could take a good hot spring bath, that I was treated kindly by local people, that I could convey my appreciation to the man at the gas station and that he could receive my feeling.  I won't cry by seeing beautiful views or eating delicious food.  The man at the gas station played a symbolic role during my journey.  Because my feeling as fragile as a crystal miraculously happens, I can't stop traveling and talking with local people.
And the feeling like this confirms in my mind the idea that I'll make a hostel.