Hi, I'm Hazuki, the owner of the hostel!
Let me introduce you to three LCCs that fly from Hiroshima.
What on earth is an 

LCC

?!
Sorry to keep you waiting: LCC is the abbreviation of Low-Cost Carrier.
In other words, these are airlines that are significantly cheaper than many major airlines.
Some examples of such major airlines are All Nippon Airways (ANA) and Japan Airlines (JAL), both of which offer great service.
On the other hand, LCCs are all about one thing: flying you from A to B — no frills whatsoever. For example:
Peach Aviation
Jetstar Japan
Vanilla Air
Spring Airlines
Airasia Japan
Etc.
What to look out for when flying with an LCC
Simply put, don't expect too much.
Don't even expect there to be water, let alone in-flight meals (except if you've ordered something before boarding). In many cases, not even blankets are available, though it depends on the airline.
Furthermore, weight restrictions for luggage are extremely rigorous and any violation will result in additional fees. LCCs are also very strict on punctuality and close their counters exactly on schedule — arriving late is not tolerated. However, these measures allow airlines to offer tickets at a price roughly matching the actual cost of flying, so it's better to just go with it.
LCCs departing from 

Hiroshima

 Airport(2020)
Domestic Spring Airlines: from Hiroshima to Tokyo (Haneda)
A quick lookup of fares on their official website instantly shows how cheap this airline is!
They only fly to Tokyo's Haneda Airport, however. In other words, this airline offers great value, as long as you have some spare time and energy to continue your journey from there to central Tokyo.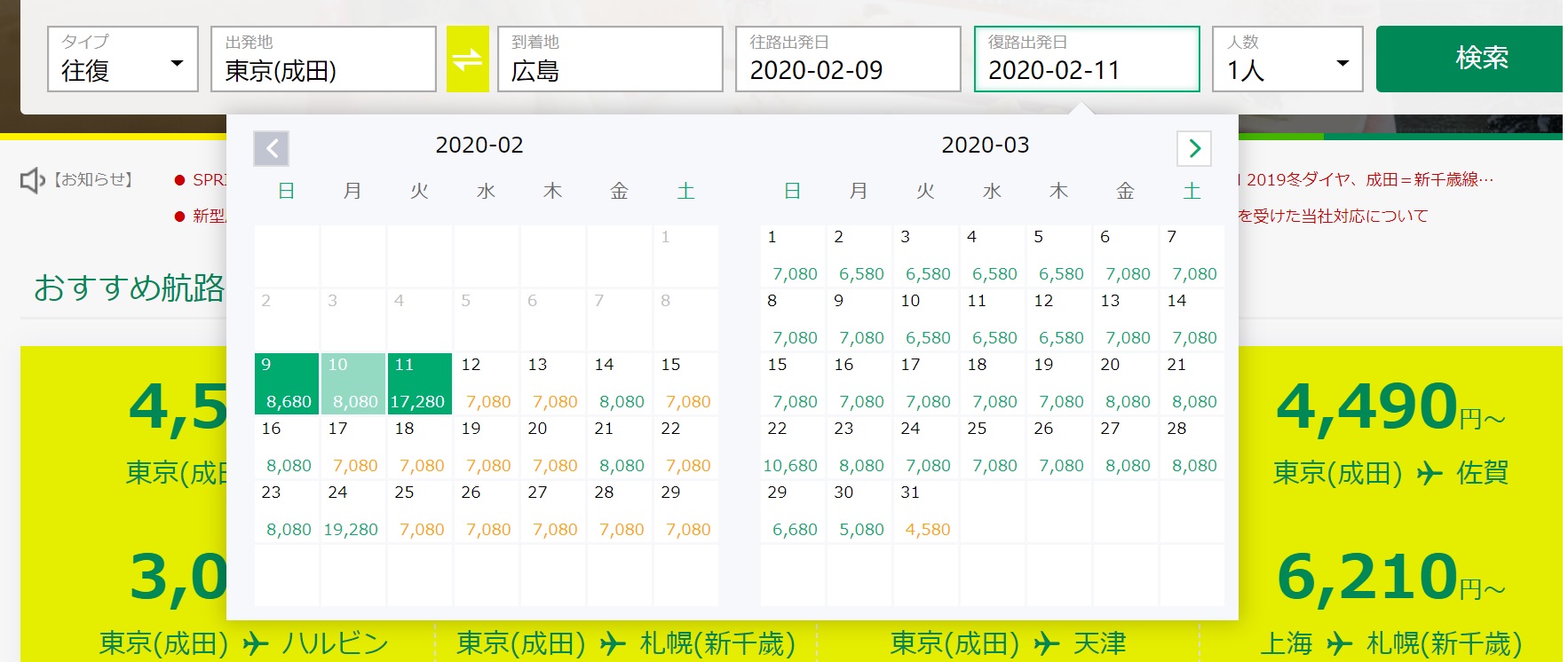 International NokAir: to Bankok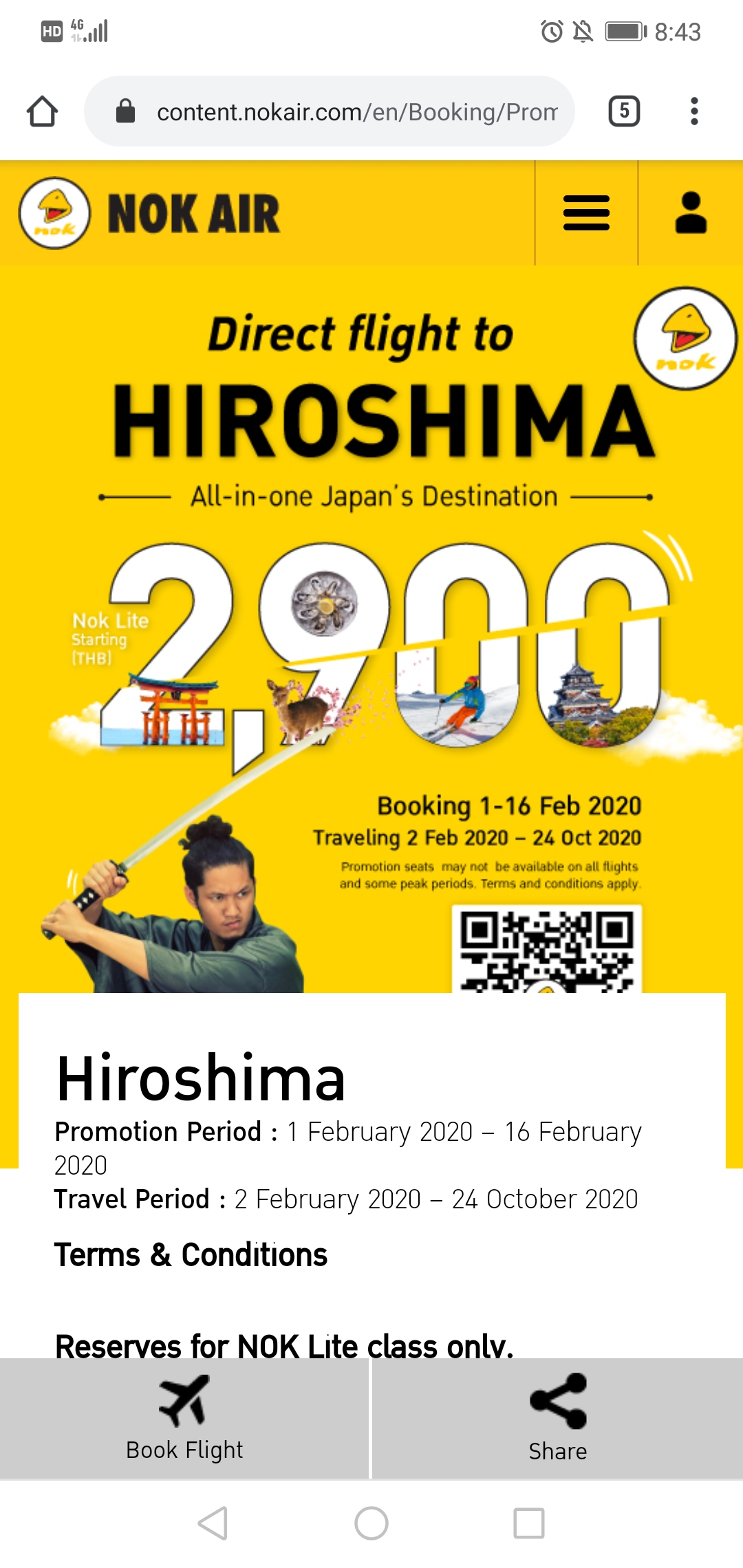 There is now a direct flight from Hiroshima to Bangkok! (tears of joy)
As of December of last year, Thai LCC NokAir has established a direct connection between Hiroshima and Bangkok! A total of three flights per week are available, with one departure each Wednesday, Friday, and Sunday.
In Thailand, NokAir operates 23 routes, allowing for easy connections to other popular Thai destinations such as Chiang Mai and Phuket.
NokAir's easily recognisable bird livery appears to stem from the word 'nok,' meaning bird in the Thai language. Just look at that picture. The beak on that plane is so kawaii!! So far, I've flown with NokAir about four times and each time, the plane had one of those cute beaks painted on it.
To think that they sometimes even offer promo tickets for as low as $90,00! For real!
I just went to Thailand, actually. I might write about that later, but…
One thing concerns me a bit.
Even if I flew during the first month after this line's entry into service, which was the supposed to be the peak tourism season due to the fresher temperatures, there were way to few people on board!
If this goes on, I'm afraid that the route will be discontinued sooner or later! Everyone, take this plane! For Thailand aficionados like me, it would be devastating if this line would cease to exist. I would always want to be able to take a flight to Thailand for so much less than what's charged for some domestic routes. Seriously, you should all use this flight! I will keep advertising this route all by myself, if I must.
On a positive note, I was very pleased that despite being an LCC, this airline does offer free water! And as I had preordered an in-flight meal, I got to enjoy a tasty Thai Basil Chicken onboard.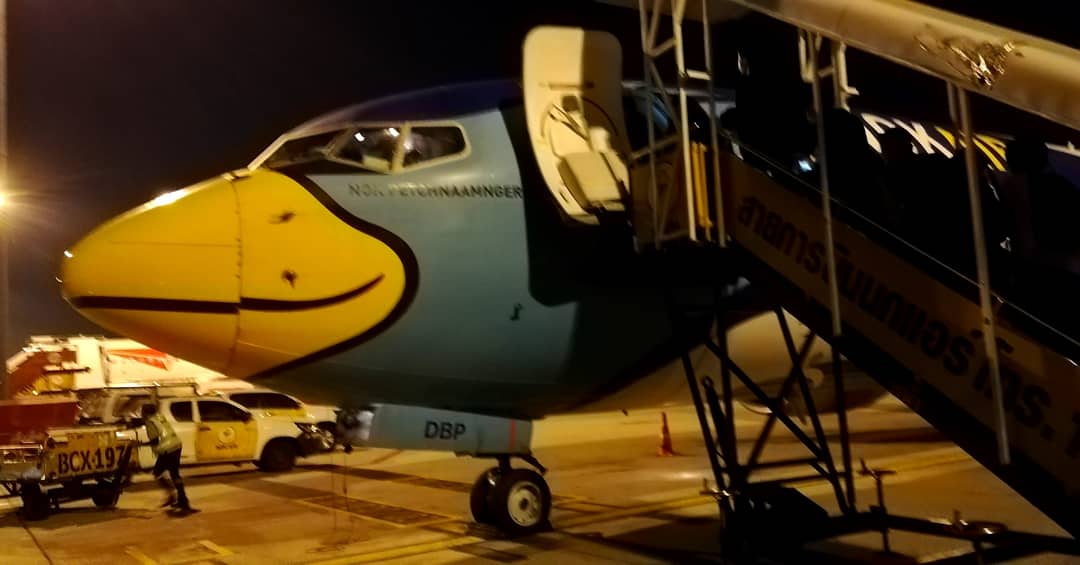 International Hong Kong Express: to Hong Kong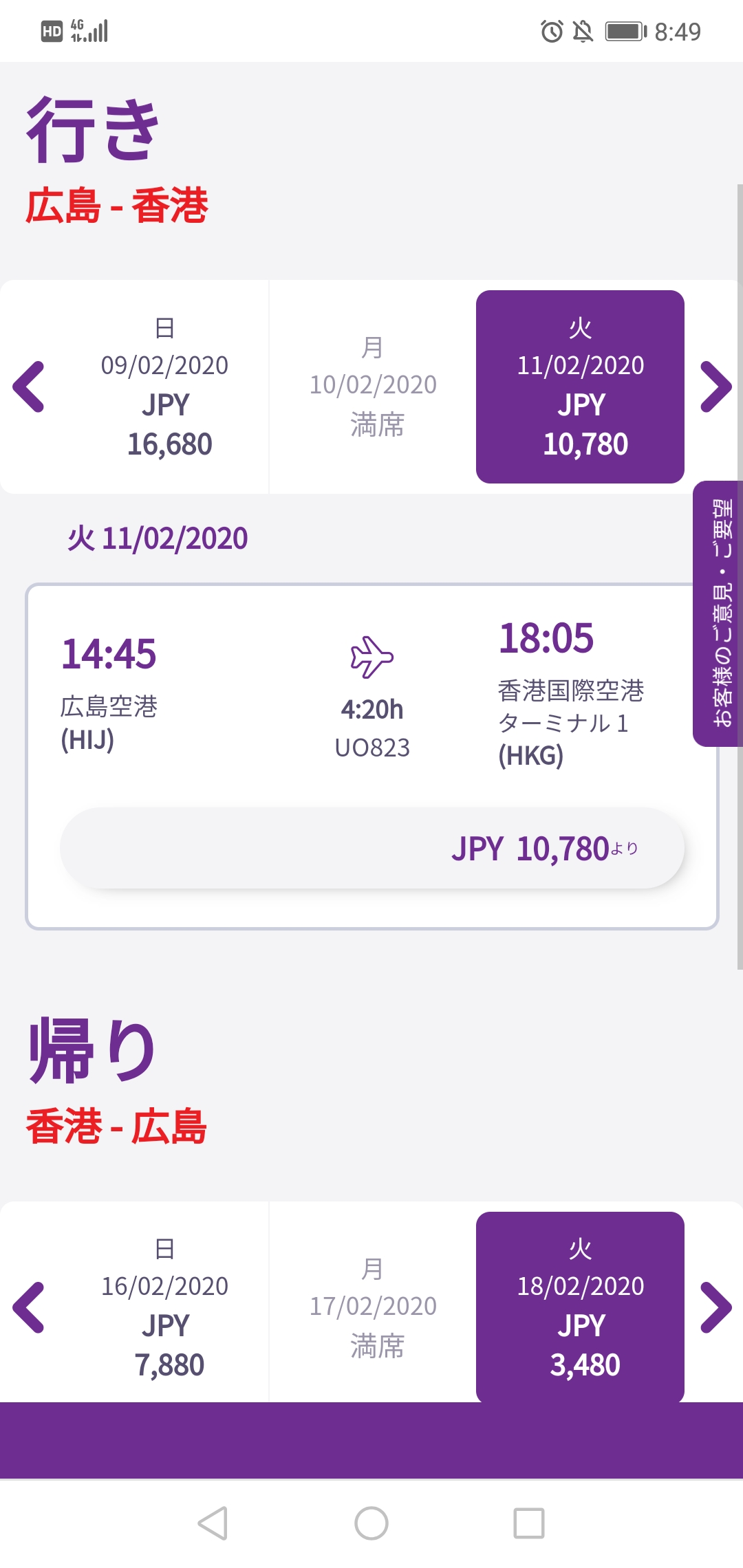 Hong Kong Express: an airline known for offering unthinkable sales such as a "one-way ticket for $1". I did a quick search to get an idea of their regular pricing, but depending on the day, even a normal ticket can be found for only about $30. Maybe this is because not many people come to Japan during its cold winter months.
The other day, I heard from a few Hong Kong guests that the recent turmoil has now subsided, so it is again perfectly safe to go there as a tourist. As this had a great influence on hotel prices across the board, it might even be a better time than ever to pay a visit to Hong Kong.
With many locals having suffered from the economic repercussions of the recent crisis, tourism could actually be a good way to support the Hong Kong people.
In April last year, my family and I went on a four-day Hong Kong trip, but next time I would like to stay longer and enjoy the place at a more leisurely pace. During this trip, I spent much time in overcrowded central Hong Kong, but I would love to stay the night at Kowloon and walk around local neighbourhoods when I go back.
For that last trip, I used one of those $1 sale tickets. With each of our family of three paying $1, this flight was an absolute bargain. Even taking taxes and all kinds of fees into consideration, one return ticket cost us about $170. Incredible!
A flight to Hong Kong from here usually takes about four to five hours. The time difference is one hour earlier, which is almost unnoticeable. This should be bearable even for air travel beginners, children, and the elderly.
HAVE A GOOD & CHEAP FLIGHT