Hostelってなんですか?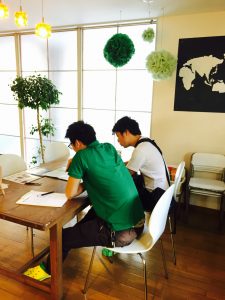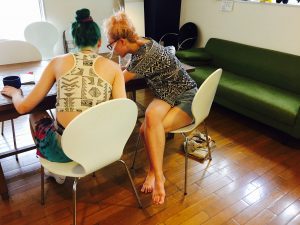 Hello. This is Hazuki, the owner!
Online reservations are typical these days, but once in a while, people call us to make a reservation. Lots of those calls come from elderly people.
Customer: "Hello, I would like to make a reservation for a single room, please"
Me: "Ah, I'm sorry. This is a hostel, not a hotel. We do not offer any single rooms☺"
(Strange, it sounds like this person hasn't seen this picture ↓ even though we have our own website)

Guest houses, hostels, backpackers… all of these are types of lodging which make use of shared rooms.
People often imagine a capsule hotel. Sometimes, there are no curtains (we've got them, however).
In other words, it's a type of accommodation where everyone shares one large room.
This brings down the cost, which makes it an ideal type for people who want to travel cheaply.
Shared rooms or dormitories are sometimes simply called 'dorms'. Rooms which are shared by men and women are dalled 'mixed dorms', and as a matter of fact the words 'Mixed Dorm' are written on the door of our mixed room.
Women in particular may be somewhat uncomfortable with the idea of sharing a room with strangers. However, in practice, we have many female guests in our mixed room.
We also have a female dorm, for roughly the same price! Feel free to book your stay here.
Naturally, the common areas are used by all guests: showers, toilets, the lounge, and the kitchen.
Needless to say, guests should avoid claiming these facilities for very long and leave them as clean as possible, as the unspoken rule goes.
These areas are a hotbed for the development of spontaneous conversations. Most of our guests are foreigners, so the common language is mostly English.
No need to worry, enough languages are spoken for everyone at our place! If you're up to it, you will always be able to have a conversation with someone, if not, being friendly is good enough.
Japanese guests come here for various reasons: concerts, watching a baseball match, to meet friends, to do sightseeing in Hiroshima, …
I am under the impression that most of our guests are the type who spend their time actively outdoors, but who like to create their own peaceful atmosphere back at the hostel.
(If you're interested, click here to read about my long road to speaking English (わたしが英語が話せるまでの長い軌跡についてはこちらの記事をどうぞ。笑))
In the past, I never used to brazenly hang around in common rooms of hostels and I tended to be very insecure whether I would be able to get involved in a spontaneous English conversation.
Whatever you do, don't get yourself worked up, just relax and enjoy your stay.
Also, kindly keep your consumption of drinks and food, as well as your gossip among friends to the common area. The sleeping rooms are very quiet and have the right atmosphere for resting and relaxation.
As our beds are fitted with curtains, I've had guests come up to me and say they had a great night's sleep thanks to the curtain which allowed them to completely darken their cubicle. I was so happy to hear that!
The beds are 100% originally made and this has clearly payed off.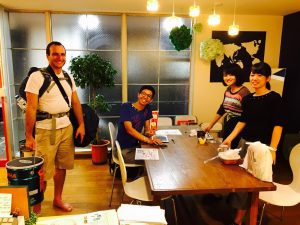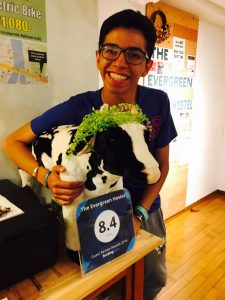 Amenities are not provided, nor do we make up your bed. You are provided with fresh sheets which you can use to make your bed.
The appeal of a guest house is the ability to mingle with other people. Staff members are available at all times for more information and informal chatter as well. In some cases, conversations here lead up to an "Okay, let's go together tomorrow!"
If this hostel turns out to be the place were you meet a new friend for life, there would be no greater privilege to us than to achieve that.
We run this hostel with a clear goal, aiming to create a pleasant space where it's so much fun to hang out that you would want to make it your regular place of stay, every day.

Sometimes, staff carrying a working-holiday visa will be receiving our guests.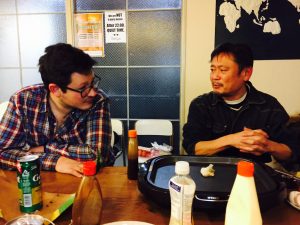 There are many guests who say that our hostel is the first of this type of accommodation they have every stayed in. I am always pleased to receive such an honour!! With that in mind, I welcome you all. ようこそ!
After reading this, you just have to drop in sometime~
If you get used to this, you will save a lot, and traveling will become like a second nature to you.
Our staff and I are waiting for you!
THE EVERGREEN HOSTEL, Hiroshima JAPAN
原爆ドームから徒歩五分の清潔なホステル♬
Only 5 minutes walk from the world famous "Atomic Bomb Dome"