Konnichiwa, this is owner Hazuki!
Tapioca is so hot these days. Originally from Taiwan, tapioca milk tea (or bubble tea) is now loved all over the world, including in Japan.
But hey, I liked it before it was cool!!
When I was in high school, I used to drink bubble tea a lot around Shinjuku and Takata no Baba. But the bubble tea from back then (between 2000 and 2003) was a little different from what's popular nowadays. It tasted like someone decided to just add some bland tapioca bubbles to an afternoon tea (sorry for the harsh words there). Still, the texture of the bubbles was interesting enough to keep drinking it once in a while.
There were times when I bought dried tapioca bubbles at Chinatown to make my own tapioca milk tea at home, but it seemed like it wouldn't taste like it unless you made it quite sweet and boiled the tapioca and though I tried, I was utterly beaten. As you probably know, these days, the most popular flavour is brown sugar. If there are tapioca on the market that look pitch black, some stores like KOI (see map below) offer a wide variety of colours to choose from.
In 2013, Shunsuido, a Taiwanese company that invented tapioca milk tea, landed in Japan. At the time I was still living in Tokyo and I remember thinking "Oh, yes! Now I'll finally be able to drink real Taiwanese tapioca milk tea!" It seems to me that since then, the number of Taiwanese shops that sell the real tapioca milk tea 【珍珠奶茶 (zhēnzhū nǎichá)】has drastically increased.
Hiroshima has seen a lot of new stores arriving as well! (Welcome~!) I pray they're not the type of shops that disappear just as quickly as they came — that's how much of a bubble tea fan I am.
THE OUTLETS HIROSHIMA
At the Hiroshima Fuchū ION Mall
At the Gion ION Mall
Gong Cha at Shareo in Kamiyachō
Personally, I like the strong flavour of KOI's tea.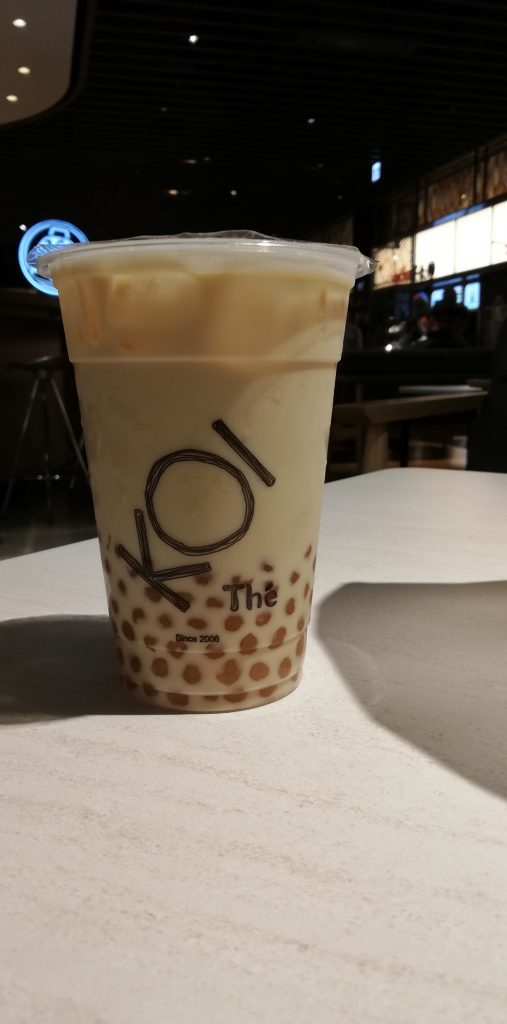 Naturally, when I'm in Taiwan, I drink it even more. One tapioca per day. I'll get fat? Who cares!
I go to CoCo (CoCo都可) often. Their drink stands, known by the cute character on their signboards, are so popular that there is not one person in Taiwan who doesn't know this chain.
On the wayside… haha.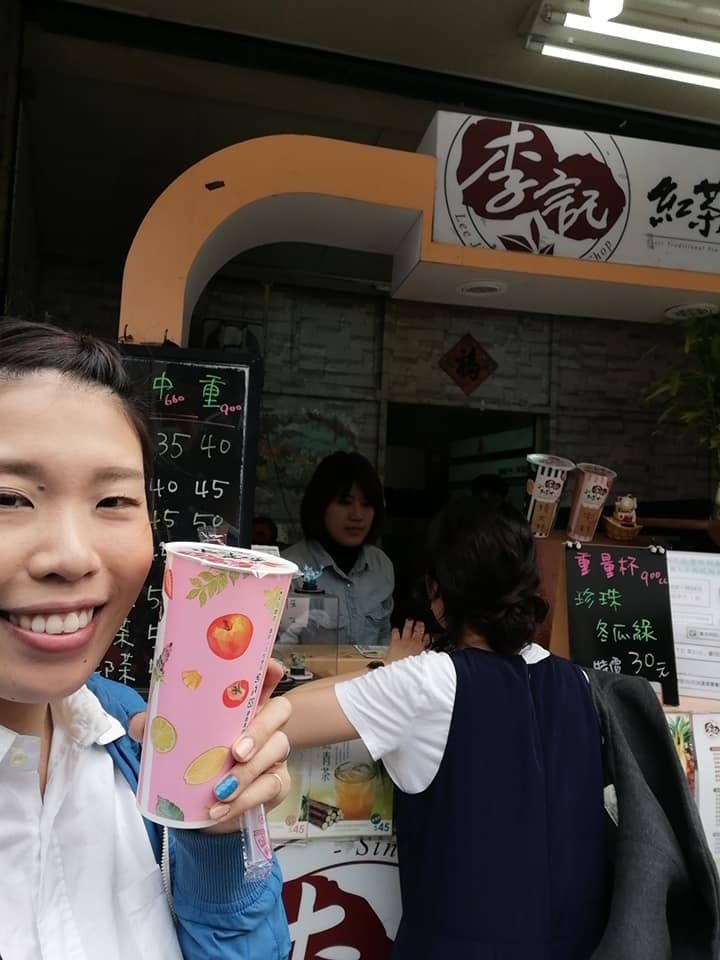 A booth in Taoyuan City, Taiwan. This picture was taken in October 2018, which is when I went there together with my mother, my younger sister and my son.
In the upper right hand corner, you can see a signboard reading "A Large 900cc Cup of Tapioca Green Tea? Special Price of 30 Yuan!" As my Taiwanese has improved considerably (in the sense that I complemented it with my fantasy), I believe this refers to green tea-based tapioca bubble tea. Forgive me if I'm wrong. More importantly, this means that those who order it will consume an insane volume of 900cc of tea! But at a cost of just 30 yuan (which is 120 yen)! Guys, this is just too cheap! And too much!! You will feel all the tea glug around your stomach!
That's how it is. If you have a tapioca drink in Taiwan, it'll be enormous. A medium size is 600cc, a large cup will serve you 900cc…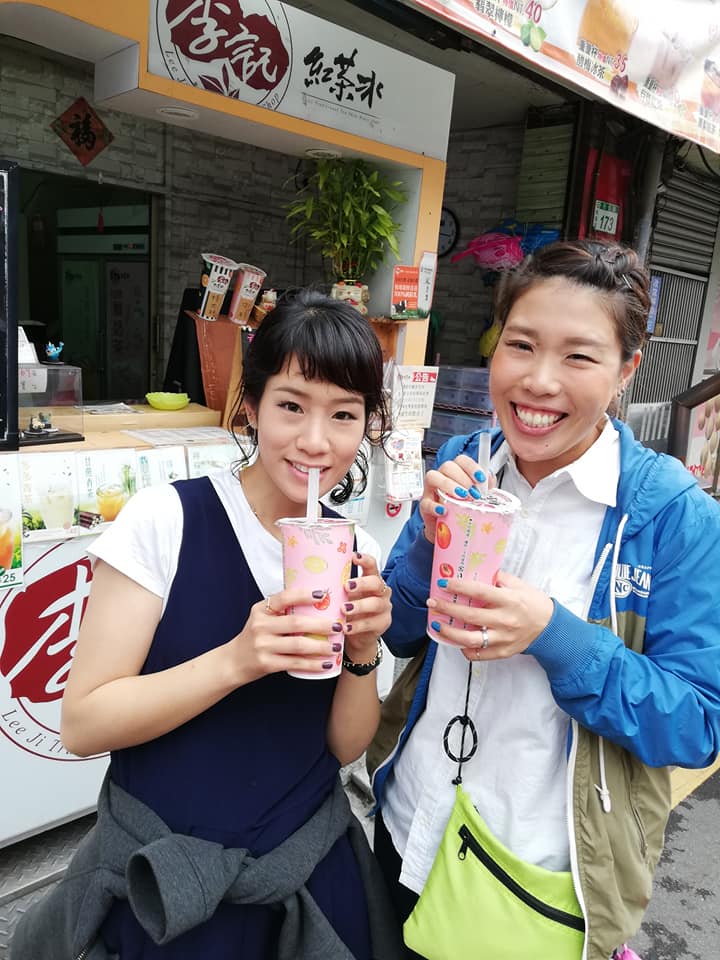 This might be unrelated, but at one point Chunsuitan (春水堂) came to Tokyo and, if I remember correctly, I once had a drink at the Daikanyama store. It was a cold winter day so I ordered a hot tapioca milk tea. Unfortunately, this made the texture of the tapioca bubbles somewhat dull and soft, so it wasn't good. When you're having a tapioca bubble tea, drinking it cold is definitely the way to go, no matter how cold it is outside!
Because of the experience I had that day, even on slightly cold days, I drink it cold.
The above picture was taken during an unusually cold October in Gion, cold enough for me to hurry and buy a knitted cardigan, and yet my younger sister and I both drank a cold, 900cc tapioca bubble tea. Haha!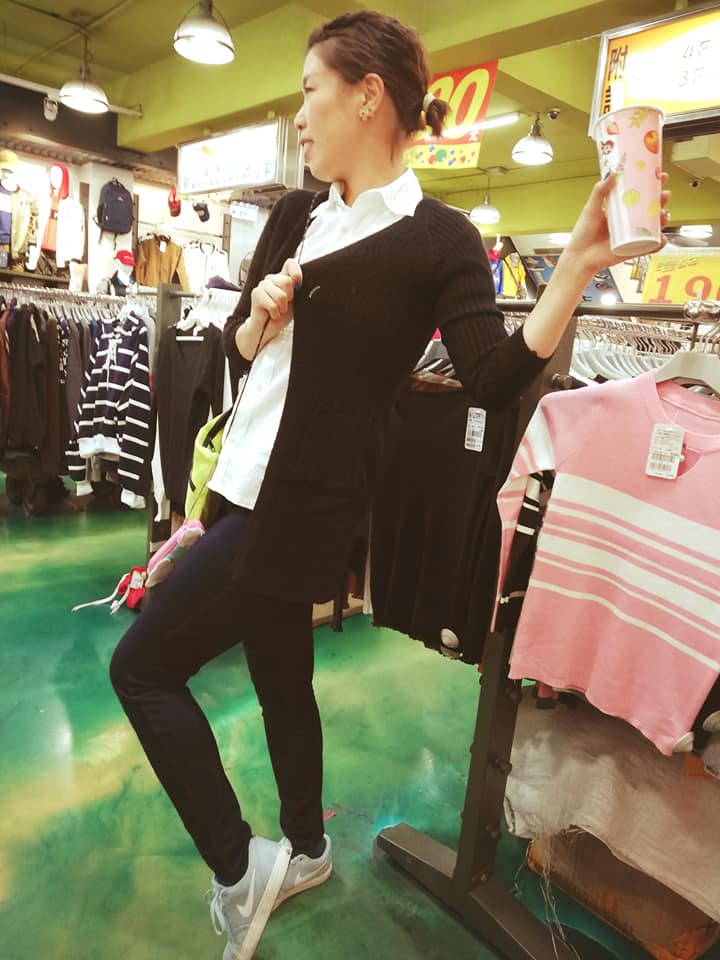 This picture was taken on the exact moment I bought the knitted cardigan. You can clearly see just how long and huge the tapioca milk tea cup is. I think the knitted cardigan was sold for about ¥1500. Taiwanese clothes are all so slim, it's like everyone there is so thin… This shirt is too small for me… (though it was originally a half-sleeve shirt!)
Another thing you can't miss from tapioca life at Taiwan is this.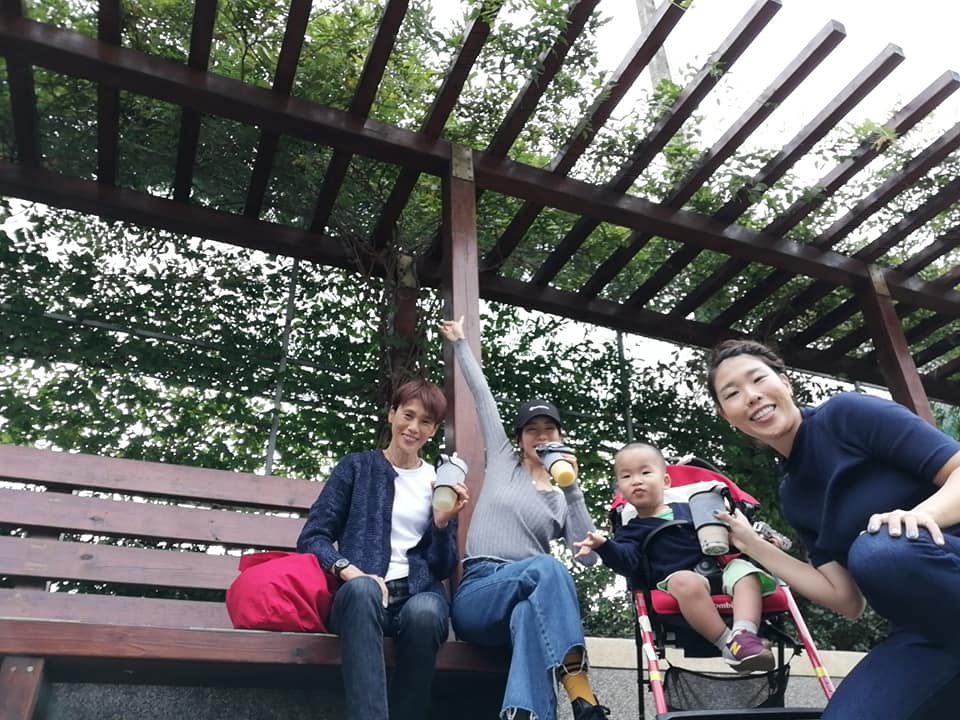 A drink holder for holding and carrying your tapioca milk tea (and other drinks bought on the roadside). Can you spot the grey gadget in the hands of three of the people on the picture? It's convenient in its simplicity and your hands won't get cold from your drink. It seems to be easily adjustable to fit all kinds of containers.
Add this to your must-buy list for the next time you visit Taiwan!
I wonder if this will make me look like a connoisseur if I bring this to Japan and visit KOI…
Anyway. I was trying to write about tapioca and Taiwan.
Oh, how I love to chill while sipping from a tapioca bubble tea on a hot day! But this week is a busy week. Let's take this August head-on!
By the way, my friend and I have adopted "zuzozozozo" (ズゾゾゾゾ) as our insider's onomatopoeia for drinking tapioca, since this is the sound you get in real life when you drink the tapioca bubbles up from the bottom using those typical wide straws.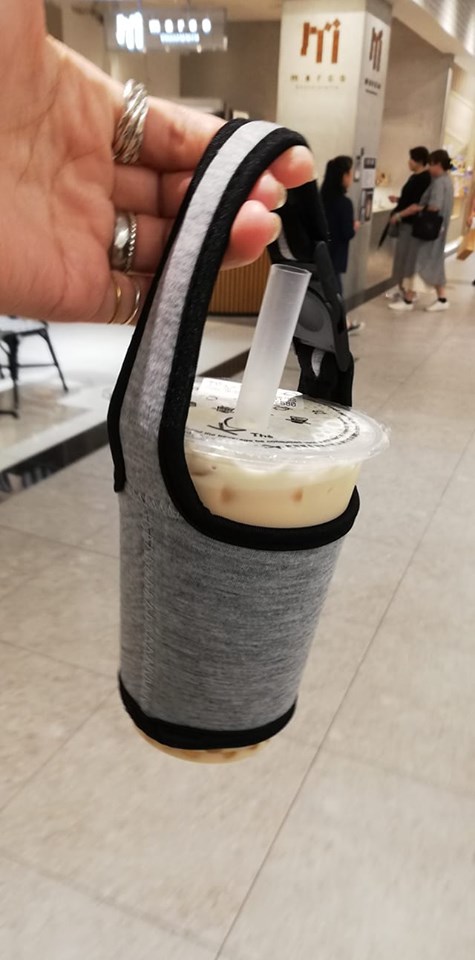 Edit (8/4): I actually brought the holder along and used it. #tapiocapro