Hi, I'm Danny. The cold weather has been continuing these days. Is it because of a cold wave? It's surprising that we got a few inches of snow in Hiroshima. It's cold, but winter is the best season for oysters♪
I went out to eat tempura of oysters, which is available only during winter!
The place I visited is "Atsuatsu Agetate Tetchan."
http://www.atsuatsu.jp/

They serve freshly-fried tempura right after they make it. They are friendly on the wallet, too. (My husband likes this restaurant very much, so we come here often. I visited Aosaki Branch.)
You have to buy your food ticket at the entrance.

I chose a set meal with raw oyster tempura. It's available only from November to April. It says "raw," but the oysters are fried! Well, why do they write "raw" oyster? (lol)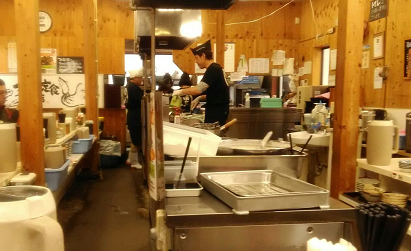 You take a seat after entering the restaurant. You can sit anywhere you want. (A waiter sometimes directs you to your seat.) A waiter brings the trays for the number of people.
And then, he brings rice, miso soup, tempura sauce with plentiful daikon (Japanese radish) and a plate for tempura.
They serve a big serving of rice at no extra cost. It depends on the branch you go, but you can refill your rice once for free during weekdays. I think it's good especially for men. You can refill your rice once for free at Aosaki Branch.
Tempura sauce was topped with plentiful daikon! (You can exclude daikon if you don't like it.) Daikon is good for the digestive system and it's called "natural stomach medicine." You may feel heavy in the stomach when you eat tempura, so it's good to eat tempura with daikon♪ You can order an additional plate of grated daikon and tempura sauce for free of charge.
There are three kinds of Japanese pickles on the table. You can eat them as much as you want. Tempura sauce tastes nice, but you can adjust the seasoning by using salt, soy sauce and hot pepper on the table.
Tempura was served after a few minutes. Tempura was of course freshly fried!! How luxurious! What a treat! It's very difficult to get freshly-fried tempura.
I'm busy when I make deep-fried food at home… So, I got excited when I ate the freshly-fried tempura!
The tempura included the followings:
"lotus root": It was sweetish and has soft and flaky texture. Lotus root lovers can't resist it.
"squash": It wasn't deep fried. It was sweet and delicious.
"cutlass fish": I was amazed at its length! It was longer than a shrimp. It was tender and delicious.
"oyster": There were 6 big oysters! I was satisfied with them because they were all plump.
My husband gave me a shrimp and my son gave me a small piece of taiyaki tempura (a fish-shaped pancake filled with red bean paste). I craved for sweets. It was delicious! I was very happy. I really enjoyed the meal!
Since it was deep-fried food, I was with a full belly. Especially the taiyaki tempura… The pancake of the taiyaki and deep fry batter were both wheat… I couldn't eat today's dinner. (lol)
Most of the branches are far from the city, but you have to visit here if you want to try it!
Atsuatsu Agetate Tetchan