Hi, I'm Danny. The other day, I went to Dezomeshiki (the New Year's parade of firefighters) for the first time in my life.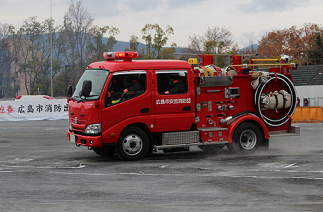 I went to see it because my family was interested in the event, but I was interested in it the most. (lol) There is a fire department in a short distance away from my house, and there, firefighters are training. I can't see their muscles, but my heart beats fast unbecoming to my age when I see them training. 💕 (lol)
So that was why I decided to go to Dezomeshiki… I looked forward to seeing how they work during the ceremony.
Honestly speaking, I thought Dezomeshiki was a kind of conservative ceremony, but it wasn't. The ceremony was mainly intended for the children, because the brochure and most of the activities seemed to make them happy.
However, it was also a good opportunity for adults to put out fire using a fire extinguisher and to spray water with a hose of a fire truck, because we don't have the chance to do them in everyday life. (Actually, we sprayed water on a picture instead of fire.)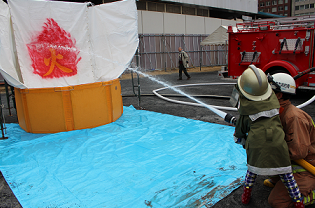 The firefighters helped us experience the two activities, and I was amazed at the weight of the hose! I again realized how hard their work is because they have to hold the heavy hose at an extremely hot place…
You can also get on a fire ladder truck if you want. Unfortunately, I didn't know it. To get on a fire ladder truck, you have to get a ticket at the fire department on the day of Dezomeshiki at 9:30 am. (They stop distributing the ticket as soon as the stock runs out.) And they have a raffle draw after distributing, so you have to check whether you can get on the truck or not. One ticket is for 2 people and only 20 pairs can get on the truck. I hope I can get on the truck next year♪
Well, there were not only firefighters but also members of fire companies at Dezomeshiki. I was surprised by the number of fire companies, because I thought they were gradually decreasing.
The firefighters and the members of the fire companies entered in time to music played by the band. And the cars and trucks followed them. They marched in perfect order. They hold Dezomeshiki every year, but I wondered how many times they practice the march. They have day-to-day affairs, too… Well, thank you so much for the hard work!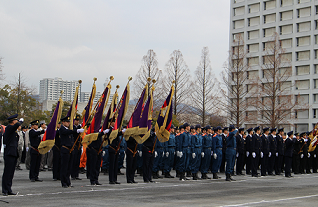 A ceremony to praise achievements and service years was held after that. Someone made a congratulatory speech and greeted. The way the firefighters saluted was cool.
They threw down various kinds of performance at certain times. Acrobatic performance by firefighters on a ladder carries on the torch of "Hikeshi (fireman)" from Edo Period.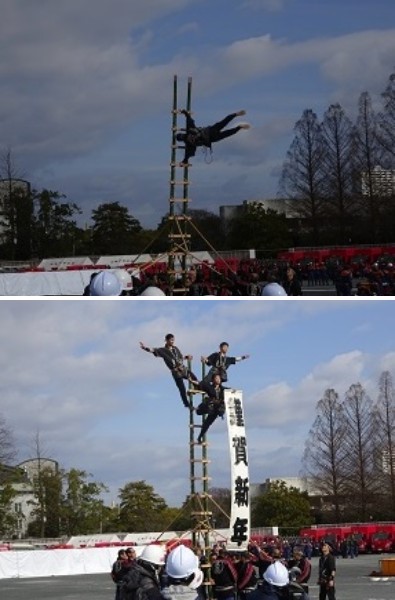 There was a fire fighting and life-saving of a vehicle fire. (I got a surprise because they crashed a car! The roof of the car was gone, but the car ran while it was hosing down. It was amazing because I didn't know a car can run without a roof!!)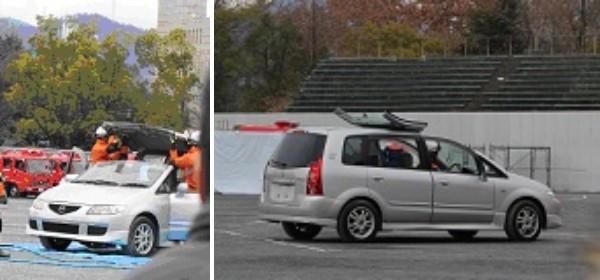 And a helicopter arrived on the roof of a nearby building, and someone was rescued by the helicopter.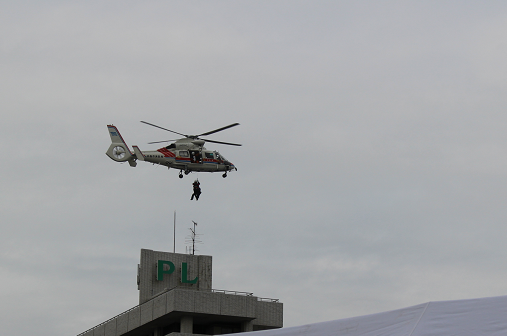 In the end, the fire ladder truck extended its ladder up to the longest length, and the firefighters sprayed water from the top.
I really wanted to see this!!
There's one fire ladder truck that stretches up to 50 meters, and the other ones stretch up to 35 meters.
I heard that 35-meter ladders are mainly used in Japan's fire ladder trucks.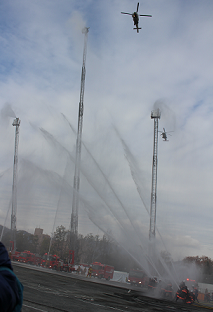 Watering from the top of the fire ladder truck was just overwhelming. It was a windy day, so I guess it was windier on the top of the ladder. It must be a hard work for firefighters who were on the ladder, because the water spurted out of a hose.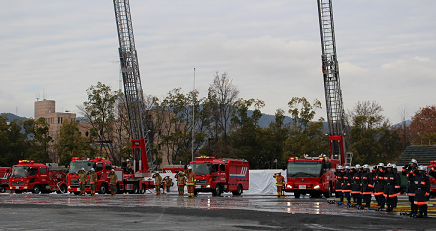 I appreciated their work very much. And I thought that I have to be more careful about fire during the winter because it's dry. Dezomeshiki is held in the beginning of January, so I highly recommend you to go there if you are interested in it!