I participated in a bread making workshop in the afternoon.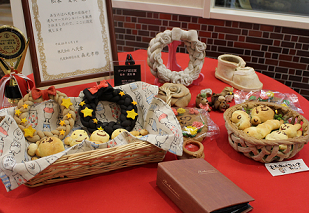 There are 2 types of workshops.
A A quick and easy bread making course that takes around 15 minutes. You don't need to make a reservation in advance. 500 yen per person.
B A bread making course where you can make your original cream bun. You need to make a reservation in advance. 1500 yen per person.
I made a reservation in advance and participated in the workshop B because I wanted to make a big cream bun!
I headed for the workshop studio right next to the cafe at my workshop time. A teacher came in when I was waiting at the designated table. The teacher was a young employee. She was up for anything and little kids swarmed around her. (lol) I expected more kids at the workshop. There were groups of university students, too.
The employee took out the cream bun dough after primary fermentation from a big refrigerator. So, all I had to do was to form it into any shape. There were 2 types of dough: one was cream bun dough and the other one was cookie dough. You can make a mouth and ears by using the cookie dough.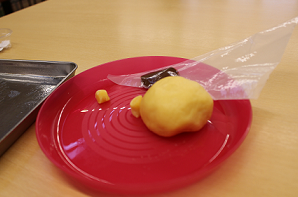 I decided my own design by looking at the examples.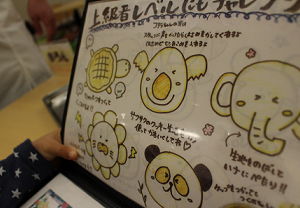 After I decided the design, I started making my original cream bun. Don't knead dough too much; your dough becomes too soft.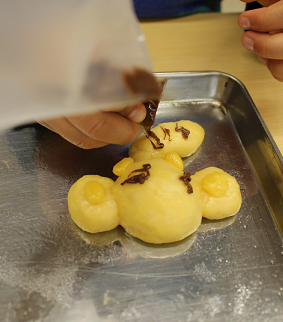 After forming the dough, they took my bun to the oven. While baking, I designed my own packaging paper. Don't forget to design your box, too. You can make your original wrapping paper and box♪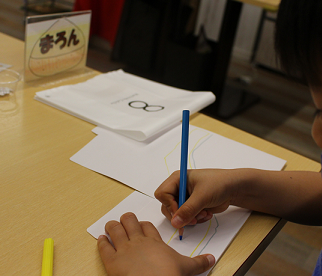 When the bun was baked until golden brown, I filled it with cream. It was surprisingly difficult!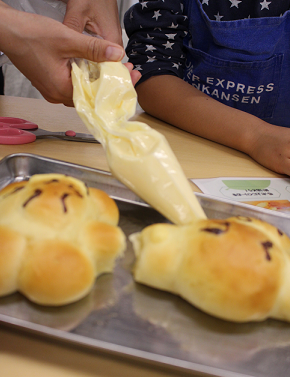 The dough is made strong so that the cream hardly ever comes out when you fill the bun with cream. However, it was difficult for me to put the cream injector vertically into the bun because I wasn't accustomed to it. In addition, I wanted to put plenty of cream inside, so the cream was almost overflowing here and there. (lol) But you want to put plenty of cream, right? You want to reach the cream wherever you bite the bun, right? I tried as hard as possible. ψ(*`ー´)ψ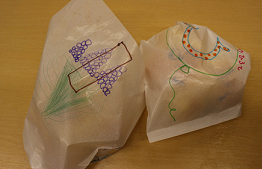 My cream bun was filled with plenty of cream♪ I ate it for my snack the next day.
We decided to look around the shop and watched the bread forming line right next to the shop at the end.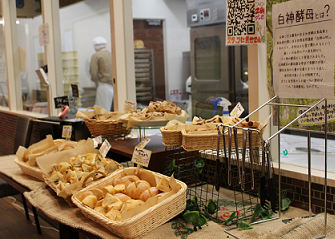 Egg sandwiches (I hardly see them in Hattendo.), sweet bean and butter cream buns (a limited-time-only product) and cream buns in the shape of animals were sold in the shop. Of course, I bought them on the way home♪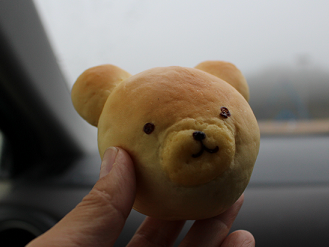 I wanted to buy the lemon shaped buns that were made at the factory. However, I couldn't buy them because today's buns were shipped to Mihara and shops in Kanto region.
They were made in front of me, but I couldn't buy them…. It was too bad.
I thoroughly recommend that you participate in the workshop. It's because you can eat the bun and cream of Hattendo. Someone who don't have much time can also enjoy the taste of Hattendo by participating in a 15-minute bread making workshop because the same dough is used at the workshop.
My family ate rice balls and salty food in the car, but I recommend that you visit the cafe. I thought they only serve sweet buns and desserts, but they don't. You can enjoy a range of meal options. It's nice that you can eat bread as much as you like. (人´3`*)
I enjoyed spending the whole day at the factory tour and the bread making workshop. It's easy to get here from Hiroshima Airport, so I think it's a nice idea to visit here at the end of the tour if you come to Hiroshima by airplane. Hattendo was founded in Hiroshima. And I want them to keep trying their best to make delicious cream buns!
アクセス: