Hi, I'm Danny.
I know it's quite sudden, but do you know Hattendo?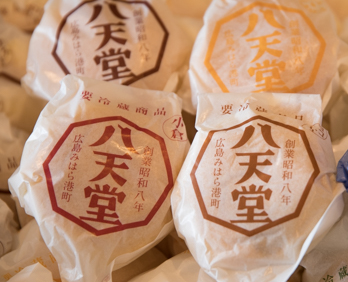 I happened to know Hattendo when I lived in Kanto region. I bought a cream bun of Hattendo casually at a station building on my way home from work. It was very delicious, and I've become a big fan of Hattendo since then. There was no factory in Kanto region at that time (There's one in Chiba right now.), so I could get the cream buns only when there's an event. I always bought them whenever I found the shop.
When my husband got a transfer to Hiroshima, I thought "the place I'm moving to is maybe close to a factory of Hattendo." However, I was amazed to find out that there is no Hattendo shop in Hiroshima city.
I have to visit an event, or I have to go to a shop where it sells cream buns on a certain day of the week to get cream buns. Hum, I thought I could get the cream buns more easily in Hiroshima, but it wasn't. It was too bad. I didn't have any chance to eat the cream buns after I moved to Hiroshima.
However, I found out that there is Hattendo Cafe. There, you can take a factory tour, and you can participate in a bread making class!
Well, it sounds like fun! So, I decided to visit the cafe.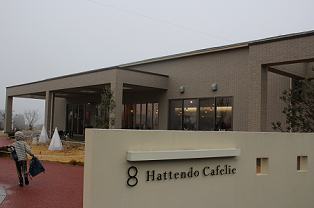 It's located near Hiroshima Airport. You have to take a car or a bus to get to the cafe. It takes time to get there. I had to put up with it because I could eat delicious cream buns. Since the traffic was light, I got to the factory earlier than I thought. You can look around the animals at the parking lot if it's a sunny day.
I headed for the production area a little before the meeting time.
The production area is located under the cafe, so I used a staircase beside the cafe. Before entering the factory, I had to take off my shoes and put on slippers. And I waited other participants at the waiting room on the second floor.
A tour guide will be there when it's time to start the tour. You have to put on overalls on your clothes under the instruction of the tour guide. (Children who can wear masks can participate in the tour. However, children who are likely to take off their masks during the tour can't participate in the tour. They have to wait at the waiting room in this case. However, they can see how the factory is like through television.)
The photo was taken after I changed my clothes.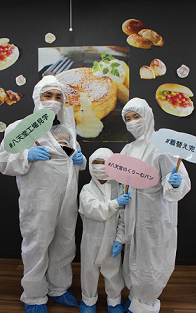 It's hard to tell who is who. My husband carries the baby in his arms, but you didn't notice it, right? (lol)
I've participated in factory tours at a winery and a miso factory before, but it was my first time to wear such a fully equipped outfit. I became a lot more fun after wearing this outfit.
Photography was prohibited inside the factory, so I'm making a brief report on the factory tour from now on.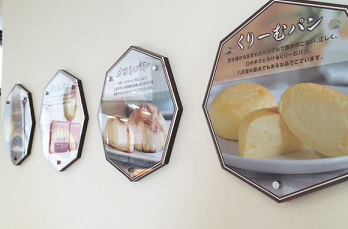 Before entering the factory, we had to pass through the air shower for 30 seconds. The air was stronger than I imagined…! I was surprised that my baby didn't cry at all. My baby is strong.
Then, we took a tour of each line. All lines are in different rooms.
✪Making whipped fresh cream
The first thing they do in the morning is making whipped fresh cream. I participated in a tour at 10:30, so they had already finished making whipped fresh cream.
✪Filling with cream
They used a machine to put cream inside buns, but workers wrap each cream bun by hand!
I thought packaging was done by machines, so I was amazed to know their skilled work! It was very fast and neat!
✪Baking bread
They bake 5,000 buns per hour. I was amazed to know the quantity.
The employees taking out the buns from the ovens must be hot.
✪Making custard cream
They were still making custard at the time I visited the room. They put on some large pots, and they remove them from the heat when they are ready. And then, they blend together with other ingredients….
The work must be hot and heavy. They have to time with a stop-watch, so they may feel nervous, too… It takes lots of hard work to make delicious cream buns.
Because we had to put overalls over our clothing, we were able to get inside the factory and receive an explanation. It may stand in the way of workers' jobs, but they greeted us properly. Some employees stopped what they were doing and gave a brief explanation. The hospitality of the workers was surprising. Furthermore, I learned that cream buns of Hattendo are made of simple ingredients. In this way, the taste never changes no matter who makes it… I heard that this is the most important thing of all.
We went back to the meeting room and the tour was over. It was very interesting!
For your information, the factory tour will be renewed from February. It took approximately 50 minutes and the admission fee was free until now. However, they will extend the time to 75 minutes. It will cost 300 yen per person, but you can get a freshly made cream bun for a souvenir!
This is the only place you can eat a freshly made cream bun, so I can't wait to go there again♪ (The cream buns at the shops are the ones that are made the day before. That way, the cream blends into buns more.)
Well, it's time to make bread! I headed for the cafe area. ((o(^∇^)o))