We came back to the inn and had breakfast. We checked out of the inn and headed for Izumo Taisha again. We visited "Kitajima Kokusokan" this time.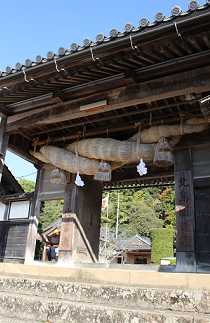 By the way, you can go to Kitajima Kokusokan easily from Izumo Taisha. Senge family and Kitajima family had taken over rituals of Izumo Taisha for a long time. However, Senge family took over rituals after Meiji Period. And Kitajima family is engaged in missionary work of Izumo-kyo since then.
A friend of mine, who knows a lot about Izumo, recommended me to visit here. It's much smaller compared to the huge grounds of Izumo Taisha. It wasn't crowded, and I could take time to walk around the grounds.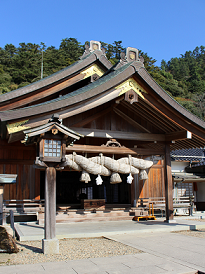 A waterfall is located behind the shrine. The cool air around the waterfall was pleasant. Though it was cold, it was refreshing. I filled my lungs with fresh air and took in a deep breath.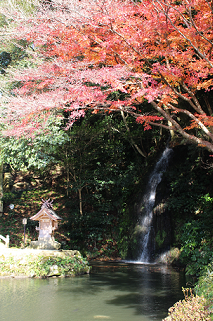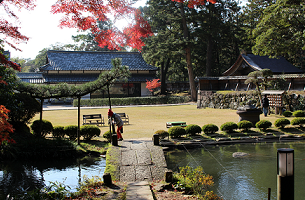 Personally speaking, I like Kitajima Kokusokan better than Izumo Taisha. This is because I prefer simple things rather than showy things. Kitajima Kokusokan is very small and unobtrusive, but local people cherish the place. My friend who told me to visit here had a wedding here.
It may sound rude, but I didn't understand anything before I visit Kitajima Kokusokan. And I was like this: "What is Kokusokan?" "Is it divided into two?" "What is Izumo-kyo?"
Kitajima family had trouble with Senge family a long time ago, and the family couldn't identify itself as a shrine anymore. However, the family registered itself as a religious corporation. I think it's a great loss because the position of the family isn't familiar…
The things that I didn't understand were maybe only for tourists from other regions. I felt the religion is ingrained in mind of local people.
After I bought souvenirs at shops along the approach, I went to a restaurant to each Izumo soba.
A friend of mine introduced me to visit this restaurant.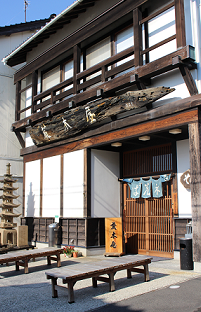 出雲そば 荒木屋 Izumo Soba Arakiya
https://tabelog.com/shimane/A3202/A320201/32000004/

It's located a short distance away from the approach to the shrine. It seems that the restaurant is popular among local people. There are benches in the parking lot, which means people can wait outside the restaurant. I guess a lot of people visit here in the weekend…
We visited here a little after 12:00 pm. There were 2 families waiting before us. It wasn't long before we were called. The restaurant is two-storied and there are a lot of seats. It won't take long to be called because it's soba.
It was my first time to eat Izumo soba! So, I chose warigo soba, which is the most famous style of Izumo soba. There were a lot of people who were eating "warigo 3-dai soba (topped with yam and raw egg)."
Soon after I placed an order, a waitress brought a cup of buckwheat tea and soba soup. Izumo soba was served in a short time! It was smooth and elegant. Soba soup was a bit sweet for me, but it was mild and delicious! I ate up everything including soba-yu.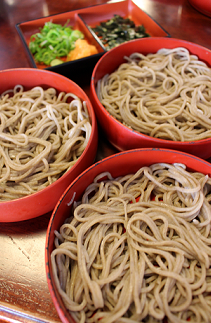 I ate tawara manju on the way to my car. I totally thought it was red bean paste, but it wasn't! It was white bean paste! The bean paste was sticky, and it was delicious.