Hi, I'm Danny. I have a sweet tooth as I told you in the other story, "Let's go for a drive to Miyoshi." I eat anything including cakes, cookies, chocolates and more! I can't resist sweet things that looks delicious.
Today, I'd like to introduce a cafe where I wanted to go for a long time. I was able to go there at last♪
The name of the cafe is "USAGIYA Salon."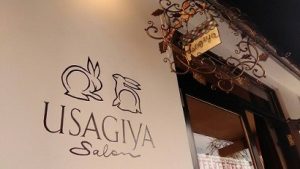 It's a very nice cafe and you can have meals and coffee.
I came here to eat a parfait!
I think it's very hard to find a parfait overseas… What do you think?
There are sundaes in foreign countries, but they typically consist of ice cream topped with whipped cream and cherries…
I like its simpleness, but I prefer something that is decorated more because I'm a girl (no, I'm not).
I went to the cafe by bicycle to eat the parfait (because it was rich in calories! I knew it was too late.).
It's located behind Fuji Grand Hiroshima.
The cafe is very small and just had the second anniversary. (Congratulations!)
It's very easy to find the cafe because the rabbit in front of the cafe can be seen from a distance.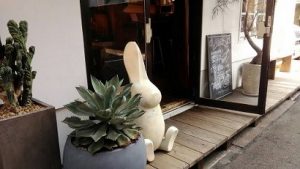 There are 4 seats at the counter, 3 seats beside the window and seats at a table.
The cafe is narrow, which is very comfortable for me…(not to be disrespectful)
The atmosphere of the cafe maybe reflects the owner's personality. You can rest at ease here.
The things at the cafe are stylish… They are also selling made-to-order umbrellas made in France.
I arrived at the cafe around 11:40 am.
Since it was just before lunchtime, I thought it was too early to come and eat sweet stuff….
However, I was amazed to find out that there were a lot of people who came to eat sweet things like me (lol).
All seats except the table were taken. Everyone thinks the same way(^^;)
I think people visit here to eat sweet stuff. Very few eat meals. So, you don't have to wait a long time if all seats are taken. But it's certain that you reserve your seats in advance.
I sat at a table and placed an order at once.
I came here to eat a black tea parfait called "Kitty," which was limited-time-only menu until November 10th!
(I was attracted to the parfait of yogurt and fig called "Fig Germany," but I went with my original plan!!)
I waited a few minutes. And I was amazed to see the parfait was vertically longer than I thought.
Wow, it's big!!
And it's cute! The dish and the spoon were fancy♡ And they are cute, too!!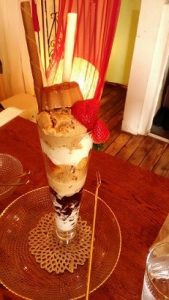 I wondered whether I could eat without spilling it over the table….
I had to eat at once because I was holding my one-year-old child in one hand. He wanted to move around.
My hand holding the spoon got a bit sweaty from being nervous. (lol)
A milk tea pudding on the top
Ice cream
Roll cookie
Strawberry and muscat
Whipped cream
Pie
Ice cream
Syrup
Jelly
Tapioca
I think it's right, but I'm not sure. I'm sorry that I have a vague memory.
It was a hearty parfait, but it wasn't too sweet at all.
In other words, it was refined sweetness…
There were fruits between the sweet stuff to freshen your mouth.
I thought I could eat as much as I want.
I thought about eating "Fig Germany" for lunch…., but I didn't have much time to do that. (lol)
The price was around 1,100 yen.
If you order a drink, it will be around 1,500 yen.
Because it's located far from my house and the price is a bit expensive, I want to go to the cafe to treat myself from next time.
The cafe sometimes serves limited-time-only parfaits.
"Kitty" was served from October 23rd to November 10th.
They will be serving "Fig Germany" until the stock of figs runs out.
I can't eat whenever I want. This increasesmy eagerness to buy the parfait☆ (Is it just me?)
I went home on my bike with strong reluctance that I couldn't eat "Fig Germany."
If you want to go to a hole-in-a-wall cafe,
If you are a sweet tooth,
It would be nice to visit here when they serve your favorite parfait♪
usagiya salon