Hi, I'm Danny.  Have you ever eaten wagashi, traditional Japanese confectionery with a seasonal design?
There are sakuramochi, kashiwamochi, mizu-yokan, ohagi, botamochi, etc. Jo-namagashi is said to be namagashi (wet confectionery) that is superior to the other wagashi.
You have little chance to eat jo-namagashi unless you are invited to a tea ceremony.  However, I think many of you have seen various designs of jo-namagashi at department stores and their designs change depending on the season.
Today, I'll introduce you to the experience of making "nerikiri," which is one of jo-namagashi✨✨✨
The place I visited is here.
旬月 神楽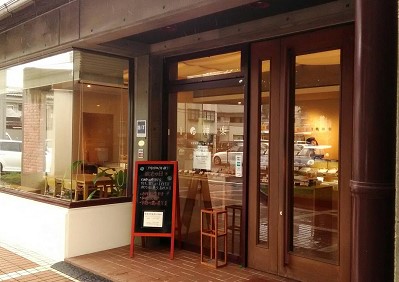 The exterior view of the building.  I couldn't imagine it was a wagashi shop at first glance.  It was very stylish.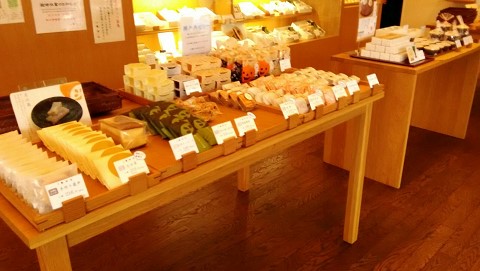 When I entered the shop, I found a lot of wagashi♬♬♬
There were various designs of jo-namagashi.  They were all ravishingly beautiful.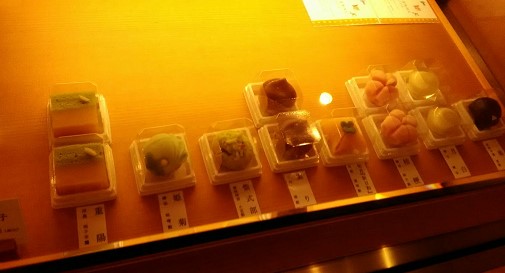 The wagashi confectioners at the shop received the award of "Minister of Agriculture, Forestry and Fisheries" at National Confectionery Exposition held in Hiroshima in 2013.  I know this is a cliche, but it's amazing…!!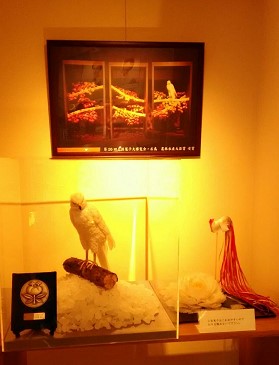 I was led into a room at the back when it was time for the workshop.  The room was neat and tidy with a refrigerator and a sink.  I put on my apron and ran water over my towel.  All set!
Every month, you make 2 kinds of jo-namagashi.  They change what they make depending on the season.  For August, they were "morning glory" and "crab" for children's workshop.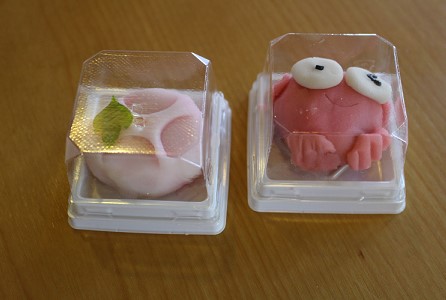 I thought they were made of shiroan (white bean paste) and azukian (red bean paste).
For September, the confections were "rabbit" and "bear."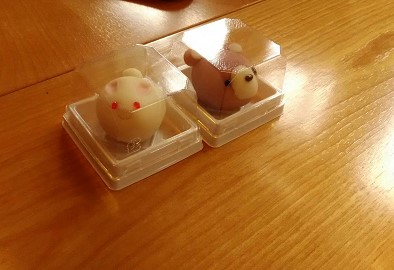 We used lemon flavor paste for "rabbit" and chocolate flavor paste for "bear."  Lemon flavor paste was lightly sweetened and I liked it very much…!The best part of joining a workshop is that you can try bean paste that is out of the ordinary ( ´艸`)
If you are participating in a workshop for adults, you make either nerikiri or dorayaki (a bean-jam pancake) by using an electric griddle.  How exciting it is to find out what you can make this month, because they change confections every month♪
The confectioners at the workshop of nerikiri had already prepared portions for each of us, so all I needed to do was to knead dough and create the shape of the animals.  For this reason, don't worry if you are all thumbs when it comes to cooking!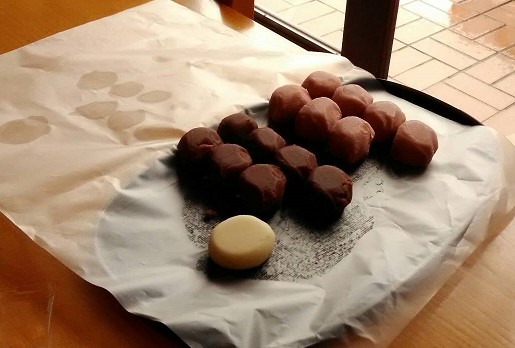 According to the person in charge, tourists from foreign countries are always welcome to participate in a workshop!  The confectioners are not fluent in English, so they use gestures to explain how to make confections.
First, confectioners will show you how to make it.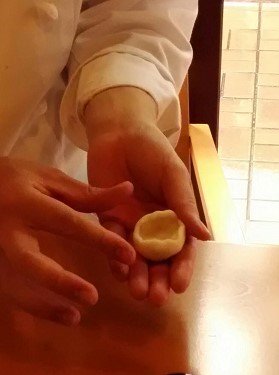 Next, it's your turn.  Knead dough just like the confectioners did.  Anyone who loves to play with clay will love it.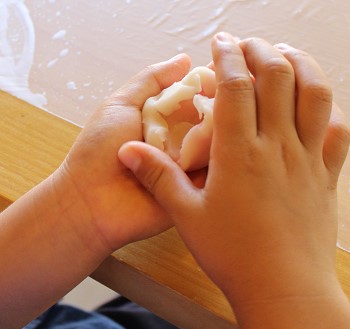 However, dough becomes too soft by the temperature of your hand if you knead too much and it sticks to your hand.  Stop kneading where the softness is just about right.  After kneading, start kneading another dough…
I thought it was easy to knead dough because the confectioners did it easily, but it wasn't.  It was a little harder than I expected. I became anxious why the shape was strange compared to others.Surprisingly, it was very difficult to make the same thing as I imagined.
Sometimes, it becomes horrible appearance like this…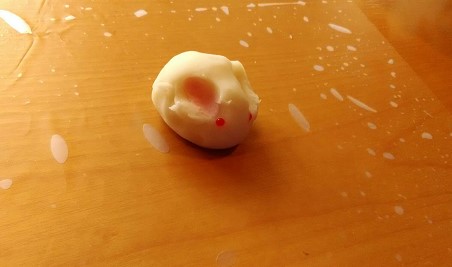 (It's a rabbit…)
When I added some parts to the first dough, it looked just like the ones that the confectioners made.  Surprisingly, I couldn't stop loving my confection although it was ugly-looking (lol).
Finally, I added eyes and a mouth to the piece.  I added tiny yokan for eyes.  I used a tool of confectionery to make a mouth.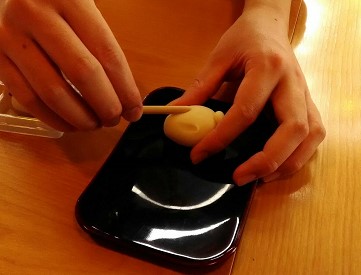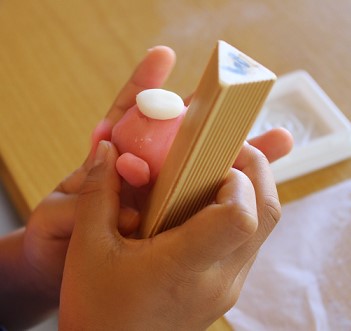 At last, I made it!!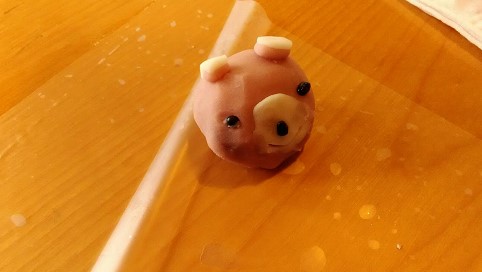 Wow!  I couldn't believe I made wagashi by myself!!
Take your confections home after you put yours in a pack.
What made me happier was that I could have one confection that was sold at the shop for free and I got a discount coupon that could be used at the shop.
Why don't you go to the workshop and try making wagashi?  I'm sure it must be a valuable experience for you!
*Workshop of making wagashi
1,000 yen per person (Bring your own apron and towel)
They make an announcement on Facebook regarding the date and how to make a reservation of the workshop.  Let's check it out!

白島工房
アストラムライン 白島駅から徒歩3分
こどもの和菓子教室のみ
毎月5日に次月の予約受付開始
082-512-3288