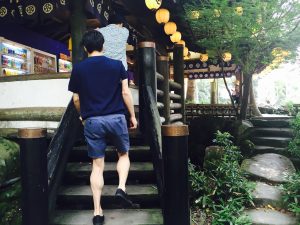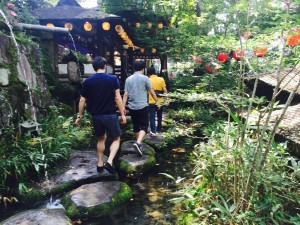 こんにちは。はづきです。
先日会社のもと同期であるアラサー男子3人が泊まりに来てくれました!!ありがたい!!
混雑した路面電車でうっかり降り遅れてしまうハプニングもあったようですが(わたしも広島ビギナーの時はよくやりました笑)、1泊2日でガッツリと広島観光を楽しんでもらえたようです。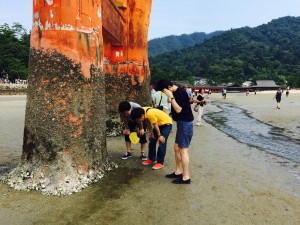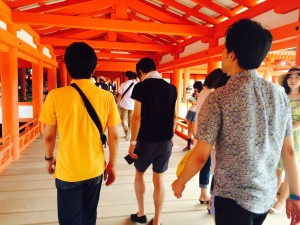 I asked them to write some objective information of Hiroshima because they came all the way from Tokyo!  Well, they are all interesting!
【Okonomiyaki】
◯Because there are many kinds of okonomiyaki, it's very difficult to choose which to eat.  I want the restaurant to emphasize its strong points.  I don't care whether it's his or her favorite.
◯Ekimae Hiroba is located on the 6th floor of the building in front of the station.  You have to wait more than 30 minutes to enter the restaurants where they are crowded with people and the staff aren't kind to new customers because they're busy.  On the other hand, the restaurants less crowded with people tout us to have okonomiyaki at their restaurants.  I thought it represents some kind of social structure. (lol)
◯The smug face of the chef was annoying!! (lol)  I stared at the way he makes okonomiyaki, but his performance using spatulas was shady. (lol)
【MAZDA Zoom-Zoom Stadium Hiroshima】
◯On the way to the stadium from Hiroshima Station, there were profiles of the players of Carp, which got me amped up.  I found a red LAWSON, too.
◯Don't buy a canned beer at the stand on the way to the stadium.  Don't buy drinks in cans or plastic bottles, too.  You have to pour them into paper cups at the entrance of the stadium.  It's better to buy a cup of coffee at Seven-Eleven.
◯Kuroda and Arai receive sky-high ratings at the stadium, so it's better to study about them beforehand. (lol)
【Sanzoku in Yamaguchi Prefecture】
◯It was fun.  I enjoyed every minute of Sanzoku.  It was better than looking for a restaurant in front of the station.
◯I didn't expect to go to Yamaguchi Prefecture this time, so it was a new discovery for me that I can go there by car!
◯Sanzoku was very fun.  It offers you a unique experience!!
〇I understand that they want to "put things that you want to talk about," but they were rough and chaotic.  However, it worked the other way and was funny.  Totoro's paper-mache was weird.
【As a beginner of a hostel】
◯My image of a hostel was a cozy relationship with the host and the guests.  It's true, but you don't have to communicate with the host or other guests.  You can spend a quiet night at the hostel if you want.  (I hate being forced into communicating with someone.)
◯Because I'm used to staying at a hotel, I didn't think about bringing bath amenities.  I should have brought my towels.  (They rent bath towels, though!)
◯I was amazed to know that there are many Japanese people staying at the hostel!! Personally, I was overly concerned about Japanese people at the restroom although I didn't when I ran across with foreigners.  Why was that?
◯I was amazed to know that all the staff speak English or other languages fluently!!
◯The hostel is close to the station.  There are restaurants that serve Hiroshima meal (okonomiyaki) nearby.  It's close to convenience stores and car rental agencies.  There are many good points for travelers!!
◯You'll notice the hostel at once because the purple (red?) line on the building serves as a landmark!
〇This was my first time to stay at a hostel.  I felt uneasy because there was no curtain by the bed.  However, I wasn't so concerned about it when I turned my head in the back.  No one can see my face while sleeping.  Furthermore, think "it's just a place to stay overnight," and you'll be alright.  Double-decker beds were well-built and I didn't hear any squeaks, which was very comfortable.  I was also amazed to know that there was a co-gender room.  Surprisingly, foreign women didn't care about it at all.
〇Personally, I enjoyed talking with many guests at the lounge, although it was only a fraction of the time.  It was very difficult to talk to someone, but Kisshi (the nickname of Hazuki) and men living in Hiroshima talked a lot and created a good atmosphere.
【Gift shop in front of the station】
◯There were so many souvenirs that were related to Carp!!  The whole city set the mood for Carp, which was very nice!!
◯We ate anago (sea eel) because we wanted to.  However, Kuroda's boxed lunch was 100 yen cheaper and looked heavier than anago.  I regretted that I had chosen anago.  Because it's using the name of Kuroda, I assume that they can't make the boxed lunch poor.
◯The fare of Hiroden (streetcar) is 160 yen.  I had trouble getting prepared ahead of time and ran out of change.
〇The underwear I bought at Seven-Eleven was 650 yen and comfortable.  Considering the price, I prefer UNIQLO's AIRism because I like its texture and it's much more comfortable.  (It has naught to do with Hiroshima. (lol))