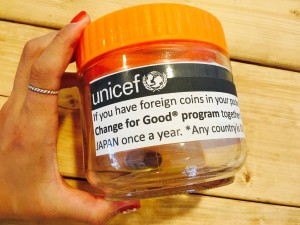 こんにちは。オーナーのはづきです。
Hi, I'm the owner, Hazz.
うちのホステルで、Unicefの外貨募金をはじめてみました!
というのも、ベッドに1枚だけ外国のコインが落ちてる(要するにもう取りに来ないような落し物・忘れ物)..というようなことが何度かあったので、どうにか有効活用できないかなと考えたのがきっかけです。
Today we started collecting foreign coins for donating Unicef Japan.
I sometimes see someone's coin left in their beds when I am cleaning them up. Of course they never come back to our hostel for it, nor even know that. Let's get involved to the Change for Good program together!
昨日のブログにアップした髪の毛の寄付「ヘアドネーション」もそうですが、自分の負担にならない程度でお気軽・お気楽に始めるのが寄付のコツではなかろうか…などと考えております。「とりあえず送ればいいだけで簡単そうだし、やってみるかあ…」ぐらいのノリでもいいかなあ、と。
というわけで、気負わずちょっとづつやってみませんか~♪