Hi, I am the owner of THE EVERGREEN HOSTEL, Hazuki.
Do you know what is LCC, a low-cost carrier?
"I've heard of it, but I've never used it before." "It's about an airplane, right?"
I think many of you are like this. Yes, it's an airline which has a lower fare because of its minimum service.
Did you know that LCC airplanes is in service at Hiroshima Airport???

As of Spring in 2016, one of the low-cost carriers called Spring Airlines Japan is in service. Its nickname, Spring Japan, is often used in the airport announcement.
Green wings are impressive. Spring Japan is the only company that doesn't get funding from either JAL or ANA, which are two leading airlines in Japan.  Japan's LCCs (Peach Aviation, Jetstar Airways and Vanilla Air) are all affiliated companies of the leading airlines.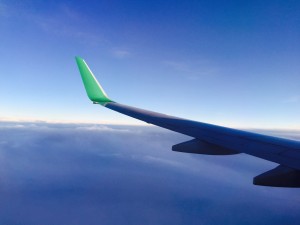 ***Well… it's really cheap…
Spring Japan has 3 kinds of fares: "Spring Plus," "Spring" and "Lucky Spring." Cancellation fee and the weight of check-in baggage are different, so it's better to check by your own when you book the airplane ticket.
Anyway, "Lucky Spring" is really lucky, so I felt something is wrong at first. It's cheap because "the fee is on SALE," which means the fee doesn't accept changes nor refund.  You can check in a small baggage, but not a big one.
***You want to know the fee, right?
Don't get surprised. It was not exceeding 5,000 yen from Narita to Hiroshima Airport on Monday, April 18th.  Lucky Spring!! 
Hey, hey!  What is going on right here?  Believe it or not, it was not exceeding 5,000 yen.  Cool, right?  It's cheaper than taking a bus.  It's cheaper than taking the expressway bus, which is painful!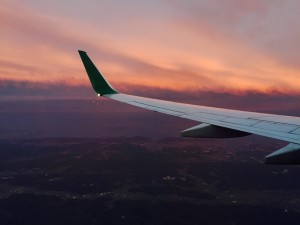 You have to check in 35 minutes before departure and you can't take an airplane if you are late. It's very strict.  I got a strong warning once when I arrived at the airport barely in time.lol   Right, people who use LCC need to understand LCC's simple posture, "we can't keep fees low every time we wait passengers who are late!"
***… Is LCC safe?
Well, it's difficult to say it is or it isn't. However, in my opinion, I think it's "an ordinary airline."  Go to the airport in time and check in at the counter or by using the machine.  There is no difference.
Some of you may be worried about the safety, but as of now, I think there's no evidence for "leading airlines are safe, but LCCs are not." I think it's more important to consider the difference in fare because it's very strict about check-in baggage and cancellation fee.  And don't forget about "the cost and time to get to downtown of Tokyo from Narita Airport."

Make smart use of LCC after understanding its advantages and disadvantages★
The distance between Tokyo and Hiroshima feels like much closer, doesn't it?
★ Comparison between domestic LCCs
http://www.kokuken.net/special/lcc/
★ Do we have to buy safety? The secret of cheap LCC and look at data on its safety.
http://blog.compathy.net/2015/04/12/lcc/
★ Conclusive comparison! "Tokyo Shuttle" vs. "THE Access Narita"  LCC buses between Tokyo and Narita Airport.
– http://matome.naver.jp/odai/2134670755747431401