Hello. I am Hazuki, the owner of the Evergreen Hostel.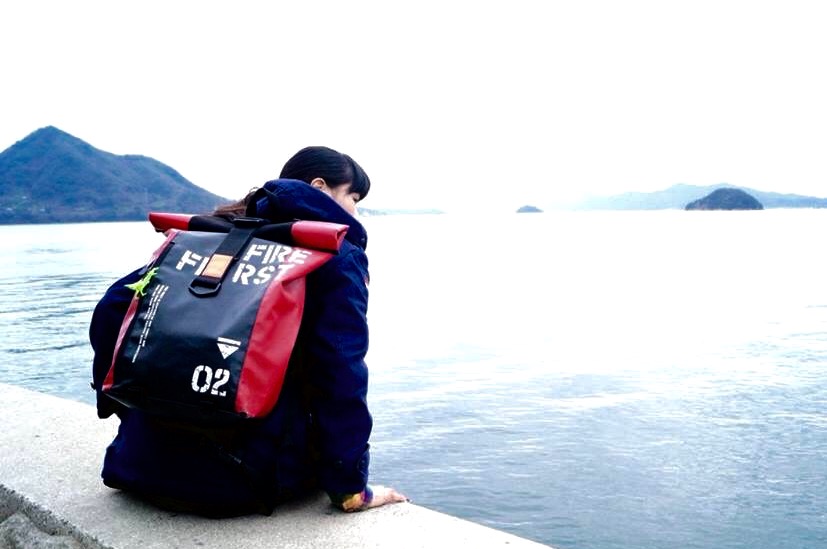 Here is a story of an excursion to Okunoshima Island.  Access information will follow.
Okunoshima Island is a small island off the coast of Tadanoumi with a circumference of only 4km.  The entire island is a Kokumin Kyukamura [National Park Resort Village].  In old days the poison gas production site was in operation in Okunoshima Island.  The island was once deleted from the map for its security control.  Now the island hosts accommodation facility called Kyukamura and the Poison Gas Museum.  Also the Visitor House by the Ministry of the Environment (where you can enjoy camping too!) is available and it is worth stopping by.
And…. what is famous?
Rabbits!!!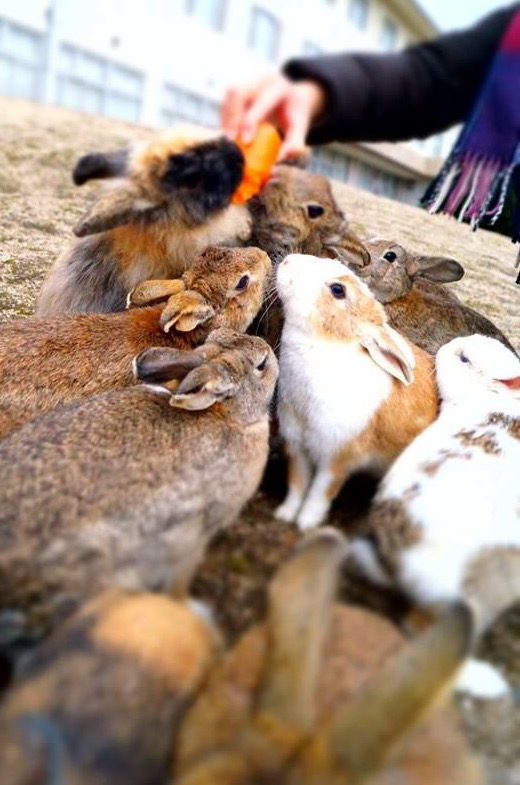 Once you step down from the ferry, you will be comforted now and forever. It's even better if you manage to buy some fresh vegetables before boarding. You can still purchase food for rabbits on the island but practically fresh vegetables are not available as there is no grocery store.
There are many families with kids bringing vegetables. Quite a number of tourists from overseas visit the island as well.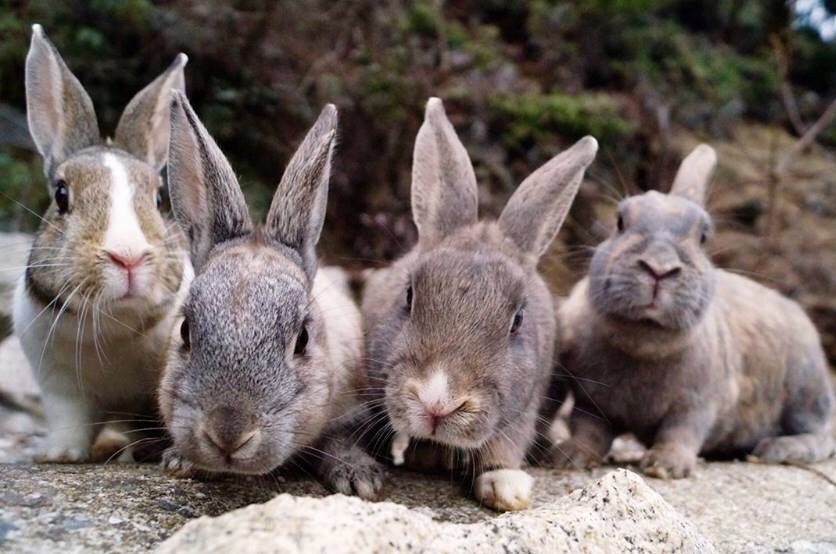 Spoil yourself rotten and get healed….
It's a good rambling distance going around the island.  A pair of comfy shoes is a must to manage rough footpaths.  Rabbits are watching you.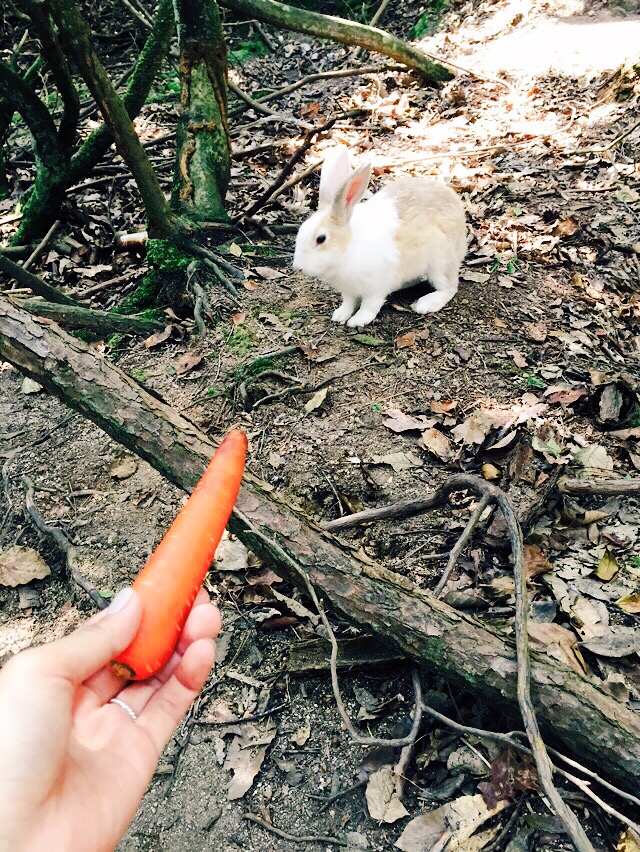 A panorama view from the summit is stunning.  You will see an absolutely superb view of what people call "This is THE Setouchi".  Go on!
<Trains :  via Takehara Station>
Tadanoumi Port is a 5min walk from Tadanoumi Station.  From the Port to Okunoshima Island the ferry takes about 12 min.
There are 2 types of ferries (1) Kyukamura Passenger Ferry and (2) O-mishima Ferry.
Inquiry: O-mishima Ferry TEL: 0846-22-6199
<From Hiroshima Airport>
Limousine Bus from Airport to Mihara Station (fare charged, about 40 min)
→From Mihara Station to JR Kure Line Tadanoumi Station
→Walk from Tadanoumi Station to Tadanoumi Port about 7 min and on board
Limousine Bus from Airport to Takehara Station (fare charged, about 30 min)
→From Takehara Station to JR Kure Line Tadanoumi Station (about 12 min)
→Walk from Tadanoumi Station to Tadanoumi Port about 7 min and on board
<Car>
■From Kansai Area…
From Hongo Interchange (IC) on Sanyo Expressway to Tadanoumi Port , Takehara City via Prefectural Route 82, Route 33 and Route 59.  About 25 min.
■From Hiroshima…
From Kouchi IC on Sanyo Expressway to Takehara City via National Route 432.  Take National Route 185 from Takehara City Hall South Intersection to Tadanoumi Port.  About 23.6km, roughly 40 min.
◆Tadanoumi Port Public Parking Area is free of charge.  No car is allowed on the island.  It's best to park your car at the port.  You can park on the island but you will need to notify in advance to take the car on the island.
◆From O-mishima (Ehime Prefecture) and Nishiseto Expressway (Shimanami Kaido) it is best to park at Sakari Port.