Hi, I am the owner of THE EVERGREEN HOSTEL, Hazuki.
Today, I visited "Sera" with Yuka, my junior in school. Que sera SERA~♪
I've heard of the name of the place before, because our designer, Mr. Miyazaki, is from Sera. But… where is it located?
【世羅の予習】
【Review of Sera】
①The town is located in the center of Hiroshima Prefecture.
It's about 50 kilometers to the east from Hiroshima City.
②It's a major area for producing matsutake (mushrooms), pears, tomatos, rice, etc.
The largest harvest of matsutake in Japan!
③I've heard that seasonal flowers are really nice. (I'll mention it later.)
④Ekiden, a long-distance relay race, is strong.
Both men and women won National High School Ekiden Tournament held in December 2015 for the first time in 22 years (!!).
Hmmmm …there are a lot of discoveries. When you ask people in Hiroshima City about Sera, they say it's famous for "beautiful flowers" and "strong ekiden team."  Well, it seems that the images of Sera are these two.
※Yuka is my junior in university's club activity. She works at a company that has a domestic transfer.  She has been living in Hiroshima for 3 years."Now that I live in Hiroshima, I'll visit many sights of Chugoku area!!!" She is a salaried employee who drives around Chugoku and Shikoku area every weekend and knows a lot of famous stores and restaurants. By the way, her precious car is Mazda's Demio.
I left everything to Yuka and we started to go for a drive to Sera. (She decided where to go.  I was wholly dependent on her.)
We left Hiroshima City at 10:30 a.m. and got to Sera shortly before 12:00 p.m. without stopping.
"Hazuki, we'll have a lunch here! It's famous for its bread." Yuka said.
"Oheso (the belly button) Cafe….?"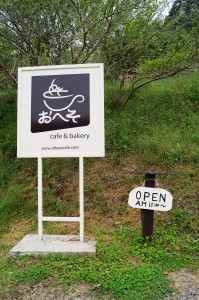 "Hey, Yuka!! Look here, it's a stone oven!!  (I was excited)"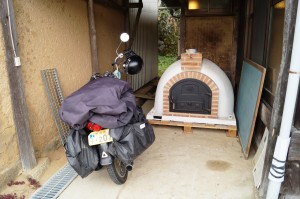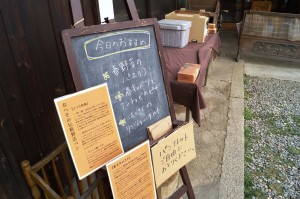 It had a good atmosphere. The cafe is an old folk house that was built 150 years ago.  It was cool!!  Wow!  How wonderful the old folk house is.  It was tasteful because it's different from new buildings.  It also has the atmosphere laden with history.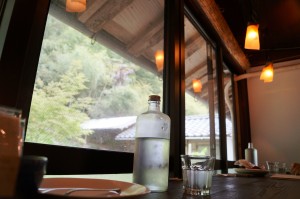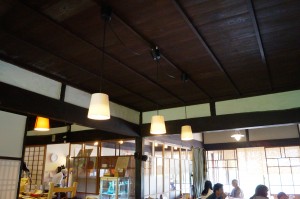 An illumination lamp covered with Japanese paper, like a paper lantern, is cool. I ate a kebab (900 YEN).  It was a hearty lunch!  A pita bread was very delicious!  A cup of coffee was delicious, too!!!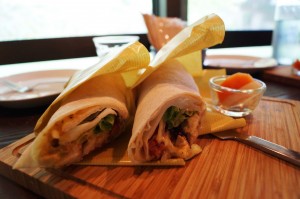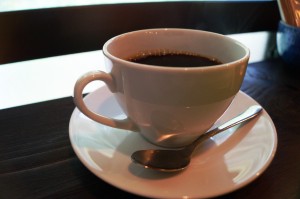 An illumination lamp covered with Japanese paper, like a paper lantern, is cool. I ate a kebab (900 YEN).  It was a hearty lunch!  A pita bread was very delicious!  A cup of coffee was delicious, too!!!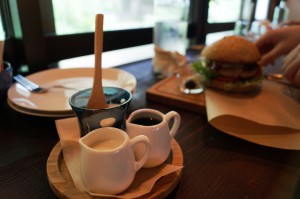 "By the way, what was "oheso" … Oheso Cafe …"
There are a lot of people in the weekends. It's better to make a reservation in advance.
Oheso Cafe & Bakery
〒722-0411 1155 Uzuto, Sera Town, Sera County
TEL: 050-2020-5515
http://www.ohesocafe.com/
+++
 "Hazuki, I want to see flowers in a highland next. Let's go."
She is really active. She decides where to go in advance.  I was taken by her and came to Serakogen Farm.
Wow! What a splendid view!  I didn't expect it was this large.  It's like the Netherlands!!!  (I've never seen tulips in the Netherlands though!!!)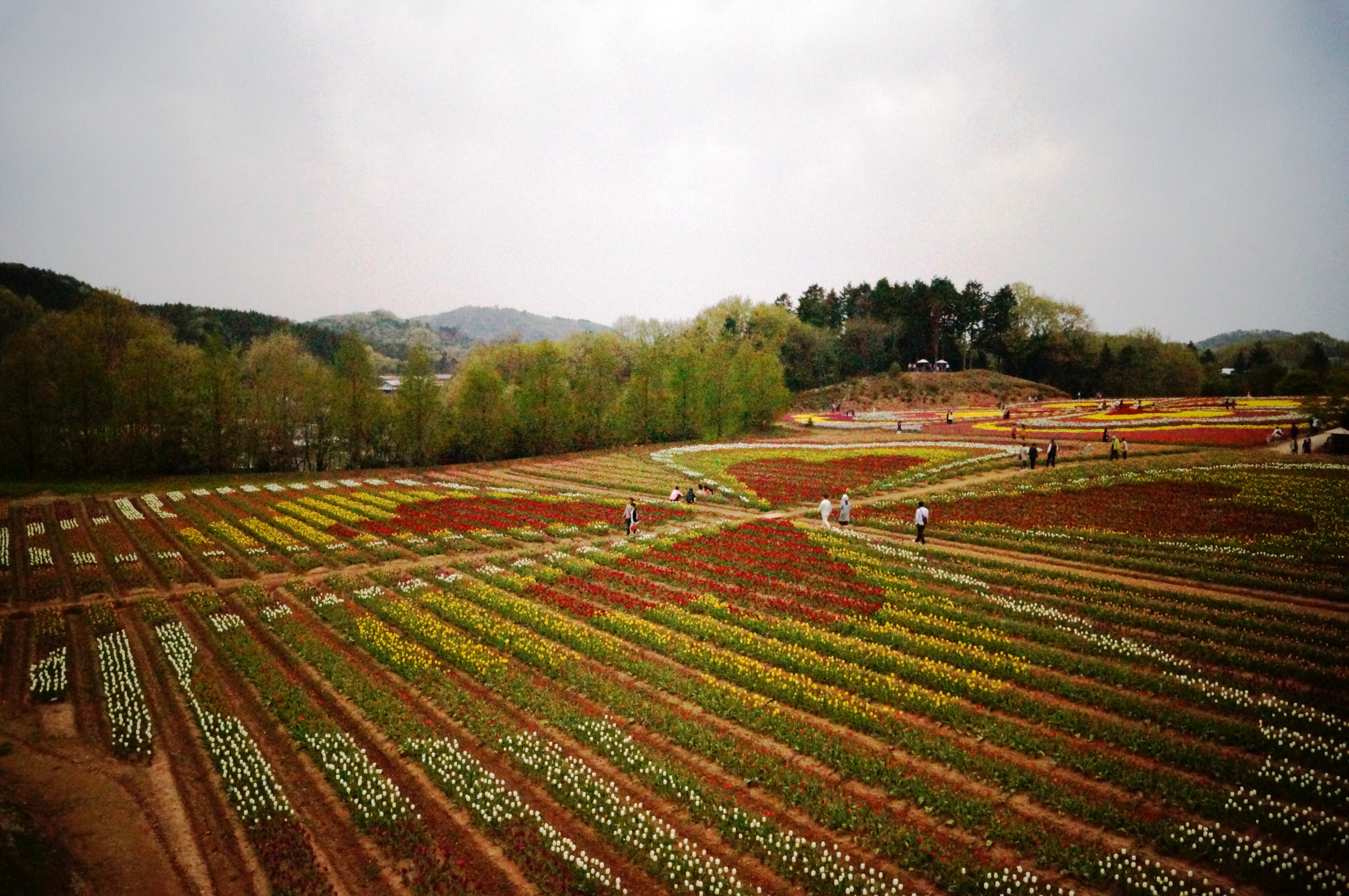 There were about 300 kinds of colorful tulips and had 75,000 of them. The ground was painted by tulips.  It was amazing.
It was different from a Japanese children's song called tulip, "red, white, yellow♪" There were many kinds of tulips such as a tulip with two different petal colors and a tulip that looks like a lily.
I thought this purple tulip was COOL!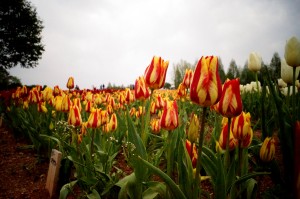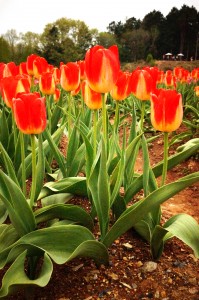 What's more, you can take tulips back home with bulbs. And it's very cheap!!  Many people enjoy taking tulips back home.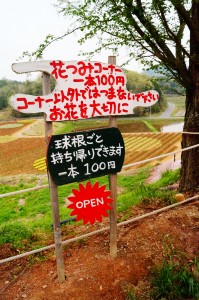 【Spring Tulip Festival 2016】
From April 15th (Sat) to May 8th (Sun) …It's open every day during the festival.
From 9:00 a.m. to 5:00 p.m
Entrance fee: 800 yen for adult, 400 yen for children from 4 to 12 (elementary school students).
Free parking for 1,000 cars (!!)
Serakogen Farm
〒729-3305 1124-11 Bessako, Sera Town, Sera County, Hiroshima Prefecture
TEL: 0847-24-0014
http://sera.ne.jp/
Oh, dear. You can't underestimate Sera Town.  Many tourists went to Oheso Cafe first, and then visited Serakogen Farm.  It was like "I saw her a while ago at the cafe."
Personally, I strongly recommend here to people who love to ride motorbikes or bicycles! There are gentle winding roads that must be fun to ride bikes.
For this coming season, it's good for a bike ride!