The Three Best Restaurants
Closest to the Evergreen Hostel
by Kasey
Hiroshima is a city with many perks and tourist attractions for foreigners. Touring the Peace Memorial Park and museum, hiking around Miyajima and walking around the Shukkeien garden is exhausting work. At the end of the day it is hard to walk back to the hostel and cook up a decent meal. Instead of doing intensive research or walking back to Hondori check out these foreigner friendly restaurants within walking distance of the hostel. You'll save money, mingle with locals and eat some of the best food on your trip.
Tekka is about 20 steps from the Evergreen. It serves the best okonomiyaki in town and for a local price, about 650 yen for the most basic order. Hiroshima okonomiyaki is quite different from the Osaka kind which has been popularized through travel guides. Hiroshima okonomiyaki is layered rather than mixed together and is topped with a healthy portion of soba noodles. Ask for an English menu and there will be choices of okonomiyaki from seafood to beef and chicken. You can also add additional toppings like an egg, cheese or bean sprouts.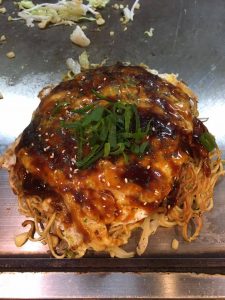 Basic-level okonomiyaki has enough food to fill you up for a day of exploring or a night time of drinking. It is served traditional Japanese style, straight off the grill and eaten with a spatula. Be sure to sit by the grill to watch the chef perform his magic!
Tokaichi Apartment is directly across the street from Evergreen. They open at 11:30 and have a daily lunch set menu. For 850 yen you get a full meal, a side salad and a drink. The meals range from the daily pasta dishes to teriyaki chicken to tofu salad. The seating is eclectic and the music is catchy. The seats are comfy and it is easy to stay all day and linger over a drink with a good book. It is okay if you are having a late lunch as the set is offered until 4:30.
It is hard to get tired of Japanese food. But for breakfast, lunch and dinner it can start to feel a bit repetitive. If you are looking for a slight change in culinary scenery then check out Sapana, a Nepalese Indian curry restaurant just a couple blocks down from the Evergreen. There are many different types of lunch sets, ranging from 550 yen to 1200 yen. There are many curry options for both meat lovers and vegetarians. Curries are ordered on a 1-10 spice scale. The best part is the lunch set comes with unlimited naan! My recommendation is the 650 yen curry lunch set available from 11-2:30. The set comes with a bowl of curry, side salad, a drink and endless naan. Dinner is also offered from 5-10:30 and is 1,000 yen and up.