Nowadays most of the people still do not familiar with the concept of hostel and how they usually look like. This number is even more in Japan, at least what I experienced so far. The concept mostly known within the young generation who loves to travel and seeking the cheapest ways to make this happen.
Still, even from the people who know about these places you could hear the question. What? Living there? Why would you do that? Did you lose your head? You are definitely sick! There are so many misconceptions about this topic even between travelers.
Well, Hey!
That is exactly who I am, where I am and what I am doing. Someone who is looking for the best and cheapest way to stay everywhere on my way. It could be even a normal hotel in some countries but usually my tent or a hostel. Not to mention in the latter you can find really good opportunities around the world.
Oh, and yeah. I guess I lost my head.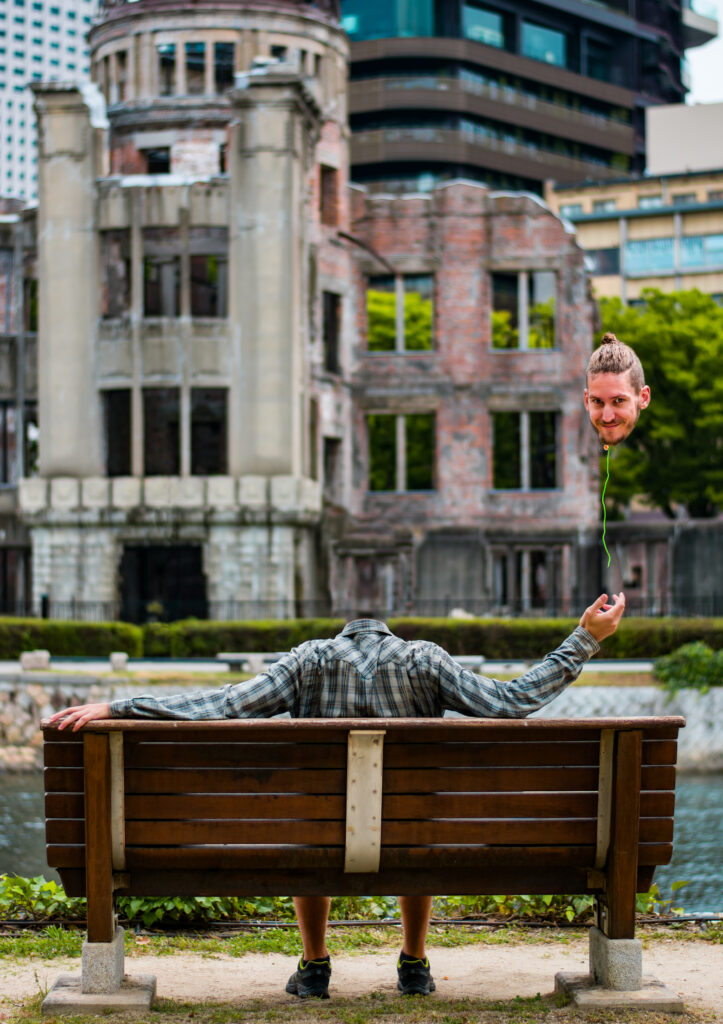 But how can you find such places?
You can look up on places by yourself too and could be surprised on the result. I mostly use Workaway or Helpx when I am looking for something. There are places offering free accommodation in exchange for a few hours work per day or if you are even luckier, for a few extra hours you could even get paid a little amount for your hard work. There a few rare opportunity where they even offer meals every day for you. Are you looking for it already?
Aren't you getting bored staying in a hostel for a long time?
I don't think so! Depends on the place though and the people around you. I consider myself lucky because I have been able to stay at a place from I could explore so much and I met with so many people from different countries, backgrounds, and stories of their life.
But some of them are not up to speak at all,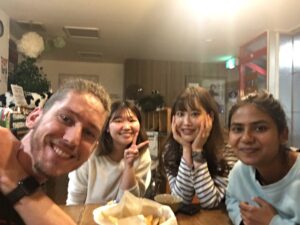 or most of them who like to talk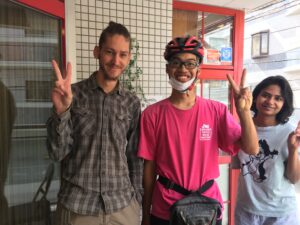 and there are people who would talk until they die by exhaustion.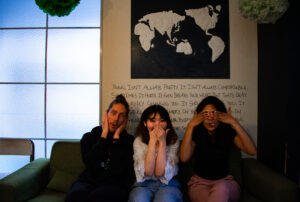 Sometimes maybe you will even meet your old friends in the hostel from your previous places!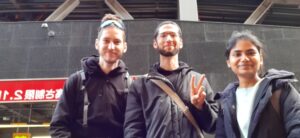 You are going to meet all kind of people in a hostel from silent to loud and from bad to great.
Why are you staying in such a place?
The answer is simple. To have experiences I would never have otherwise
Everyone has a different story and in a hostel you meet infinite stories during your work. You can not imagine how much you can learn about different countries from the people living there or about any topics in general. I always enjoy these talks and that the guests are feeling like being in a good place from this is just a plus point.
I always love to make people feel comfortable even if all it needs just a smile. Usually I help most of the people about locations for food or what they should visit. I love to recommend least visited spots around the city and most of the time the reaction in the next day is a huge thank you for the recommendation because they enjoyed it so much.
I could just sit in the corner all the time doing my own thing and not talk to anyone for a single word but you should never do that in a hostel. Making people feel welcomed and happy is the best you could do for the company and for yourself as well. It feels good when someone likes the work you do and this will make you happy, full of enjoyment too. Trust me.
I made so many friends through my time working in hostels I could hit up any time and they would be ready to talk or help me whatever the situation is and I will do the same for them.
So many people and even more memories from all the unforgettable, crazy or / and stupid things we did together. I don't think so I could count them.
The Evergreen hostel is one of the best example.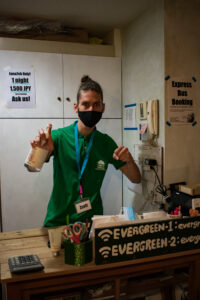 The location couldn't be better in Hiroshima. Only a few minutes from the main things you need in your everyday life like cheap groceries and supermarkets for the rest. Just like from the most visited places too.
The place is not that big in itself. At other places one floor is bigger than here. This is more like gives you the home feeling with the small space. 🙂 Though it is still big enough for the needs of the people around. The kitchen is really spacious and a huge plus since here in Japan most of the places don't even have kitchen only a microwave maybe and a kettle.
Going out from the hostel are various options. I always love to go to the riverside at any river in Hiroshima. I really like the fact compared to the size of the city there are so many green area next to the rivers crossing the city in every direction. I always can enjoy the calmness of those places in the running city. It feels like taking a step outside and everything just slows down for the time while sitting next to the river on the green grass in the company of the trees or flowers.
Having a bike at the hostel, which you could use whenever you would like to. This is so good and saves you an incredible amount of time if you like to roam around on two wheels. Another plus point to this is that here in Hiroshima is pretty easy to bike, almost everything is flat.
What is the downside of living in a hostel?
After living in 2,5 square meters you will rethink what are the most important things you really need in your life. Sometimes it can be really painful living with a huge number of guests but maybe that is the only downside of this activity outside of that you don't even have personal space at all. It isn't that a big of a problem though after more than half a year I can really miss my own personal space on some days. Especially when all your space next to your bed looks like this after a bit of improvement to use all the space possible: 😀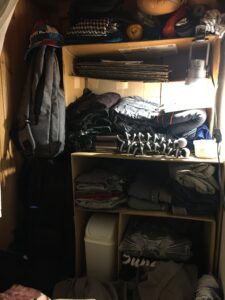 What about safety and your expensive accessories?
Since being a person who could get a heart attack if I can't remember if I did put my values in a good place I do care about it. Sometimes I still do, but in Japan the safety is really high. For example, if it happens that you leave your bike without lock somewhere then none is going to touch it. If it is your wallet most likely you will get it back with all the cards and money inside of it. I don't think so I need to say more about this.
Something I am really thankful for
I was roaming around Japan for months, visiting new places all the time and meeting with so many incredible person. I really needed to slow down and this break, away from most of the stress in my life. I am really thankful to have my safe place here in the hostel and in Hiroshima that I can call home. I am sure that I will miss it a lot. Well, not the sometimes annoying guests at 3 am but definitely going to miss the city and the people in the hostel!
One of my favorite quote from Anthony Bourdain: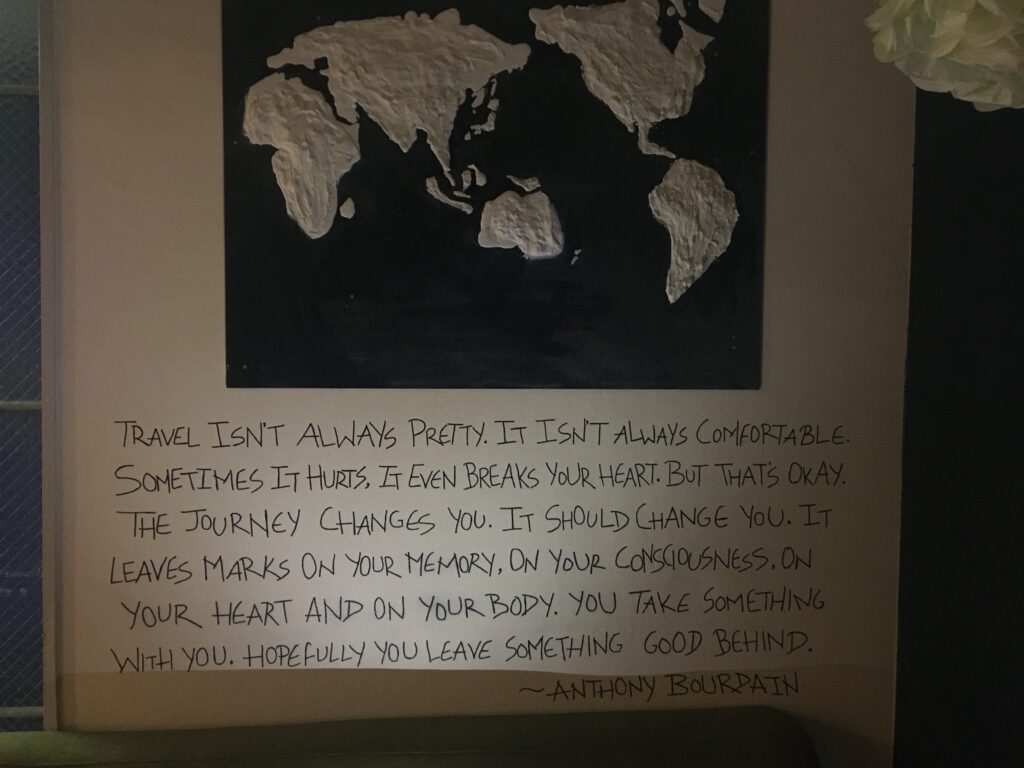 I'm really happy I was able to add something to the hostel during my stay and create a piece of art on the wall.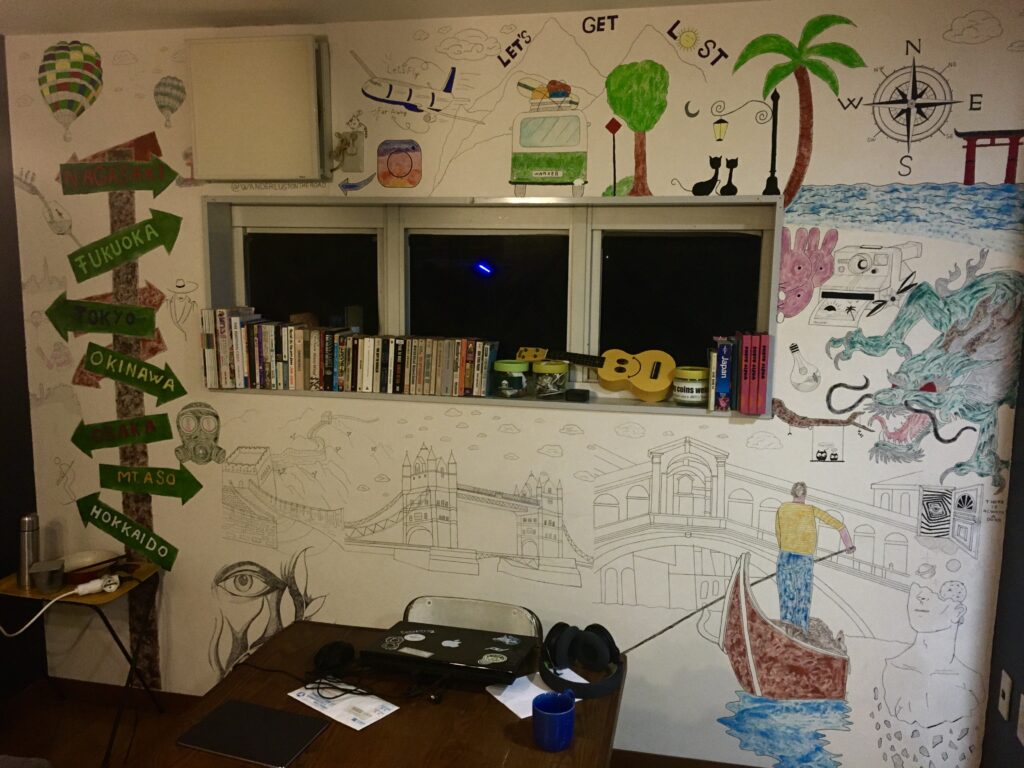 Hopefully I managed to leave something… good behind!
Thank you Hazz!
This article was written by: Zsolt Stenger
Please follow us on Instagram and Facebook! ( not on the street. / )
wanderlustontheroad:   https://www.instagram.com/wanderlustontheroad/
evergreenhostel:   https://www.instagram.com/evergreenhostelhiroshima/
Facebook:  https://www.facebook.com/EvergreenHostelHiroshima