EVERGREENなゲストの皆様よりお寄せいただいたレビューです♬
皆様本当にありがとうございました!引き続き良い旅を…
Thank you very much for being our guest. Hope you keep enjoying your trip;)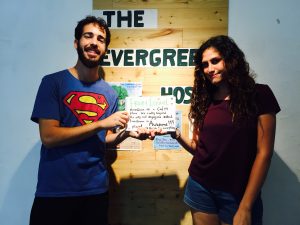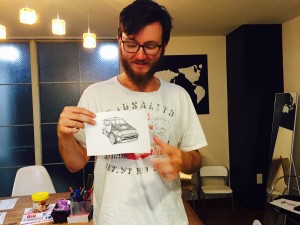 ■Mayumi
原爆ドームの近くにあり、観光にも便利な立地でした。 キッチンやバスルームなどの共用スペースも綺麗ですし、女性専用ドミトリーは番号式のカギがかかっており、貴重品ボックスもありますので、セキュリティ面も安心です。 色んなスタッフの方がいらっしゃるので、お話していてとても楽しかったです。 また広島滞在の際には利用させていただきたいです!
(2016年11月 November 2016)
■Yurie
Airbnbを利用するのは初めてだったので不安でしたが、我が家のような雰囲気でとてもよくしていただけました。
(2016年11月 November 2016)
■Tomaž
Hazukis dormitory is super near the piece park and the museum. The staff is supper and friendly. I recommend this palace.
(2016年11月 November 2016)
■Tanja
Very nice hostel! Kind staff, free coffee and tea and a nice atmosphere. A bit unconventional that the hair dryers are in the same room as the kitchen, but nothing that would prevent me from staying there again. The location is also very good, within walking distance of the A-dome, concenience stores and shoutengai (shopping streets). 🙂 The only thing that I personally did not like was that the wifi signal was not strong enough for my phone to get a good enough reception to watch Youtube videos – but I had the bed compartment with the biggest distance to the router, so I was probably just unlucky, since in the lobby and kitchen even HD-videos streamed smoothly. But enough nagging, if you're there for holidays your priorities will probably be different anyways, so I definitely recommend the place to anybody not needing high-speed internet access outside of the lobby. 🙂 Thanks for having me, Hazz! 🙂
(2016年11月 November 2016)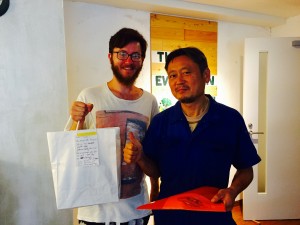 ■Tiffany
Staffs were friendly and nice
(2016年11月 November 2016)
■Tine
Jeg var MEGET tilfreds med Hazuki's sted. Jeg blev budt velkommen af hende og de andre beboer lige som jeg ankom, og de viste mig rundt med det samme og gav mig al den information, jeg havde brug for. Der er et godt køkken fuldt udstyret med soya, olie og andet til at lave mad (hvilket nogle af gæsterne gør – spørg efter det lokale supermarked!) og et internet, som virker upåklageligt. Badene og toiletterne er rene, og der er endda tandpasta/shampoo/balsam/sæbe til fri afbenyttelse. Sengene er også hyggelige, og giver en hel del privatliv (skulle man bekymre sig om den slags) med de fine forhæng og endda sengelamper ved hver eneste køje. Stedet ligger desuden helt perfekt, hvis man går efter at se alle de store attraktioner i det centrale Hiroshima (kun 5 min. gågang fra Atomic Bomb Dome!). Faktisk vil jeg gå så langt som til at sige, at man ikke skal købe sig et bus/sporvognspas til andre ting end Miyajima, da det meste er i en gå-afstand af max 30 min. Jeg købte mig et "Hiroshima small area pass", som giver mindre rabatter de forskellige steder og også coupons, så man kan få rabatter på mad rundt omkring. MEN! Jeg vil kun anbefale dette pas, hvis man ikke er studerende og rent faktisk har tænkt sig at tage til Miyajima samt køre rundt med offentlig transport. Jeg er selv studerende, men vidste ikke, at Hiroshima – til forskel fra Tokyo – har en hel del rabatter til universitetsstuderende, som gør passet lidt overflødigt. Tror jeg sparede 10 yen eller noget i den dur… Hvis man løber tør for ting at se, så er Hazuki venlig til at give forslag og har alle mulige foldere om de forskellige steder, som man må tage med sig. Jeg kan selv anbefale "Hiroshima Contemporal Art Museum", "Hiroshima Prefectural Art Museum" samt det lokale sento (offentlige bad) "Dobashi Yu". Jeg nyder personligt at prøve de lokale badeanstalter, og selvom Dobashi Yu er meget småt sammenlignet med de andre, jeg har besøgt, så er det det hele værd at kunne slappe af i det varme vand efter en lang dag, hvor man har travet byen tynd eller besteget et bjerg på Miyajima – det koster trods alt kun 430 yen og ligger 8 min. væk fra EVERGREEN.
I loved the fully equipped kitchen, the warm atmosphere, the slippers at the entrance, and the cozy "bunk"-beds. I was also very satisfied with the guidance I received, when I asked for local museums.
(2016年10月 October 2016)
■Thomas
Very welcoming hostel with multilingual staff! Met lots of new people in the common area and had very clean kitchen showers and beds. Located in a nice area close to the peace park and a short walk from downtown. Everyone here was lovely and I'd definitely recommend it to anyone visiting hiroshima!
(2016年10月 October 2016)
■Vincent
Si vous voulez visiter Hiroshima et le musée de la bombe c'est l'endroit idéal ! Miyajima est à 50 min de train donc pas très loin non plus. Staff super friendly ! Rapport qualité prix imbattable !!
(2016年10月 October 2016)
■Steve
Nice place.
(2016年10月 October 2016)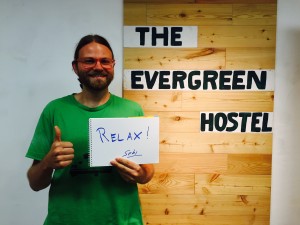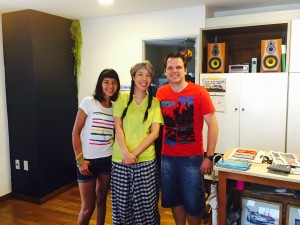 ■Joshua
A very welcoming staff and I had a great time meeting the other travelers! I definitely recommend this place for anyone stopping by Hiroshima.
(2016年10月 October 2016)
■Jacob
Staff and people were very friendly. Good amenities and location for a fair price. I would stay here again.
(2016年10月 October 2016)
■Sergio
Very nice and friendly environment, all you need for a pleasant stay in Hiroshima, very close to the A Bomb Dome and the Peace Memorial. 2 minutes from the tram stop which makes it easy to reach every other place. The staff was always at disposal and ready to help. Definitely would recommend it.
(2016年10月 October 2016)
■Valentýna
It was a really nice place to stay, close to everything, the receptionist is a really nice women that helps whenever it is needed. I met a lot of nice people. Can only recommend !
(2016年10月 October 2016)
■Patrick
Cool place with nice communal areas. Met some very nice travellers. Great facilities. Capsule style bedding with no curtains so privacy is limited. Make sure that's what you are looking for before booking. Very cool place though, would recommend.
(2016年10月 October 2016)
■Takahiro Shoji
ドミトリーは初めての利用でしたが、全くと言って良いほど不便はありませんでした。むしろとても便利に利用させていただきました。 まず、場所は原爆ドームの直ぐ近くに有り、歩いていける距離です。また、広島駅も広電で一本ですし、厳島神社も広電で一本です。とても便利なロケーションでした! 施設内も出来たばかりなので、綺麗ですし、お洒落。必要なものは十分に揃っており満足度は高かったです。 また広島一人旅の際には利用させていただきます
(2016年10月 October 2016)
■Elijah
We only stayed here for one night as it was a short trip to Hiroshima but the location was great, the other hostel mates were friendly, and it was an all-in-all great experience. I would definitely recommend this if you're a budget traveler, looking to stay for any length of stay, or are looking for a true hostel experience.
(2016年10月 October 2016)
■Drew
The Evergreen Hostel is an incredibly welcoming place. I was only there for the day Andrew left early in the morning, but in that time I had some very nice discussions with the other travelers and the staff. Great location and the hostel was very clean and nice. Would stay there again!
(2016年10月 October 2016)
■ゲンコウ シュ
I can meet people from everywhere here. It was a wonderful experience to know the story of people from diverse background.
(2016年10月 October 2016)
■Madeleine
Super nice hostel. The staff were all really friendly and made me feel very welcome. They even had some chocolates and offered me warm tea on a rainy afternoon. I would definitely stay there again!
(2016年10月 October 2016)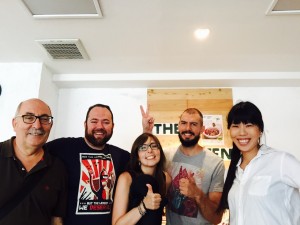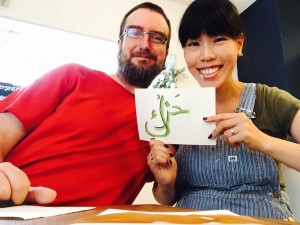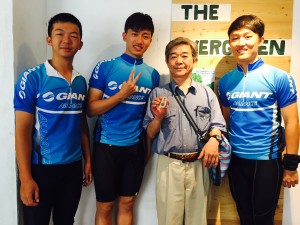 ■Anthony
Very convenient and comfortable place to stay.
(2016年9月 September 2016)
■Karim
Really a great place to stay ! The dormitory is clean with large beds. Shower and lavatory are pretty handfull. Hazuki is a great host too 🙂 ! Highly recommand the place
(2016年9月 September 2016)
■Nikola
Very cosy hostel just a short walk away from the Atomic Bomb Dome. The staff is really friendly and willing to go the extra mile to make you enjoy your stay. Highly recommended!
(2016年9月 September 2016)
■Joris
Assistance de l'hôte et convivialité
(2016年9月 September 2016)
■Szabo
The place is easy to find and conveniently located. Small but comfortable, and somebody is always there until around 11pm if you need any help. There are small lockers you can use for your valueables. A really nice place, and compared to other hostels I've been it's especially good for its price.
(2016年9月 September 2016)
■Travis
My stay in Hiroshima at this hostel was awesome! The location is perfect! It is about a 2 minute walk from the Peace Memorial Park which made access here so easy. Also it is very close to a famous (and delicious) Okonomiyaki place which is perfect since you have to try this food while visiting Hiroshima. The people were very friendly and the atmosphere was perfect to meet other travelers from around the world. This place was awesome I would highly recommend anyone to stay here!
(2016年8月 August 2016)
■Mark
Heaps of beds in one room, but in the end OK. Can get quite load. The location is awesome and the place is really nice. The staff are really great too!
(2016年8月 August 2016)
■Ben Jones
まず日本語で一言だけ:思ったより見つけやすい場所で、平和公園や駅に行きやすい。村井志摩子の「向日葵」に出てくるような、「平和祈念式典に参加するためにヒロシマにやってくるたくさんの若い外国人のための安宿」という感じで、雰囲気はユースホステルに似ている。葉月さんをはじめ、スタッフは全員親切に対応してくれ、設備なども充分揃っている。 Somewhat like the "cheap accommodation for all the young foreigners who come to Hiroshima for the peace ceremony" described in Murai Shimako's "Sunflowers – Le Soleil", this resembles a youth hostel, full of young (at heart) people discussing recent trips throughout Asia, and tips on where to visit next. Good facilities, great location, and helpful staff.
(2016年8月 August 2016)
■Edgardo Jr
The hosts were very helpful, and very nice. We would stay there again. Nothing to improve. Love the place.
(2016年8月 August 2016)
■Jasmine
I stayed for one night at The Evergreen Hostel. Staff were friendly and welcoming. They speak English so communication was easy. The hostel is conveniently located so it was easy to get to from Hiroshima bus station on foot. The hoestel is also affordable. The bed was clean and tidy. Facilities clean. I loved this place and will stay again in the future. I reccommend this place.
(2016年8月 August 2016)
■Francisca
Nuestra estancia ha sido my agradable. Las camas son cómodas. Quizás las zonas de aseo son un poco pequeñas, y las camas podrían tener una cortina para poder tener un poco de intimidad para cambiarte de ropa. Pero en general muy contentos. La ubicación es perfecta.
(2016年8月 August 2016)
■由紀子
また帰りたい!
(2016年8月 August 2016)
■Mimi
Was really quiet at night, unexpected for a hostel!! Thanks for having me.
(2016年8月 August 2016)
■Matt
Hazuki of Evergreen Hostel made me feel welcome from the first point of contact when I booked a night at relatively short notice (3 hours prior to check-in time on the Shinkansen due to a change of plans) and gave me all the important information to find the hostel easily. Check-in time is by 9pm to account for security-accessed entry that starts at that time (you'll get a code for the door when you check-in) which is a nice security feature even though like the rest of Japan, this hostel is located in a super-safe location. We had no qualms going out at night and coming back in the early morning. Oh, and there's a convenient 7-eleven for all your food and drink needs within 5 minutes of the location. The hostel itself is immaculate – extremely clean with multiple showers (private/lockable) and bathrooms. There is a real community vibe in the common spaces which Hazuki has outfitted with numerous guides and directions to points of interest. As per typical hostel style, coffee and tea available in the kitchen so help yourself. When Hazuki herself is not there, her staff are informative and friendly. While I can't speak for the female-only dormitory, the mixed dorm was very well set up. In the style of a capsule hotel (which is great since I had wanted to stay in one but couldn't find a vacant one with good reviews), each person got their own space in a wooden capsule. It was quite large, comfortably accommodating an adult (plenty of headroom to sit upright or lie down) along with a 55-litre capacity backpack. Bonus points for good lighting in the bed space, outlets, and wifi-accessibility (the latter two of which are often upgrades in traditional capsule hotels). Personal items can be stored in a cleverly built alcove in each bed-space or if you prefer, one of the many programmable lockers in the common area. Overall, my stay at Evergreen Hostel has been amazing and exceeded all expectations. Very comfortable and clean with good amenities and everything a traveler may want in a short-stay accommodation. Hazuki's place is on my favorites list for when I visit Hiroshima again and you'd be doing yourself a favor by checking out her listing when considering a place to stay. Happy and safe travels fellow Airbnb-ers!
I can't stop gushing about what an amazing stay I had at Evergreen Hostel. The way you've set up the place really demonstrates your commitment to running a place catering to travelers needs (experience no doubt grained from your own adventures travelling abroad). I met some great people staying at your hostel and I only wished you had the same operation in the other areas I've Airbnb'd the past two weeks (Tokyo and Osaka). Using this experience as a measure, I think you'd make a wonderful heiress to a hostel empire. 😉 I'm so very glad that I made the decision to not head directly to Okunoshima and detour to Hiroshima to stay the night. Came out of the experience with a travelling buddy to see rabbit island the next day, new friends, and a favorite place to stay in Hiroshima! 🙂
(2016年7月 July 2016)
■Jane Chiu
房間乾淨舒適 位置也相當方便 是廣島市中心旅遊好選擇
(2016年7月 July 2016)
■Jonas
Had a really great time there, the staff were really friendly, and talked to a lot of People there.
(2016年7月 July 2016)
■Nicolas
Hazuki's place is great! Close to the peace park and the museum. Its clean, it has a kitchen, bathroom, showers and all you need. She is lovely and very helpful! I enjoyed the stay.
(2016年7月 July 2016)
■Sanae
I had a lovely stay in Hiroshima, the place was great and the staff was really efficient : really helped me getting around,… It was my first time in Japan and this place felt like home thanks to Hazuki
(2016年7月 July 2016)
■Swami
Hazuki was very quick with responding to my inquiry about staying at Evergreen Hostel. I actually booked about 5 hours before I got there to check-in. The staff are very friendly, they gave me a tour of the hostel on my arrival and I could settle in quite quickly. The staff like to get involved with your plans and like to give recommendations and pull out maps and point out where you should go. I think I went through something like that with 2 or 3 different staff members and each had something new to share about Hiroshima. The facilities are great, the capsule style bed bunks give you a bit of privacy, then the toilet, showers, laundry and kitchen are all in good working order with plenty of utensils for you to use if you like. It is a very good location, can walk a few hundred metres to get to Peace Memorial Park and only 5 minutes walk to the closest grocery store where I could buy any grocery items I could think of. There is also a fruit and veg store just across the road from the grocery store too. Lots of restaurants within the close vicinity as well. Hazuki is a professional manager, everything was in order and she makes sure everything is done accordingly. I appreciate the time I got to spend at Evergreen, very nice.
(2016年7月 July 2016)
■Ana
I can say that the hostel is even better than I was expecting!! Really recommended! t stay more, but when I return to Hiroshima I will definitely come back to Evergreen Hostel!!! I really really loved it!!! Thanks for everything Hazuki and staff!!!
I really loved so much the dinner and to be able to meet some of your japanese and chinese friends, talk about your culture and everything. Thanks a lot to help me with my trip to Naoshima too Hazuki!! I wish much success for the hostel and you guys!!!!
(2016年7月 July 2016)
■Evan
Overall a good experience and would recommend for others looking for a hostel in Hiroshima
(2016年7月 July 2016)
■Karl
Amazing host. Very helpful. Convenient place to stay near the main attractions. Check it out!
(2016年7月 July 2016)
■Dylan
Hazuki's upcoming hostel is a very fun place and conveniently located. She is a very kind and friendly person.
(2016年6月 June 2016)
■Sebastian
The hostel was very modern and clean, while still having a nice atmosphere. Hazuki was a friendly host and very helpful. The Peace Park is very closeby and so is the long distance bus center. There are tram lines going to the Station/Miyajima ferry one block away.
I liked the sleeping boxes, which gave some privacy, and the lamp was a nice touch. Overall you have a very nice hostel.
(2016年6月 June 2016)
■Rachel
I've only stayed for one night. Hazuki and staff are very nice and helpful. The location is superb, it is close to everything. And the okonomiyaki store near the hostel is very good too. One of the best hostel I've stayed so far. 🙂
(2016年6月 June 2016)
■美枝子
The hostel is so clearn and walkable location to the city center area. Thank you for your warm welcome.
(2016年6月 June 2016)
■岩男
まるで海外のホステルにいるようなそんな素晴らしい場所でした。色々とご迷惑をおかけしてしまいましたが、それでも優しく対応して下さり大変感謝です。。。 ベットもシャワールームも清潔で過ごしやすい場所でした。アクセスも良く、本当におすすめです!
(2016年6月 June 2016)
■Lily
Hazuki was a wonderful host. She was so hospitable and made me so welcome. When I arrived there was a party with lots of lovely people, food and drink! Hazuki took a lot of time to help me plan where to go next, to help me book my travel and generally to talk to me and make me feel welcome. I really enjoyed my stay – thank you so much! I can't wait to return one day and see how Evergreen has grown!
(2016年6月 June 2016)
■Thomas
Great new hostel. Hazz is rad. Met some excellent people on high adventure. Stay here! It is clean and nice and close to everything.
(2016年6月 June 2016)
■Sebastian
Nice and clean place. The Evergreen Hostel opened the day I arrived, so everything is new and tidy. The staff is very kind and helpful, also I spent some nice time just staying at the hostel and have a chat with the staff. The bed was the most comfortable I slept in so far, but there are no curtains (yet?). Highly recommend this place!
(2016年6月 June 2016)
■Andrew
Was an excellent place to stay. Extremely easy to get too. With plenty of local eating houses and super markets to buy food. Rooms were as described and very clean.
(2016年6月 June 2016)
■Mineko
広島市内、平和公園の近くで大変アクセスがよかったです。 20時半くらいのチェックインでしたがホストが笑顔で迎えてくれとても安心しました。すぐに簡単な説明をしてくれ21時からの友人との約束にも遅れることなく行けました。
(2016年6月 June 2016)