Volunteering in a Hostel
Is not been long since I start working in a hostel in Hiroshima here in Japan and is a totally new experience for me, new in a good way, short time but I feel like this is an experience I want to share with you.
One of the most common questions I get are: oh! why you are here? Why Hiroshima? Why a hostel? Why so long in one city? But I am answering those questions latter. I find working in a hostel one of the best ideas if you want to live in a city or country reducing your lodging expenses to the minimum expending mostly in special dinners and a beer now and then.
The city
It is a great idea to choose a city you would like to be for the time you're planning to work on could be a city you have hear of and that you are interested in, the city you have always wanted to live in, your dream place when you were a child, the city you love, one you would like to discover, a place near the beach or the mountains, maybe you are looking for specific places, or the people living in, the culture they have and their way to express it, the food they eat, I love spicy food so my first food in Japan was spicy Mapo tofu, maybe looking for a busy or a quiet place to be, a party district or a coffee street full of nice and entertaining books, I don't know what could be your reasons to do it but you should try it.
in my case I choose Hiroshima a medium size city in the west of Japan, is easy to get by and to go out, is a walkable city and seems to be a city I wont finish seeing quickly. Maybe if you come here for a couple of days you will be able to see the top spots but the more I go and the longer I stay, I'm getting to know more places that are not in the typical touristic guide.
The Place
After 10 weeks in a language cafe in Busan, South Korea with more than 30 volunteers and surrounded by a lot of people the whole day, (I'm not complaining just for making my point of how buzzy was it), I wanted to go to a different place without going to a temple in the middle of nowhere or a farm without anything, that will be great and is also in my next plans but this time I wanted something in the middle, a peaceful quite place in where instead of having 50 conversations in one day I could have 5 good conversations and get to know different kind of travelers.
Some days the place is peaceful and quiet, some there is this everlasting conversations between the volunteers, the guests and the cheerleaders. Full time travelers, famous bloggers, people that have done great stuff and when they tell their histories is way better than a good movie. Some days the conversation starts since early in the morning and then people come and go during the day, visiting close places and some other days we stay chatting till late at night having those kind of conversations that make you think about new stuff and the ones that makes you laugh till your stomach hurts.
For my case a hostel just in the middle of Hiroshima city allowed me to be part of their team, The Evergreen Hostel is a young hostel in Japan that has win some good reputation between the travelers because of the service, the location and I think also because people got a really good rest for their bodies. The location is great! five minutes to the Atomic Bomb Dome, ten minutes to Hiroshima Peace Memorial Museum, Hiroshima Castle or to Hiroshima's main shopping street: Hon Dori.
In a really nice and quite area besides of one of the best Okonomiyaki restaurants in Hiroshima, 鉄板焼き 鉄華, I noticed that the travelers that come here are the kind that wants to explore the city, go to the museums and streets, to Miyajima Island or to get away from the big cities without leaving the civilization behind.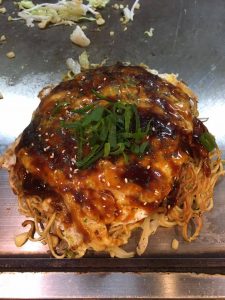 My free time
Now my free time is really different than before, is real free time and is something I haven't experienced in some time, been biking around the city, one day I was running on the riverside when it started to snow, it was a sunny day so the snow looked like pollen on spring, I have been able to read more than before, started a course in Linguistics, writing, taking a rest from the night life.
People people people, for me is all about the People
I think I'm the kind of travelers that put people as a priority while traveling, more than the places I go or the food I eat. Here I have meet people and have really cool and interesting conversations, Japan, Canada, Taiwan, Hong Kong, Finland, New Zealand, France, Argentina, etc.
Yesterday a guest from France told me that in the last days he stayed in a hostel were the common area felt like an empty and lonely place, he was enjoying chatting with a guy from Vancouver drinking some tea and coffee, and yes, it always feels like a place, I think pubs used to feel that way, a place that whenever you go, you will feel comfortable and like in a second home.
I choose Hiroshima in part because is not a huge city, a super touristic place so guest usually stay here more than one night, some others choose to stay for the whole week and even ask for the nearest gym or for the Sunday morning Yoga classes (I promise myself to go this weekend), guest and visitors are not like in the big city rush, when I got into a big city I use the hostel or guesthouse just few hours to take a nap and shower, so almost no chance to talk with other travelers.
Food
Yes, food is important, some hostels give you meals, others host you without charge, here I get food allowance and there is a great kitchen, some budget travelers get veggies and food from the market and make dishes, a guy from Germany got some nuggets and a lunch box and we had dinner together with a drink he brought from his country and wanted to share with us, Okonomiyaki is great and we usually get some veggies and supplies from the supermarket.
Here was my first time using a rice cooker machine, actually is really easy to use, and a volunteer thought me how to cook fried rice and curry, I'm expecting the day when I can make and share with them some Mexican food.
Moments
I was very lucky the day I arrived because the "cheerleaders" were in the Hostel, some Japanese seniors that in few hours teach me a lot about the culture and Jun-san challenged me for the next time for a Japanese chess match and that day he made Okonomiyaki for everyone, they call him the Okonomiyaki master and it was great food after a long Hitchhiking day.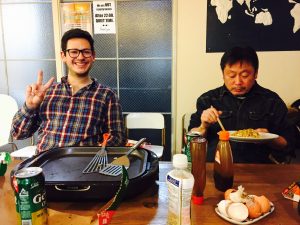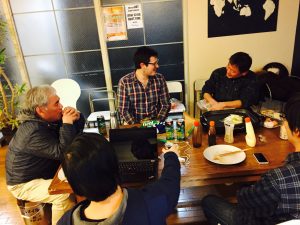 On my second day the TV came to the hostel! Not only one station but two and officially that was my first time on a Japanese TV program! We held a regular conversation in the common area of the hostel while they film us and they interview Hazuki the owner of the Hostel.
Also some day I have had some free time, but in a different way than before, in a way I haven't experienced in some time, this kind of freedom that allows me to either read a book or go biking around the city, a memorable moment was one day while running on the riverside when it started to snow but the sun was out so the snow looked like pollen on spring.
Last but not least: The Challenge!!!
I love difficult things, nice challenges that make me give more of myself, a game is not funny if its not in hard mode and this time I got a really interesting challenge, Japanese chess or Shogi!
On my first night as I mentioned before, one of the cheerleaders asked me if I can play Shogi and by that moment I wasn't able to even know what he was talking about, he explained me about the game and we make a challenge for this game.
Since that day I read some web pages like "How to Play Japanese Chess Shogi" and practicing online, knowing the rules and some practice helped me during our second encounter, we played three times, the first one it was a massacre, the second match I last a little bit longer but again it was just me trying to make my king safe in many ways but knowing I was hopeless.
The third match was great! or I least I felt it that way, we play for about an hour, again maybe it was just my imagination, but I could see on his face that it was not an easy one, the movements took longer and the chat was almost over, I can see how this games are really war games, people uses their brain at the most to capture the opponent king.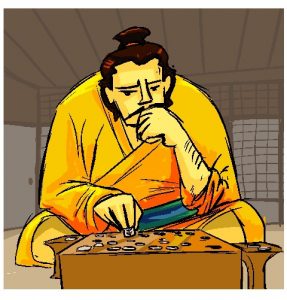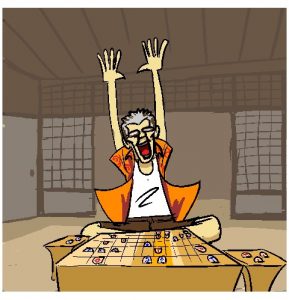 One thing Jun-san was sure that day is that is that next time I will be better.
Credits for the images: Askawsonja