THE EVERGREEN HOSTEL スタッフ紹介 106
Maite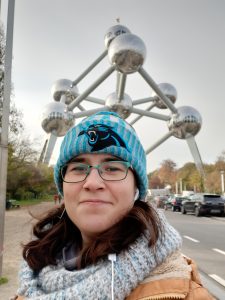 ■Name: Maite Guilarte
■Nickname: Mai
■Hometown: I live in a small city of the Basque country, in Vitoria-Gasteiz. A wonderful place 🙂
■Inspirational places that I visited: I liked a lot Takayama, it was one of the most amazing place. But, maybe, my special place is Bermeo, a seaside village of Bizkaia, my grandmother's place.
■Motto: "beldurrik gabe bizi" in basque, live without fear.
■Places I want to visit: Vietnam and Egypt.
■My favorite movie: LOTR films, I love them!!
■My favorite activity: eating and cooking! But also, I love to doing sport. I played football and I like doing scuba diving.
■Message to guests: don't miss the chance of learning about the history of the city, it has a lot of offer. And go to okonomimura because the okonomiyaki is a must eat thing in Hiroshima 🙂